Literary Traveler is dedicated to the exploration of the literary imagination. We hope to bring you inspiring, informative articles about writers, creative artists, and the places that they lived and traveled. Literary Traveler has been featured in The New York Times, USA Today, and The Wall Street Journal.
Literary Traveler was launched in March of 1998 by the husband and wife team of Francis and Linda McGovern. The McGoverns met while studying English at Suffolk University, in Boston. Their love of literature and travel inspired them to create Literary Traveler.
Francis McGovern is the co-founder and founding editor and publisher at Literary Traveler.  He was at Walking Magazine and then spent three years at Lycos.com where he served as a product manager for their suite of personalization products including My Fidelity and My Lycos.
Francis has also helped run a search engine consulting practice as well as serve as Vice President of Operations for the reviewed.com network.
"We hope that when people read a book, and then visit Literary Traveler to learn about the author, and the places they lived and traveled – they become inspired to read and travel more, and maybe they even start writing themselves. They start exploring their literary imagination – they become part of what they have read and it is always with them." – Francis McGovern, Co-Founder
Linda McGovern is the co-founder and founding editor for Literary Traveler.  She received her Master's in Interdisciplinary Studies from Lesley University. Before Literary Traveler, she was at The Atlantic Monthly, where she had the opportunity to work with the travel editor Barbara Wallraff. Linda sparked the idea for Literary Traveler the day she and Francis met. Francis took the idea to write and travel the world to heart and and they have been at it ever since.
Linda is also a certified personal trainer and writes about fitness and personal training at perfect40.com.
"Great literature, like great travel is essentially about experience, one you read, the other you live, both reveal what is true. That's what we are trying to do with Literary Traveler, and when I tell people about it. They say, 'That is a great idea, it is about time somebody did that.' "
- Linda McGovern, Co-founder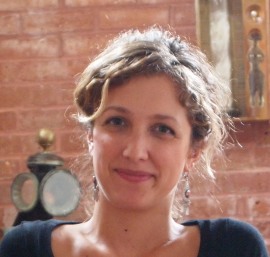 Carly Cassano is the editorial director at Literary Traveler. She began working for Literary Traveler in 2009 as a freelance blogger. Originally from Buffalo, New York, Carly graduated from William Smith college in 2006 with a degree in English. Following an internship at Prometheus Books in Amherst, New York, she moved to Boston and began working as a database content editor for Generate, Inc., a start-up acquired by Dow Jones in 2008. She has traveled in the United States and Europe.
Carly plays the bassoon in the Cambridge Symphony Orchestra and chamber groups, and enjoys live music, backpacking, bicycle riding, reading, writing and talking.
Amanda Festa is the managing editor at Literary Traveler.  She has been with Literary Traveler since 2011.  She graduated from UMass Boston in 2007 with a degree in English and Women's Studies.  After graduation, she spent two years working in radio advertising, before returning to UMass Boston, where she received an M.A. in English with a concentration in literature.  Amanda is a lifelong Bostonian, but loves to travel and explore new places. In her free time, she writes about pop culture and women on television at girlpocalypse.  Her interests include reading, writing, DIY craft projects, women's literature, trying new restaurants and laughing as much as possible.
Antoinette Weil is the marketing coordinator at Literary Traveler.  She started with Literary Traveler as an intern in 2012.  She earned her Bachelor of Arts degree from the University of Massachusetts Amherst in 2008, concentrating on Legal Studies, Communication, and Psychology. She dabbled in various jobs including substitute teaching, bartending, and writing for an online news and entertainment publication before stumbling across the Literary Traveler Internship. Antoinette enjoys travel, a stiff cocktail and saint-like volunteer work.
Jessica Ellen Monk  is a contributing editor at Literary Traveler. She started with Literary Traveler as an intern in 2012.  She was born and brought up in Cork, Ireland. She graduated from Trinity College Dublin in 2007 with a BA in English Studies, and in 2010, with a Masters in Medieval Studies. She has been a music writer for Tiny Mix Tapes since 2010. In 2011, she moved fromDublin to Boston. Since graduating college she has worked as a copywriter, an editor and in sales.  Her three passions are music, writing and visual art.  She hopes one day to be a jack of three trades. Currently she is dividing her time between writing for Literary Traveler, writing for the Somerville Café Blog, reviewing music, and working on her visual art. She feels she is making progress.
Jennifer Ciotta is a contributing editor (formerly editorial director) at Literary Traveler.  She graduated from Bucknell University with a B.A. in English, including a semester abroad at the University of the West Indies in Barbados.  Following graduation, she moved to Estonia for the Peace Corps to teach English as a foreign language in a small village for two years.  During that time, Jennifer traveled extensively throughout Eastern Europe.  At the Gallatin School of Individualized Study at New York University, Jennifer earned her M.A. in Creative Writing and Russian Studies. Jennifer is the author of I, Putin: A Novel, winner of an Honorable Mention at the New York Book Festival.
Her editing background includes working for major publishing house Pearson as well as newspaper and magazine editing.  Currently, she is an independent book manuscript editor at Pencey X Pages.  She has been working with Literary Traveler since 2005.
Katy Kelleher is a contributing editor at Literary Traveler and a new resident to the state of Maine.  After spending several years living in Boston and working as a freelance writer for the likes of MSN, NBC Universal, Boston Magazine and The Improper Bostonian, she decided to leave the city and head north.  She is now employed as the Managing Editor of Dispatch Magazine, a lifestyle and culture magazine based in Portland. At Dispatch, she covers everything from craft breweries to out-of-the-way beaches (and she loves her job). Along with being a frequent contributor to Literary Traveler, Katy also helps with video production, script writing, and general blogging duties.
Her travel dreams include hiking through the peaks of Southern Chile, bathing in the hot springs in Iceland and taking in the wildlife in South Africa. Her favorite books are either about ghosts, the apocalypse, fairy tales, or scrappy girls who take on the world. She adores Margaret Atwood and makes a mean spaghetti carbonara.
Melissa Mapes is a freelance social media consultant and writer in Washington, DC. She is currently pursuing her M.A. in Media & Public Affairs while working as a Teaching Assistant for documentary and multimedia classes. Melissa grew up in Anchorage, Alaska, where she relied on great fiction to make it through the cold, dark winters. Melissa attained a B.A. in Creative Writing from Arizona State University in 2008. While there, she wrote a weekly humor column for ASU's The State Press and was featured in the book America Now.
Shortly after graduating, Melissa won a Fulbright Grant to teach and write in Portugal, where she couch-surfed across Europe and Northern Africa. She has a particular interest in the intersection between travel, literature, and craft beer.
Please click here to check out our internship page! 
Please click here to check out the Literary Traveler Q&A!
For press inquiries please contact:

Francis McGovern
francis @ literarytraveler.com
1-855-LIT-TRVL
1-855-548- 8785
Please clearly identify the subject of your email. We appreciate your interest in Literary Traveler.