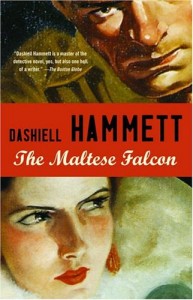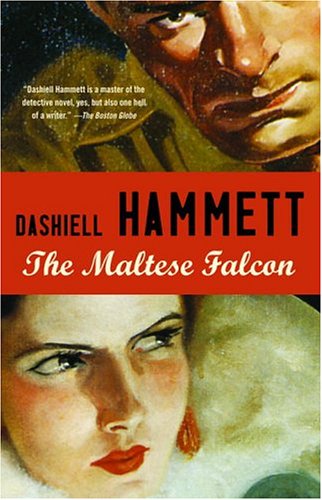 By David Silon
For the record, this article will not be about Dashiell Hammett, per se. There will be no biographical information here other than to state that he was born in Maryland in 1894, died in New York City in 1961, and was one of the most successful mystery and detective writers in America. Instead, this article will concentrate on the stories that were put up on the big screen during his lifetime, and the major Hollywood studios that put them there. But before I get into that, there are two things you should know about Hollywood studios–especially if you've never been to Hollywood before: 1) they are so huge, that they can also be considered cities unto themselves (built haphazardly so you will get lost), and 2) most Hollywood studios are not actually located in Hollywood. Around Hollywood, yes. In Hollywood, no. Therefore, I'll take it upon myself to visit these places of entertainment. My journey will take me from the southeastern edge of the San Fernando Valley and end in the area of Los Angeles south of Beverly Hills–a distance of about twelve miles, more or less.
Located in the southeastern Valley is the independent city of Burbank, a place that also takes on the feel of a bedroom suburb. Driving along a residential, nondescript, southbound road, passing rows and rows of Spanish-style bungalows, I come to an urban-type area, known as the Media District, where the bungalows give way to chic office buildings and studios which are the homes of Disney and NBC, as well as smaller, independent production companies. Finally, I arrive at Olive Ave. where I make a right and, a couple of miles down, I come to the place where Olive and Warner Boulevard meet, leading to the entrance of Warner Bros. Studios, the first stop of my journey. Warner Bros. covers a wide area and was built adjacent to the slopes, and near to the eastern terminus, of the Santa Monica Mountains, gated of course, with adobe apartments/offices built around a courtyard and, dominating everything, what looks to be a water tower. Except for the water tower and the adobe-style, this is typical of movie studios. It was from here that some of the Hammett stories were filmed such as: The Maltese Falcon (1931 and the 1941 remake) based on his novel of the same name, Satan Met a Lady (1936) a film loosely based on Falcon, and Watch on the Rhine (1943). Rhine, one of the classics of World War II cinema, takes place during the War and centers on one Kurt Muller, an anti-Nazi fighter, who, after eighteen years in Europe, attempts with his family, to return to the family home in Washington DC. Meanwhile, he is stalked by a Romanian count who is also a Nazi sympathizer. When the family finally settles in, they begin to suffer from the Count's harassment. Eventually, Muller kills him after he is threatened with blackmail and he flees to parts unknown leaving his eldest son to carry on the struggle against the Nazis. This film was praised by the critics and it earned for Hammett an Oscar nomination for best screenplay.
Leaving Warner Bros., I backtrack on Olive for a couple of blocks, taking the 134 going west, following the northern slopes of the Santa Monica Mountains for about a mile and a half, and arriving at nearby Universal City. Getting off at Lankershim, I go south for another mile, along the way passing a hodgepodge of commercial and residential buildings dating from the 1920s to just recently, and just before I approach the 101, I come to the entrance of Universal Studios, my second stop. Now the studio lot itself is made up of one to three story buildings, but what immediately hits me, are the two, very high, towers at the entrance the Sheraton and Hilton hotels. And unlike Warner's, the Universal Studio lots are on the hilltops. It was from here that Mr. Dynamite (1935) was filmed. Based on the Hammett story, On The Make, and starring Edmund Lowe as Mr. Dynamite, the plot is a combination of mystery and murder set against the background of casino gambling. It was the only Hammett story ever filmed by the studio.
Taking the 101 south, I now leave the Valley and enter the urban jungle known as the City of Los Angeles, and after about three or four miles, I get off at Normandie and then down Melrose Ave. (not to be confused with Melrose Pl.). After about half a mile, I come to the entrance of Paramount Studios, one of less than a handful of studios that are actually located inside Hollywood. Paramount was the first to make Hammett stories into films beginning in 1930 with Roadhouse Nights starring Jimmy Durante as Daffy. It was loosely based on Hammett's 1929 novel Red Harvest. The Continental Op, an anonymous detective who also serves as narrator of the story, finds himself called to Personville by Donald Willson, the son of Elihu, a local industrialist. But the younger Willson is murdered before the Op has a chance to meet with him. He begins to work on the murder case, meeting with Elihu in the process whose control of the city's economy is threatened by several competing gangs whom he himself had originally invited into his city to "resolve" a labor dispute. The Op extracts a promise and a signed letter from Elihu agreeing to pay him $10,000 in exchange for cleaning up the city and solving the murder. Mission accomplished, Elihu tries to renege on the deal, but the Op won't allow him to do so. There are murder, frame-ups, and questions of innocence or guilt, all with the common denominator of the rampant labor strife that was so prevalent in the US in the 1920s and 30s. This story is believed to have been based in part upon Hammett's own experiences with violent labor strife, and its aftermath, in Butte, Montana and other Western boom towns.
Soon after Roadhouse came out, Paramount went on to produce two more of Hammett's stories: City Streets was the story of love and courage set against the background of mob violence; The Glass Key was produced in two versions (1935, 1942) based on his novel of the same name, and said to be his favorite among his works. It tells the story of gambler and racketeer Ed Beaumont, whose devotion to crooked political boss Paul Madvig leads him to investigate the murder of a local senator's son. It is a story that is replete with murder, suicide, corruption and frame-ups.
As nice as that sounds, it was time to say good-bye to Paramount and Hollywood and start on the last leg of my journey. Going west along Melrose is like passing through one urban jungle after another, a huge difference from the early to mid-1930s when this area was more rural than urban. Traveling for about two miles, I arrive at Fairfax Ave., referred to, in local terminology, as the Fairfax District, the traditionally Jewish section of Los Angeles. On Fairfax for about half a mile or so, I approach the intersection with Beverly Blvd. Here, on the corner, is CBS Television Studios. This is a vast office complex which looks more like a massive building block built in a communist-ruled country than a TV studio. It was here that Hammett tried his hand at, what was considered the new medium of television in the late 1940s, writing for two episodes of the series, Studio One (1949).
Continuing on Fairfax, and then down Washington Blvd., I finally come to the last stop of my journey– MGM, today, partly owned by Sony. This was, probably the greatest of all Hollywood studios and it is located in Culver City, a glamourless middle-class town of the LA metropolitan area, a few miles south of Beverly Hills. It was from here in 1934 that Hammett's Thin Man detective novel was filmed. The picture was such a success, that Hammett was asked to write for future sequels. The Thin Man series lasted until 1947. Ten years later, MGM made it into a TV series, lasting for two years with Hammett writing the overwhelming majority of the episodes. The story centers on the character of Nick Charles. After a four-year absence, Charles, a former detective, returns to New York with his new wife Nora and their dog, Asta. Nick re-connects with many of his old cronies, several of whom are pretty eccentric. He is also approached by Dorothy Wynant whose inventor father Clyde is suspected of murdering her stepmother. Her father had left on a planned trip some months before and she has had no contact with him. Nick isn't all that keen on resuming his former profession, but egged-on by Nora, he agrees to help out.
Sixteen years after Hammett's death, his stories are still being made into films, the most recent being The House on Turk Street (2002), an American and German co-production. But aside from that, while traveling from the semi-rural San Fernando Valley to the very urban city of Los Angeles, I realized that this varied landscape of the LA area brought the motion picture industry here in the first place–to a small dream world called Hollywood