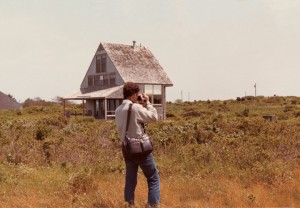 *Adapted for Literary Traveler from the Introduction to A Skeptic's Guide To Writers' Houses
By Anne Trubek
Around the time the housing collapse hit New York City, a modest one bedroom apartment came up for sale on the Lower East Side. ''How quiet, serene, and wonderful is this 1-bedroom apartment with balcony?'' the real estate ad asked. ''So quiet, serene and wonderful that one of the top 5 best novels of 2006 . . . was written here!''
The novel was Absurdistan, the writer Gary Shteyngart, a rising literary star who was born in Leningrad in 1972 and then immigrated to New York at the age of seven. Shteyngart's generation-late Russian immigrant sensibility, brilliant word play, and omnipresence on the New York literary scene has made him downtown hipster-cool as well as the subject of esoteric academic conference presentations.
His apartment, in Coop Village, sits in a bleak unadorned building that neighbors other similarly grim structures. Perhaps, not unintentionally, Shteyngart's Lower Houston digs resemble the landscapes of the Soviet-era Russia he conjures in his fiction.
The ridiculous real estate ad—come live where Absurdistan was written!— and the fittingly utilitarian architecture of the apartment building drew two bloggers from Downtown NY to take a tour. They pretended to be prospective buyers, and furtively shot snaps of Shteyngart's couch and books. They found a photo of a cosmonaut candy bar on one wall, and multiple copies of Shteyngart's novels on his bookshelf.
But no one lay down earnest money. Two months later, in June 2009, the New York Times ran a story on local real estate values. Shteyngart's apartment was featured again, having languished on the market, and the price had been reduced by $25,000. The Times interviewed agents: was this one-bedroom a good buy? Yes, they answered, based upon dollars per square foot, comparable properties, and the presence of a balcony. The owner's literary celebrity was not a factor.
So much for the presence of a famous writer adding value to a property. Other realtors have tried similar campaigns to no avail. In 2007, the price of Joseph Heller's former East Hampton home was slashed month after month. ''It needs a bit of work, and most buyers don't want a project,'' remarked an agent of why no one wanted the beach home of the author of Catch-22. In St. Louis, a house that T. S. Eliot lived in was excitedly touted as a one-of-a-kind historical find for months before it was taken off the market.
You cannot blame agents for thinking a famous writer as former owner might help sell a place. There is a healthy market for peeks inside the homes of authors dead and alive. The Guardian runs a weekly series called ''Writers' Rooms: Portraits of the Spaces Where Authors Create.'' (Margaret Drabble has a jigsaw table and works puzzles much of the day.) Oprah at Home magazine recently featured ''Five Legendary Writers' Homes'' (Eudora Welty's secretary, Edith Wharton's view). Coffee-table books are popular holiday gifts: American Writers at Home and Writers' Houses, for instance, marry sumptuous photographs with short essays about the authors' habits—what they ate for breakfast, where they hung the family photos. The New York Times often profiles authors with new releases in features that have photos of writers inside their living rooms or studies, to the delight of readers. Twitter links to such stories are often accompanied by the excitement of seeing Margaret Atwood's garden, or Paul Auster's wood desk.
One could chalk up this fascination with the private lives of authors to celebrity lust—a highbrow version of reading Us Weekly to see the latest pictures of Lindsay Lohan's escapades, or a more cultured version of reading a profile of a Brooke Astor's son in Vanity Fair. There is also a religious strain, a secular form of paying homage. A novelist friend of mine told me that when he went to Stendhal's grave, he kissed it….
In the United States, writers' houses started to be preserved at the end of the nineteenth and the beginning of the twentieth century, when historic preservation and tourism, both ways to shore up and create national memory, rose in cultural value. The first writer's house to open to the public was probably the Henry Wadsworth Longfellow house in 1901.
Today there are about fifty-seven writers with houses in their honor open to the public. Several have more than one house museum, bringing the total number of writers' houses to seventy-three open to the public in the United States. The number is constantly changing: some houses close, others open up. Hundreds of thousands of tourists visit these scattered houses—60,000 a year to Mark Twain's Hartford house alone; 20,000 a year to William Faulkner's Rowan Oak in Oxford, Mississippi. So maybe some enterprising literature lover should snap up that Shteyngart apartment, wait the writer out, and open it up as a museum after his death. Could be a smart literary investment, like buying a signed first edition of The Da Vinci Code. There are risks, though: you never know how prices will go on the Lower East Side. And you might make the wrong literary bet.
The last few years have taught us all the fundamental irrationality of real estate. All our houses sit on shaky foundations, terra firma a mirage of trumped-up securities. A mansion in Orange County, California, goes from being the object of a bidding war, jacking the price up a few more million in 2007, to a $50,000 cash-for-keys deal in 2008. So too is literary celebrity subject to the whims of the aesthetic market. A classic can become pulp just as a penthouse can become a foreclosure. …There are no sure bets.
Why do we preserve these houses authors live in? Why do we visit them? If you are trying to preserve literary history, you could do a dozen more sensible things than convert an old (and ever growing older) house into a museum. First of all, houses are not the product of writers. Books are. I suppose it would be impractical to build, say, a big book for people to wander inside. Authors' houses are often tucked away in residential areas, are often quite small, and require endless maintenance, as all homeowners know.
Writers' house museums expose the heartbreaking gap between writers and readers. Part of the pull of a writer's house is the desire to get as close as possible to the precise, generative, ''Aha!'' But we can never get there. The houses become theaters of Zeno's paradox: writer and readers are already severed from the act of writing. Writers' houses are like writing: at once themselves (marks on paper; a desk) and something else (emotions; a site of literary creativity). They are teases: they ignite and continually frustrate our desire to fuse the material with the immaterial, the writer with the reader.
For me, writers' houses are by definition melancholy. They are often obscure, undervisited, quiet, and dark. They remind me of death. And they aim to do the impossible: to make physical—to make real—acts of literary imagination. We will never find our favorite characters or admired techniques within these houses; we can't join Huck on the raft or experience Faulkner's stream of consciousness. We can only walk through empty rooms full of pitchers and paintings and stoves.
The curators at writers' house museums rarely seem to get this. They are often astoundingly sincere, prompting in me a knee-jerk cynicism. This is the site of creative genius, they tell us with a straight face, as we stand in kitchens filled with period-appropriate cups and saucers, laid out as if the great man himself had just stepped out for a walk, while a German couple takes pictures of the table with their cell phones.
You cannot line up a list of the greatest American writers with a list of writers' houses open to the public. The canon does not correlate with museums. Just because you are or have been one of the most famous writers in America does not score you a house museum.
Modern Library's list of the hundred greatest English-language novels lists many American authors with no house museums: Theodore Dreiser (works ranking 16th, 33rd), Carson McCullers (17th), Kurt Vonnegut (18th), Ralph Ellison (19th), Richard Wright (20th), Saul Bellow (21st, 81st), John Dos Passos (23rd), Sherwood Anderson (24th), Henry James (26th, 27th, 32nd), Robert Penn Warren (36th), Thornton Wilder (37th), James Baldwin (39th), James Dickey (42nd), Henry Miller (50th), Philip Roth (52nd), Dashiell Hammett (56th), Walker Percy (60th), John Cheever (63rd), J. D. Salinger (64th), Sinclair Lewis (68th), Nathanael West (73rd), Wallace Stegner (82nd), E. L. Doctorow (86th), Erskine Caldwell (91st), William Kennedy (92nd), William Styron (96th), James M. Cain (98th), Booth Tarkington (100th).
The ''greats'' on the list with houses are much fewer: William Faulkner (6th, 35th, 54th), John Steinbeck (10th), Edith Wharton (58th, 69th), Willa Cather (61st), and Jack London (88th). The top American work in the list, at number two, is F. Scott Fitzgerald's The Great Gatsby (James Joyce's Ulysses sits at the top). The Great Gatsby is a double winner—an American great that is both a popular and a scholarly hit, taught in high schools and beloved by the arbiters of taste. The only preserved Fitzgerald house is in Montgomery, Alabama, where he and Zelda lived for a few months.
It is illogic everywhere: who gets a house, which ones are most beloved. One can make no more sense of why some houses attract more visitors than others, or even why people decide to visit them. I have tried and failed to crunch the numbers into any discernible pattern.
There is something curious and ultimately insatiable about visiting a dead writer's house. It has something to do with pilgrimage, the hushed aura of sacredness; it has something to do with history; one life preserved. It has something to do with loss, and objects as compensation for loss. And it has something to do with the way literature works, with the longing created by the fact that words separate writers from readers yet create an ineluctable intimacy between the two, structured by marks on paper.