B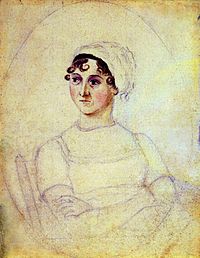 y Sara Wilson
Jane Austen was a provincial lady who wrote about the provincial society she knew so well. Yet in spite of her curiously restricted life, during which she never married and rarely left the company of her affectionate family, she used sharp wit and irony to expose the snobbery and hypocrisy she witnessed in that society. ' Her novels are so popular today that a whole industry has evolved to support the tourists who flock to Bath, Chawton and Steventon – places she lived in and wrote about.
When Jane Austen was born on December 17, 1775, her parents had been eagerly anticipating her arrival, although this owed much to the baby being nearly a month overdue. She was the seventh child born to George and Cassandra Austen and home was The Rectory at Steventon, in Hampshire. Her father was the comfortably prosperous rector of the parish and was an important influence in Jane"s early writing career. He took particular pleasure in encouraging his young daughter to read widely and to write. George Austen had such confidence in his daughter"s work that he even wrote to the London publisher Thomas Cadell, in 1797, hoping to secure publication of her novel entitled First Impressions, later renamed Pride and Prejudice.
Until the age of ten Jane Austen had very little formal education – a brief attendance at Mrs. Crawley"s academy ended when she contracted typhoid fever, but when her elder sister, Cassandra, was sent to the Abbey School in Reading, Jane insisted on going too. Even so, less than a year later the girls where back at home, their school days at an end.
Happily George Austen"s library helped fill the deficiency in his daughter"s education and it was his wish that she should browse amongst the hundreds of volumes he kept stacked on the bookshelves. She read extensively, enjoying the works of Fielding, Swift, Johnson and Defoe. She was also fond of Gothic novels like The Castle of Wolfenbach and Horrid Mysteries, as well as Ann Radcliffe"s The Mysteries of Udolpho. To his credit Jane's father never attempted to censor or limit his daughter"s literary choices and at twelve she was already writing book reviews and essays for The Loiterer, a periodical produced by two of her brothers.
When she grew tired of the in-jokes and self-importance of The Loiterer, Jane Austen began concentrating on creating sketches and short burlesque novels like Lesley Castle. Her writings were filled with wild elopements, scandals and comic allusions to family and friends. Her novella Love and Friendship (sic) was written as a parody of fashionable sentimental fiction. Jane Austen wrote chiefly for her own enjoyment and as entertainment for others. She would often read her work out loud and many years later her niece, Marianne, recalled hearing "peals of laughter through the door" on one such occasion.
Later Jane Austen realized that she could make money from her writing and this became important to her because she had no other independent income. She was pleased to remark in a letter to her brother Frank, dated July 3, 1813, "I have now, therefore, written myself into two hundred and fifty pounds which only makes me long for more." And at another time, "Though I like praise as well as anybody I like what Edward calls Pewter too…Single women have a dreadful propensity for being poor."
Jane Austen"s literary talent was precocious and by the age of twenty she had also completed the full-length manuscript of Lady Susan and was working on Elinor and Marianne, which was eventually published as Sense and Sensibility. The plot of Lady Susan was rather racy for the times and rumors have it that it was inspired by the conduct of Mrs. Craven, the grandmother of Jane Austen"s friend Martha Lloyd. This lady was so tyrannical in her dealings with her children that three of her daughters ran away from home to escape from her influence.
Steventon, a small country village near Basingstoke, continued to be Jane Austen"s home for her first twenty-five years. Her nephew later wrote that it was "the cradle of her genius" and reflections of the idyllic country life certainly prevail in Jane Austen"s novels. It was a landscape that she knew intimately and was comfortable within. When Jane wrote about Highbury or Meryton, she could equally have been writing about Steventon. The Steventon parish register for June 23, 1753 even records the death of an illegitimate child of one Mary Bennett – a name Jane Austen was later to cheekily borrow for the staid sister of Elizabeth and Jane in Pride and Prejudice.
During 1801, Jane Austen was to leave the country home she had known all her life. Her father, at the age of 70, was retiring from his post and proposed that the family should move to Bath. In 1805, Mr. and Mrs. Austen, Jane and Cassandra, her sister, were living at 27 Green Park Buildings and Jane Austen was soaking up the atmosphere of the bustling city that would later feature so prominently in Persuasion and Northanger Abbey. After living in quiet rural isolation, Jane Austen's first impression of Bath – a city still under construction – must have been that of "vapour, shadow, smoke and confusion" that she later wrote of in Persuasion.
One of the beauties of Bath is that the city today remains much as Jane Austen would have seen it in the nineteenth century. The Pump Room, Assembly Hall and Theatre Royal have been preserved, as well as the elegant terraces, crescents, parades and squares. Although these days the "white glare of Bath", described by Anne Elliot in Persuasion, has mellowed into warm honey tones.
Many of the activities of modern day visitors to Bath remain the same as those enjoyed by Jane Austen and her contemporaries. Listening to concerts in the Assembly Rooms, like the one attended by Anne Elliot and Captain Wentworth (the heroine and hero of Persuasion); taking the supherous waters at the Pump Room, which Jane Austen's uncle James drank to relieve his gout; and, of course, shopping. Jane Austen enjoyed shopping in Milsom Street – as fashionable now as it ever was – an experience echoed by the character of Isabella Thorpe, who enthuses to her friend Catherine Moreland, the main character of Northanger Abbey, about seeing "the prettiest hat you can imagine in a shop in Milsom Street".
The theatre was also a great attraction in the early nineteenth century and as Bath became increasingly fashionable the demand for seats swelled. The theatre attended by the same Catherine Moreland was situated in Orchard Street, but in 1805 a new theatre, now known as the Theatre Royal, was built in the Sawclose. It was here that Charles Musgrove, in the closing chapters of Persuasion, must have reserved a box big enough for a party of nine, to include his sister-in-law, Anne Elliot, and Captain Wentworth.
Jane Austen was always a great walker and would often make the journey from Bath to Weston and back, even though it was a four-mile round trip. Her description of the walk made in Northanger Abbey by Catherine Moreland and her new acquaintances, Henry Tilney and his sister Eleanor, to the top of Beechen Cliff was clearly written from personal experience.
During her time in Bath, Jane Austen began work on The Watsons. With its frequent allusions to the country lifestyle she seems to have been casting her eye nostalgically back to life at Steventon and the assemblies at the Angel Inn, Basingstoke. Sadly tragedy struck when her father died suddenly in 1805 and the manuscript was left unfinished. In order to reduce their living costs after George Austen"s death, Mrs. Austen and her two daughters moved to 25 Gay Street, which they preferred to the dampness of their previous home. Jane Austen later used the same street as the fictional location of the Crofts' lodgings in Persuasion and today one of its elegant Georgian town houses has been converted into the Jane Austen Centre.
At the Centre visitors to the city can learn all about Bath in Jane Austen's day and the importance of Bath in her life and work. The Centre was created with the help and guidance of The Jane Austen Society and is open all year. 10am to 5.30pm Mon to Sat, 10.30 to 5.30 Sun. Educational and group visits can be arranged and there is wheelchair access to the Exhibition. More information can be obtained from The Jane Austen Centre, 40 Gay Street, Bath, BA1 2NT, UK. Telephone: 44 (0) 1225 443000. Email: info@janeausten.co.uk. Website: www.janeausten.co.uk.
By 1806 the Austen women were relying on the financial support of other family members and decided to quit Bath. They moved to Southampton where they lived with Jane's brother Frank, a recently married naval officer. Mrs. Austen, however, hankered after a return to the countryside of Hampshire and when Jane's brother, Edward, lost his wife he was finally prevailed upon to help his mother and sisters. When he was a boy a rich distant relative had adopted Edward Austen. Mr. and Mrs. Thomas Knight, of Chawton House in Hampshire and Godmersham Park in Kent, were themselves childless and Edward became their sole heir. He took their surname and went to live the wealthy gentleman"s life at Godmersham. Later Jane wrote in Emma, about Frank Weston's strikingly similar adoption by his wealthy relatives, the Churchills, that "There is something so shocking in a child"s being taken away from his parents and natural home."
Whatever her feelings on the matter, it was this adoption that finally ensured some financial and domestic security for Jane, Cassandra and Mrs. Austen. Edward made Chawton Cottage, an unassuming seventeenth century red brick house on his Hampshire estate, available to the ladies and in 1809 they moved in. Delight seems to have been Jane's chief emotion and she wrote happily to Frank, expressing her excitement in verse:
Our Chawton House, how much we find
Already in it to our mind;
And how convinced that when complete
It will all other houses beat
That ever have been made or mended
With rooms concise or rooms distended.
The verse brings to mind all the delight and relief felt by the Dashwood ladies, in Sense and Sensibility, at having a home of their own. It is easy to imagine Jane and Cassandra being "busy in arranging their particular concerns, and endeavoring, by placing around them their books and other possessions, to form themselves a home", just like Marianne and Elinor Dashwood. Away from the hustle and bustle of town and settled in rural tranquility, Jane returned to her writing after a break of several years. Her creativity flourished in this favored environment and during the next few years she revised Pride and Prejudice, Sense and Sensibility and Northanger Abbey and wrote Mansfield Park, Emma and Persuasion. Jane"s sister Cassandra must be thanked, in part, for this increase in productivity. It was she who took responsibility for the day-to-day running of the household at Chawton and, as she once admitted during one of Cassandra"s absences, Jane found "composition impossible with my head full of joints of mutton and doses of rhubarb."
Jane Austen's wit thrived in the confined society of the local families and she advised her niece Anna, in a letter dated September 9, 1814, that "3 or 4 families in a Country Village is the very thing to work on." Every morning after breakfast Jane would remain behind in the dining parlor and work on her novels at the little table near the window, where she could watch the occasional passersby and notice the arrival of visitors. Since she did not have a separate study to work in, she was often interrupted in mid flow and relied on the squeaking of the door hinges to warn her when someone was entering. She would then hide her work under the blotter.
Today Chawton Cottage has been turned into a small, but popular, museum dedicated to Jane Austen. Although small, it is crammed full of memorabilia, including the table that she wrote at, a bureau-bookcase from her first home at Steventon (containing some first editions of Jane"s novels) and copies of her original manuscripts. Also on display are the two topaz crosses that her brother Charles bought as gifts for Jane and Cassandra. They are very reminiscent of the cross William Price gave to Fanny in Mansfield Park.
The museum opening times vary throughout the year and up-to-date information should be obtained from Jane Austen"s House, Chawton, Alton, Hampshire, GU34 1SD, UK. Telephone: 44 (0) 1420 83262. Email: museum@janeausten.demon.co.uk. Website:www.janeaustenmuseum.org.uk.
Although Jane loved Chawton Cottage, she also relished the chance of visiting with her many friends and relatives and all her experiences fed her creative mind. She had a particular fondness for trips to the seaside and wrote fondly of her visits to Lyme. During one such visit she wrote to Cassandra that "the bathing was so delightful this morning and Molly so pressing with me to enjoy myself that I believe I staid in rather too long…" Jane also took pleasure in walking in Lyme, especially along the Cobb. This large semi-circular pier juts out from the harbor and consists of two causeways, on different levels, called the Upper and Lower Cobb. A steep flight of rough-hewn steps, known then and now as "Granny"s Teeth", links the two paths and was obviously a hazard for lady walkers in long dresses. The dizzying view down the steps made such an impression in Jane"s mind that it was the inspiration behind Louisa Musgrove's accidental fall in Persuasion.
Similarly a visit to Portsmouth found its way into the pages of Mansfield Park and Jane was greatly pleased when Captain Foot, a friend of her brother Frank, expressed his admiration that her Portsmouth scenes were so realistically drawn. Another trip, this time to Bookham in Surrey, included an expedition to Box Hill. Later she reworked her visit into the picnic excursion in Emma.
When Jane Austen returned from her travels, Chawton Cottage was filled of fun and laughter. Her niece Marianne remembered hearing those "peals of laughter through the door", as Jane read her latest work out to Cassandra. That fun was doomed to come to a tragic end. Jane had been ill for at least a year when, in January 1817, she began work on Sanditon. Her health was rapidly declining, although she frequently denied this was the case, and so it is unsurprising that the subject of illness should be a dominating feature of the manuscript. No less than three of her characters are hypochondriacs and each – Diana Parker, Susan Parker and Arthur Parker – are drawn with exaggerated comedy almost as if Jane is disparaging her own illness.
Sadly, Jane Austen did not manage to finish her last novel. She died on July 18, 1817 at the age of 41. It is widely believed that she was suffering from Addison"s disease, a failure of the adrenal cortex, which was then incurable and inexplicable. It now responds successfully to treatment.
Sara Wilson is a freelance writer based in the UK. She is the author of four murder mystery plays and her non-fiction articles have been published in many national and international magazines.
JANE AUSTEN LITERARY TOURS
Travel in the footsteps of Jane Austen to Bath, Chawton and Steventon. Click here for more details.