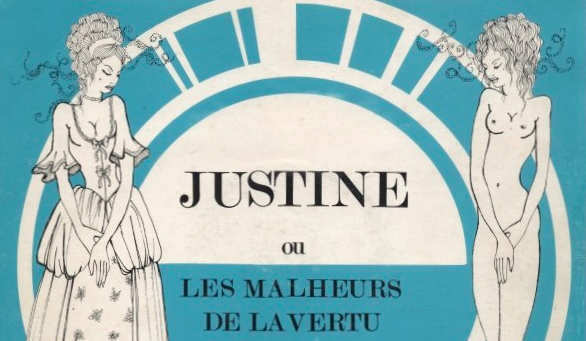 by Katy Kelleher
It's no secret that some members of the Literary Traveler staff are fans of the EL James novel, 50 Shades of Grey, and are awaiting the release of the upcoming film with bated breath. However, some of us are a little less enthused (for example: me). While I have no qualms about reading erotica, in this particular case I just can't get past the writing style. I prefer my smut with a side of gorgeous prose—or at least some historical importance—please and thank you.
Fortunately, there are plenty of novels that discuss tawdry subjects without sacrificing style. Many of these classics explore the darker elements of human experience—sex, death, violence, jealousy, lust, greed—in ways that were groundbreaking at the time. Ready to stock your Kindle full of kinky material? Here are seven famous novels that are both sexy and significant.
Justine by the Marquis de Sade
Penned by Donatien Alphonse Francois de Sade in 1791, this strange and violent novel has become a classic for many reasons. Although written in the classical style and full of rich description and metaphor, the novel was truly scandalous for its subject matter. Justine tells the story of a young girl from the age of 12 to 26 as she seeks "virtue." What she finds instead is an ongoing lesson in depravity, in which she is subjected to every kind of sex act imaginable.
Fear of Flying by Erica Jong
Centuries later, the celebrated second-wave feminist Erica Jong gets in on the action by writing a first-person novel about a free-spirited poet named Isadora as she tries to navigate the strange world of academia. In this book, Jong coins the term the "zipless fuck," which goes on to enter American slang. "The zipless fuck is absolutely pure. It is free of ulterior motives," explains Jong in the novel. "There is no power game…The zipless fuck is the purest thing there is. And it is rarer than the unicorn. And I have never had one."
Story of O by Pauline Reage
If you're seeking bondage, look no further than this fashionable text from the 1980s. The main character is a young woman (see a pattern here?) who is identified by simply the letter O. O is a beguiling and beautiful fashion photographer, and she desires nothing more than to become a slave for Rene, her older male lover. Dark and erotic, the novel follows O as she tries to show her love by entering into a world of underground sex, led by Rene's friend, a dominant master named Sir Stephen.
Venus in Furs by Leopold Von Sacher-Masoch
Masoch is the very man who inspired the word "masochism," which means to derive pleasure from pain. Naturally, this 19th century Austrian novel centers around the thin line between the two seemingly opposing sensations. It is narrated by an unnamed man who describes his fantasies about cruel and wanton women to the goddess of love, Venus herself.
Delta of Venus by Anaïs Nin
Published in 1977, following the author's death, this is a seminal work in erotic literature and a must-read for many feminist scholars. Unlike the other books on this list, Delta of Venus is a short story collection that includes fifteen different erotic stories, all made for a private client, known simply as "Collector." While the stories are sexually explicit, they are also incredibly poetic and thought provoking.
Tropic of Cancer by Henry Miller
Henry Miller and Anaïs Nin owe much to each other—in fact, Nin helped edit Tropic of Cancer, which remains one of Miller's most read novels today. Published in the 1960s, it was originally banned in the United States (for obvious reasons). It's an interesting combination of autobiography and fiction (and a meditation on human existence). It is set in 1920s Paris, so fans of the Bohemian age will enjoy reading about Miller's pleasures and exploits, both real and imagined.
Story of the Eye by Georges Bataille
Yet another story out of France, the Story of the Eye is Bataille's novel about teenage passion and its bizarre twists and turns. The story centers around a narrator, who reflects on his youthful exploits with a former girlfriend named Simone. The two young lovers explore exhibitionism, group sex, and even necrophilia. It's not, obviously, for the faint of heart.