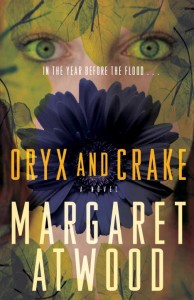 by Katy Kelleher
Even though I don't like to call books "beach reads," I do understand the appeal of the term. Some books are meant for reading late at night, huddled under the covers, while others flow best in front of a roaring fireplace. And there is a specific type of book that feels right at home with the sun and the sand. But that doesn't make them any less literary—it just makes them good outdoor companions.
Need a good book to bring on vacation? Instead of picking up "50 Shades of Grey," try a novel where you don't have to hide the cover, like Margaret Atwood's excellent futuristic tale Oryx and Crake.
The novel opens on a beach (where else?) where the main character, known only to the reader as "The Snowman" awakes after a hot and restless night. As he goes about his morning routine, we learn a little about his world. The Snowman is virtually alone in a tropical zone, where he feeds on mangoes and watches over a strange group of not-quite-human creatures that he calls the Children of Crake. Simple-minded and beautiful to look at, we later learn that these people were genetically engineered by a brilliant scientist with the hopes of creating a "perfect" human race.
But being stranded on a beach with a tribe of physically attractive, peace-minded strangers isn't as nice as it sounds. Communication with the Children of Crake is limited, and The Snowman finds himself marooned in his own thoughts.
Through his obsessive musings on the past, we eventually get the full story on how this false utopia came to be. The apocalypse was mere years ago, which means The Snowman (known pre-disaster as Jimmy) doesn't have to think too far back to remember how it all began. Turns out, Jimmy had front-row seats to the action that wiped out all of humanity. The novel alternates between chapters set in the "present day," where Jimmy is goes by The Snowman and lives off fruit and fish on an abandoned beach, and the recent past, beginning with his earliest memories of childhood. Jumping back and forth through time, Atwood reveals what distraction science has wrought while delving deeper and deeper into the psychology of her main character.
If you're beginning to suspect that I'm recommending a tough book as a "beach book" simply because it's set in the sand, don't worry. While the novel does deal with some heavy issues, "Oryx and Crake" is also funny and clever. Atwood crafts a tight read, bringing in moments of bizarre humor to counteract the greater political message of the novel. In many ways, the book feels like a mystery. Some of the central questions of the novel remain unanswered until the very end, which keeps you glued to the page, waiting to find out how humanity met our end—and who exactly is responsible for The Snowman's tragedy.
And once you have finished devouring "Oryx and Crake," Atwood has a companion novel to keep you reading. "The Year of the Flood" is not quite as good, but it does provide even more answers, for those of you hungry for details on the downfall of earth.
If nothing else, "Oryx and Crake" will make you want to eat a mango and reconnect with your friends—which, in my opinion, is the perfect way to end a day at the beach.