by Amanda Festa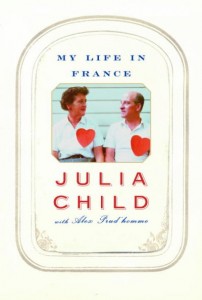 One of my most vivid memories of childhood is the distinct voice of Julia Child wafting, or more accurately, booming, from my grandmother's bedroom.  Nonni, as I called her, was well into her eighties at the time and her hearing wasn't up to snuff, so whatever 'program' she listened to on the television was what my parents, sister and I listened to as well.  And if it was spring or summer and the windows were open, well, then our next door neighbors also tuned in.  Julia Child's cooking shows were interwoven with episodes of Phil Donahue and various syndicated church services, rounding out my grandmother's television rotation and providing the background noise of my formative years. When I was in middle school there was In Julia's Kitchen with Master Chefs (1994-1996), in high school, Baking with Julia (1996-1998) and by the time I graduated she had become half of a culinary tag team in Julia and Jacques Cooking at Home (1998-2000).
Child was only five years older than my grandmother, who watched from her bedroom hooked up to a portable oxygen tank and at the time no longer manned the oven without supervision.  Yet Nonni was enthralled by Child as she mixed and minced, creating the fine French cuisine that had become indicative of the renowned chef.  Child, who passed away in 2004, 2 days short of her 92nd birthday, would have turned 100 today.  There were many other differences between Child and my grandmother, not the least being height. Child stood at an impressive 6'2" while Nonni barely cleared 5 feet.  Yet, while both women were strong willed, good natured and enjoyed a well prepared meal, only one of them was a spy.  Child, at the time going by her maiden name, Williams, joined the Office of Strategic Services (OSS), the predecessor to the CIA, during World War II.  She met Mr. Child, a fellow spy, in what is modern day Sri Lanka.  It is a tale that seems as though it was pulled straight from a fictional espionage filled thriller.  That this female super spy with top security clearance turned French cooking phenomenon and cultural culinary icon only adds to the intrigue.
As a writer, Child published 17 cookbooks, and an autobiography that was released posthumously in 2006.  The latter, titled My Life in France, includes personal stories from Child's life and that of her husband.  It also further explores her passion for cooking and the events that played an important role in this aspect of her life, focusing particularly on the couple's time living in France.  Child was enthralled by the country, influenced by its charms, both gastronomically and otherwise.  Material for the book was compiled from personal accounts, family letters, photographs and poems.  Reading her autobiography is a multi-sensory experience, much like an afternoon spent in her kitchen.
For those who particularly enjoy the material artifacts of Child's life, such as those that went into the creation of My Life in France,  The Schlesinger Library at Harvard University has in its possession the papers of Julia Child, which includes biographical material, book drafts, family and business correspondence between Child and her husband, fan mail, recipes, photographs and television memorabilia.  The Schlesinger Library is open to the public and welcomes visitors and researchers, but does suggest contacting them in advance.
For those looking to more visually experience Child's legacy, there is one place in particular where her lasting presence can be felt.  Pay a visit to her personal kitchen, which she donated to the Smithsonian Institute and is now located in their National Museum of American History in Washington D.C.
If you are a foodie and want to experience France through Child's eyes (and taste buds), take a "Julia Child Tour" to Paris.  Organized by Decouvertes Exclusive Cultural Tours, "This trip is designed for the gastronomy lovers who wish to discover Julia Child's Paris but also enjoy gourmet experiences with experts."
Chef, spy, writer, wife:  Child wore many hats in her life, and she wouldn't have had it any other way.  She once stated that, "life itself is the proper binge."  With a life as full as Child's it appears that she had succeeded in that feat. Happy Birthday, Julia!  Bon Appetit!