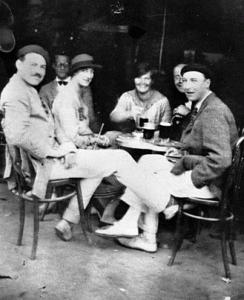 By Ali Pinero
Ernest Hemingway will forever be remembered as one of the most prominent writers of his time, and his legacy has continued to serve as inspiration to aspiring writers today. In my favorite of Hemingway's works, A Moveable Feast, he recounts life's tribulations and good fortunes, captivating the exuberance of Paris and all that it offered in the 1920s. His experiences with other luminaries of the time, such as James Joyce and Ezra Pound, give his memoirs a feeling of familiarity, as if the reader is being offered a glimpse behind the curtain. From an eventful trip to Lyon with a larger-than-life F. Scott Fitzgerald to daily drinks and discussions with Gertrude Stein, Hemingway imparts exclusive insight in to his legendary social circle.
The variety of food and drink that Hemingway and his companions consume and the atmospheric cafés they often frequent become a conspicuous pattern throughout the novel. Whether he is casually sipping on a fruit brandy solo or passing the time with Ford Maddox Ford and a tall glass of Chambéry Cassis, Hemingway is indubitably passionate about spirits. Wine is clearly as essential to his contentment as it is to his writing process, which Hemingway confirms as he assures readers, "Drinking wine was not a snobbism nor a sign of sophistication nor a cult; it was as natural as eating and to me as necessary…"
There is a great emphasis on the cafés Hemingway chooses both to socialize and to seek refuge in as he goes about his day's work of alternately drinking and writing. Le Dôme, Café des Amateurs, and the Dingo are only a few among many elicited by Hemingway. Of all the cafes, however, Hemingway mentions the Café Closerie des Lilas most frequently. He admired the warm, cozy ambiance it offered in the winter and the outside patio enveloped by the shade of surrounding greenery in the spring, which it is still known for today. Here is where Hemingway supposedly did his finest writing, appearing rather surly and refusing to speak to any voluble passerby wishing to draw him away from his work. Even today, one table is decorated with a small gold plaque adorned with Hemingway's name, for it is here that he sat and worked diligently on one his most beloved novel, The Sun Also Rises. Hemingway declares that the Lilas is among the best in Paris, and he does so with such confidence and aplomb that he inevitably sways readers to arrive at the same conclusion, regardless of whether they have ever been to Paris. Other denizens of the Lilas, like Picasso and Oscar Wilde, also mark the tables in gold, affirming Hemingway's assertion of the café's appeal. Still today, it has serves as a retreat for some of society's biggest names, including Johnny Depp and Tim Burton.
As a writer in 1920s Paris, Hemingway epitomized the importance of good company and even better food and drink. Through A Moveable Feast, he meticulously paints a delicious portrait of Paris, bestowing us with an unquenchable yearning for this exhilarating life — travel, passion, exceptional food, aromatic beverages — as we eavesdrop on the iconic era. He evokes a sense of longing for the place he once lived and loved so dearly. Paris became a permanent, indispensable part of him, and through his words, us as well. After all, "wherever you go for the rest of your life, it stays with you, for Paris is a moveable feast."