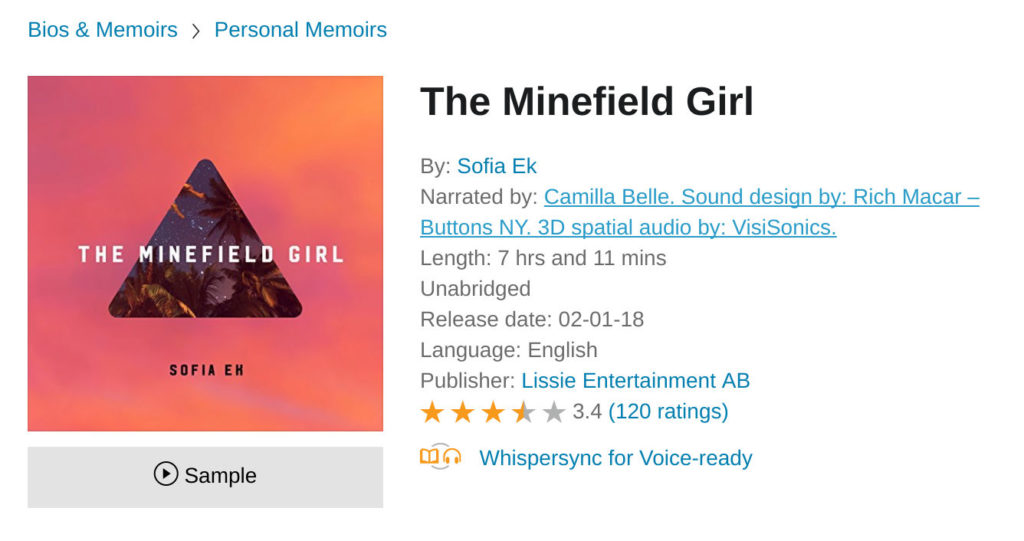 by Francis McGovern
I just finished the memoir, The Minefield Girl by Sofia Ek. It's a short but compelling read and it takes you behind the scenes of Sofia Ek´s personal experiences as a young woman doing business in Libya while Gaddafi was still in power. Sofia Ek comes to the country from Sweeden. Like many readers of Literary Traveler she wants to travel and experience the world. She ends up there because she is working for the Wall Street Journal via Smart Money magazine selling advertorial space in an upcoming feature on Libya.
She's good at sales. She uses the prestige of the Wall Street Journal to sell space and gain influence. The business and government ministers wanted credibility and foreign investment and she wanted to get the commissions and new sales. In her time there, she meets a Costa Rica man "Rick" who turns out to be from a family of Libyan exiles who have returned after a long absence. This fact, along with some public displays of affection get the two of them noticed and she needs to help get him out of the country.
She does meet Gaddafi once, but he's not mentioned very much in the book. It's his Son Saif al-Islam Gaddafi, whom she meets after connecting with members of his entourage. It's clear that he has the power to approve businesses and contracts but is not exactly who he seems to be, and that he is interested in more than just business with Sofia.
Parts of the book are well written and have an exciting pace.  Yet there is a contradiction in Sofia Ek, during the time she is in Lybia it is clear she is a beautful and intelligent woman who appears to genuinely care about the Libyan people, but she's not thinking with a clear head as makes decisions. I was rooting for her, but not always as she decides to get in deeper in Saif's inner circle, negotiating contracts for a new business involving the removing of mines from Libya. It felt like she was trying to help Libya but help herself as well and wasn't experienced enough to navigate on her own, but who is at that age.
It's clear that she loves "Rick" but she let's her interest in Libya take over and she keeps going back, partially to make money but also to help the country. She takes some risks and uses her feminine power to get ahead and has to pay a price.
I listened to the book on Audible, which was narrated by Camilla Belle, who reads with a detached but sincere rhythm, and it felt there was a cautious honesty in her reading. I definitely felt as though she was Sofia.  One thing I liked was that I thought Ek was saying with the book, this is what happened, and it is what it is, and maybe I am not proud of it, but there is something to be said for authenticity and honesty. I think that's what I took away from it most.