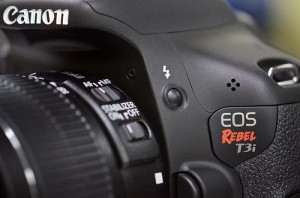 By Katy Kelleher
This is a review of the Canon Rebel T3i. I think it is a wonderful camera, with amazing capacities offered at a relatively low price. But before we go any further, I should make one thing clear: I am not, nor have ever been, a professional photographer. I am a writer (and traveler!) who loves photography and worships visual images. But since I always enjoy unsolicited advice, I want to share what works for me, in the hopes that it will work for others.
Now that I've got that off my chest, let's talk about this camera. I bought the T3i after hearing several of my photographer friends recommend it as a good "beginner camera" for someone who is interested in photography, but who's not willing to invest thousands of dollars in a digital SLR. What I needed was a camera that would take high quality pictures in nearly any light—my "day job" involves working at a lifestyle and events magazine, so I often find myself needing to snap photos of concerts, fashion shows, and the like. I needed a camera that could capture motion, shoot cover-ready images, take good night shots, had a decent zoom, and would deliver crisp, clear images even when on automatic settings. This is exactly what I got.
The Canon Rebel T3i has performed admirably at indie rock shows and equally well at family gatherings. After taking a quick photo course at a local store, I am now able to use the manual setting, as well as the aperture priority and shutter speed priority modes. So far, I have had the most success with setting the aperture (I like a limited depth of field, and setting it to a low number makes this very easy), but even the predetermined settings, like landscape and portrait, work well in certain circumstances. Even better, it shoots at 18 megapixel resolution, which means the images are big, sharp, and crisp enough to use for print—even as a magazine cover. In the right hands, you could create a real work of art with this camera.
If you are considering a Canon, there are a few differences between the Rebel T3i, the Rebel Ti, and the Rebel T4i. While my camera can shoot video, the Rebel T4i is better for videographers. The Rebel Ti is slightly less expensive, and doesn't have quite the same range as the T3i; however, if you don't want to spend too much money, this is also a great option.
Though I am still an amateur photographer, I think the T3i would easily meet the needs of your average traveler. Plus, it's not terribly expensive, so if you happen to drop it while climbing the steps to Machu Picchu (this is simultaneously both my travel dream and my personal nightmare), you will still be able to afford the plane ticket home.