While finishing up your holiday shopping, you may be looking for that elusive something extra: the perfect stocking stuffer.  After all, sometimes these small tokens can be the most thoughtful presents. We have compiled an assortment of items that will surely impress each Literary Traveler on your list. So, don't wait until December 24th to scramble through your local drugstore for stocking stuffers. No one gets excited about travel-sized deodorant and disposable razors. Instead, give bookish treats that are from the heart. Your loved ones will thank you, and you can thank us.
If you have a loved one who is always reading a new book and lending out previously read titles to friends, this stamp is the perfect little token to slip into their stocking this holiday season.  A tip of the hat to her generous nature with an added dose of creativity.  Every good little bibliophile grew up playing library, and what is more fun than carrying that tradition in to adulthood?  Plus, you're more likely to get borrowed books back with the gentle (and whimsical) reminder inked in the cover.
This set of 100 postcards featuring different Penguin book covers is perfect for the avid reader who upholds the noble tradition of writing letters and postcards in lieu of emails or Facebook messages. A cool intersection of travel and literature, these postcards will delight the recipient and impress their pen pal. Even if your Literary Traveler has no plans to go anywhere anytime soon, they can still use these sleek postcards as bookmarks.
If online dating is proving a minefield, perhaps you should turn to the ancient practice of divination to tell a Mr. Darcy from a Mr. Wickham. The Jane Austen Tarot Cards are based on the classic Rider Waite deck, so tarot aficionados can still recognize the cards' archetypes. For everyone else, this may be the way to re-route your dating segways into a predictable marriage plot. In addition to acting as oracles, the cards are pretty illustrations of some of the more well-known scenes in Austen's books. You have no excuse to stay in the drawing room, fanning yourself nervously. Consult the cards, trust your intuition, and invite yourself (and your loved ones) to the ball.
Could any clever gift be so neat and knowing? The visual pun doesn't strike you at first, but soon you realize that the little bottle corked with a USB holds information just like a tiny scroll — 4G of information to be exact. It is unique, adorable, and very useful. All in all, the perfect stocking filler.

While this may be a little bit pricier than your average stocking stuffer depending on the subscription length (a 4 month subscription is $33), it is the perfect something extra for the recovering English major in your life.  When studying literature, you spend a significant chunk of your time doing research, reading journals, and trolling internet databases for scholarly articles on topics that only you and a very niche portion of the academic community find engaging.  When you graduate, your access to JSTOR gone, you begin to miss those cleverly titled articles that postulate the intricacies of literary texts.  Journal of the Month provides a throwback to academia, allowing that English major to return to their roots — which is a safer and more productive return to college than attempting a keg stand.
These literary coasters are the perfect way to avoid damage from drinks. They're incredibly stylish with their bold literary designs. Each set comes with eight different iconic book prints, from Lolita to Catch-22. They even come wrapped in a case that looks like a book, so it's a very fun gift or stocking stuffer.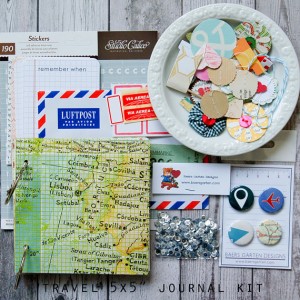 Travel Journal – Instagram Album 

Handmade gifts are always special because of the time and effort put in to getting the little details right. Well, if you are not artistically inclined, no need to sacrifice these special touches.  Etsy is a wonderland of well-made, creative products, and we love the concept of this travel journal.  A perfect idea for a traveler, scrapbooker, or social media maven — the pages are perfectly sized to hold prints of Instagram photographs! How often have we told ourselves that we're going to keep a written account of our travels but never manage to follow through? With this little book, you– or your favorite traveler– will be dying to document every last detail. For anyone who has ever wanted to travel journal, this is a great starting point, and for veteran scrapbookers, this is the perfect kit to easily commemorate a trip.
Whether you are shopping for a writer who wishes to keep their muse in both sight and mind, or a particularly well-read child who has outgrown that teddy bear, Little Thinkers has something for everyone. With an Edgar Allen Poe Little Thinker by your side, you'll have bad dreams "nevermore." And, if you are tired of debating the meaninglessness of life with a particularly existential friend, consider a Friedrich Nietzsche Little Thinker to provide them with someone else to talk to.
The perfect stocking stuffer for your favorite tea drinker, Novel Teas are packaged with the literature aficionado in mind. The black tea tags come adorned with literary quotes from the likes of C.S. Lewis and Alice Hoffman. It's the perfect way to caffeinate and enjoy your favorite novel.
Let's take it back to books. E-readers of all sorts have been the holiday gift of choice for the past several seasons. It is difficult to take a train, walk down the street or sip a latte in a cozy cafe without seeing at least one or two readers glued to their electronic devices, captivated by the words on the pages, err screen. But why must all our creative bookish minds look alike? A plain, cold e-reader here, a solid colored tablet cover there; we're looking rather uniform these days. Bring the bookworm in your life to the next level of e-reading with one of these fun literary e-reader/tablet covers. Klevercase offers covers designed by artists to pay homage to your favorite classic! Let your loved ones embrace their lit-loving identities and stand out among the sea of blasé book drones.
If you are shopping for a traveler about to embark on a trip, this set (2 luggage tags and passport cover) is the perfect way to send them off in style.  When they return from their adventure, they will have the stamp in their passport to prove that it wasn't all a dream.
A great addition to the stocking of any reader, these bookmarks are clever and functional artistic renderings of literary figures.  From Walt Whitman to Virginia Woolf and 27 other writers and artists, these bookmarks pay homage to a favorite figure with a beautiful caricature on the front and a short bio on the back.  At only $1.95 each, they are a great last-minute addition to any stocking — including your own!