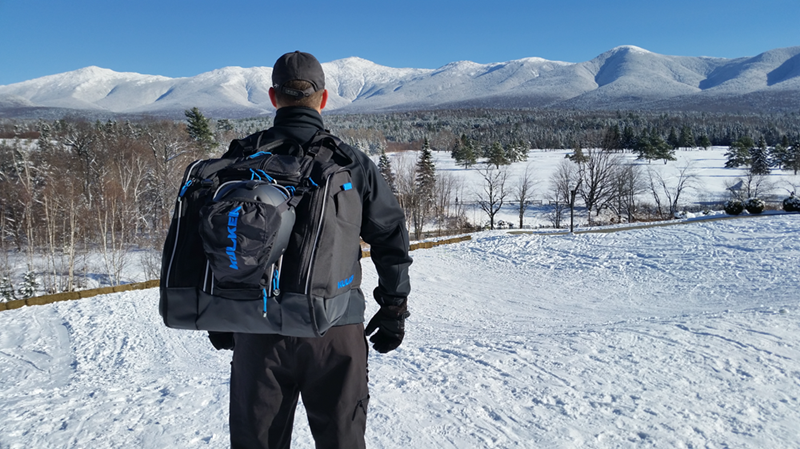 Snap on your helmet and pack in your boots: It's time to go skiing. But instead of throwing everything into a duffel, where your socks mingle uncomfortably with your goggles, try a Kulkea ski boot bag on for size.
"I was sick of black hole bags," explains Kulkea co-founder Steve Abramowitz. An avid skier, he tried many different bags for his gear. Some would rip. Some were too small. Some were too big. And all were disorganized. Instead of settling for subpar products, he joined forces with his brother to create the ultimate ski boot bag.
The Boot Trekker from Kulkea is their "top of the line" bag. Built on an Intuitive Packing System, this durable and technically featured bag has the space, and a place for everything. There are individual pockets for each ski boot, ventilation flaps to air out your boots and drainage grommets on the bottom for snow melt. There is a deployable sling to carry your helmet on the outside of the bag, a lined pouch for goggles, an adjustable hiking-grade strap system, and a padded contoured panel to keep the Trekker from straining your back. "When bags are full, they can be tough to take off," Abramowitz observes. "So people often carry bags over one shoulder. But they don't sit well and add strain to your shoulder and back. We solved that problem by developing Pack Release." This unique system allows skiers to carry the bag securely on both shoulders, and easily slip out of it—no more one-shoulder schlepping.
In addition to its numerous skier friendly features, the Boot Trekker is headed into its third generation to offer attractive new colorways. Kulkea will also release its fourth and fifth product lines for the upcoming 2015-16 ski season. Think you're ready to hit the slopes? Check out Kulkea first.
This article was sponsored by Kulkea. To learn more about sponsored posts, email Francis@LiteraryTraveler.com.