Destination:
Cuba
Description:
Travel to Cuba with National Trust and take part in an immersive People-to-People experience. During our specially designed program, you'll learn about this enigmatic island nation's fascinating culture through firsthand contact with Cuban artists, musicians, students, teachers, environmentalists, and others who are eager to exchange views with you on Cuban contemporary life. Explore the World Heritage site of Old Havana, where you'll learn about the ongoing preservation of the city's architecture. Meet artists and writers and experience Ernest Hemingway's legacy as well as authentic Cuban rumba rhythms. You'll meet with Afro-Cuban spiritual leaders, park rangers at a bio-reserve, and traditional farmers. This People-to-People Cultural Exchange is permitted by a license from the U.S. Department of the Treasury's Office of Foreign Assets Control.
*
In January of 2011, the Obama administration announced the easing of travel restrictions for cultural and educational groups to once again visit Cuba by restoring the "People to People" travel category. The National Trust for Historic Preservation was among the first cultural institutions to receive a license through the U.S. Treasury Department's Office of Foreign Assets Control (OFAC) last year and began offering unparalleled cultural exchanges in Cuba. We hope you can join one of our upcoming departures of Cuba: Its Culture and Its People in 2013 or 2014.
Many National Trust members have traveled to Cuba since November, 2011, to learn about and exchange ideas on architecture, historic preservation, planning and other subjects in the cultural heritage arena. The reviews are in, and our programs have exceeded the expectations of our travelers, with many of them noting that their time in Cuba was "an experience of a lifetime."
We hope that you will be able to join us and witness for yourself the world-class architecture, music and educational exchange only the National Trust can deliver.
Dates:
December 7-14, 2013
February 1-8, 2014
For more information on this trip please contact National Trust Tours, an affiliate of the National Trust for Historic Preservation
202-588-6301
A few thoughts from National Trust Tours:
"I had high expectations and they were exceeded."
"From touchdown to lift off it was a magical experience."
"I have wanted to go to Cuba my entire life and this group of leaders, study lecturer and guide & driver made it the experience I had hoped for!"
"National Trust is the only way to travel to Cuba."
"The interaction with the Cubans on the program was both inspiring and informative."
Readings: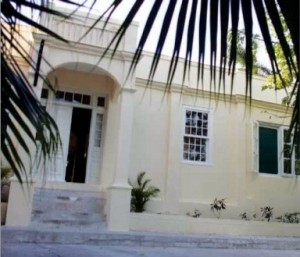 Read Ernest Hemingway to prepare for a visit to Finca Vigía, Hemingway's 12-acre property where the National Trust for Historic Preservation has played a lead role in working with its Cuban counterparts to preserve and restore. The trip will also include a visit to the fishing village of Cojimar which provided the author with inspiration for The Old Man and the Sea.
Itinerary:
Day 1 — U.S., Havana, Cuba
Depart from Miami International Airport on a charter flight to Havana. Take a short orientation drive through the city. Check in to the Melia Cohiba, a well-appointed hotel located along the lovely Malecón and affording water views. Gather for an informational briefing with introductory remarks by your National Trust study leader. This evening, depart for the welcome dinner in Old Havana. (L, D). (L,D)
Day 2 — Havana
Start the day with a presentation and discussion from a representative from the City Historian's Office. After the presentation, depart for the UNESCO World Heritage Site of Old Havana, founded in 1519 and now a world class preservation site. Join a walk through the city's Colonial architecture and historic squares. Later in the day, continue your exploration of Habana Vieja and discover Calle Obispo, Havana's busiest pedestrianonly street. Later, meet with Miguel Coyula, a representative from UNEAC Commission on the City, Culture and Architecture, who will discuss the Cathedral of Saint Christopher city's preservation efforts. (B, L, D)
Day 3 — Havana
Begin the day exploring the Havana's neighborhoods outside of Habana Vieja with an architect and see examples of restoration projects. Afterwards, depart for a forum
at the prominently located University of Havana. Here we will have the opportunity to relate directly with the students and staff in a group and one-on-one discussion. Then, visit the Instituto Superior de Arte, which is considered to be Cuba's premier art institute and one of the country's most outstanding examples
of post-revolution architecture. (B, L, D)
Day 4 — Havana, Vadado
Begin the day by venturing out to the Vedado area for a visit to the Cementerio de Colon. During a walking discussion with a specialist, learn about one of the most distinguished cemeteries in Latin America. Afterwards, visit the Corona cigar factory with an expert guide to learn of the fascinating process of leaf selection, rolling and the boxing of the famous Cuban export. Then, visit an  organopónico, an urban organic garden, and learn about Cuba's emerging agricultural sector. Later in the day, attend a special meeting at the Ludwig Foundation of Cuba, a private foundation from Aachen, Germany, which supports both art and theater projects. Take the opportunity to converse with both local Cuban artists as well as those from other countries who have, with the assistance of the foundations, come to Cuba to absorb styles and share ideas with the local art community. (B, L)
Day 5 — Cienfuegos
Today, depart Havana for the culturally rich city of Cienfuegos, another UNESCO World Heritage Site. Learn how the local architecture reflected the prosperity of sugar, tobacco and fruit trading. Later, attend a musical performance of the Choir of Cienfuegos and afterward gather for a discussion with the choir members. (B, L, D)
Day 6 – Trinidad
This morning we depart for the UNESCO World Heritage Site of Trinidad, a beautiful and historic city founded in 1514 and once one of Spain's most prosperous Colonial settlements. After an orientation walk by a city historian, visit with business people who live and work in the historic buildings. (B,L,D)
Day 7 — Cojimar
Today, we return to Havana and stop along the way in the fishing village of Cojimar, which was the inspiration for Ernest Hemingway's famous novel, The Old Man and the Sea. Upon our return, visit Finca Vigía, Ernest Hemingway's home. During our visit, we will learn more about the 12-acre property that contains original furniture, artwork, personal memorabilia, and other objects collected by the author. Also learn about the National Trust for Historic Preservation's involvement in past and present preservation projects underway at the house. Tonight we will have a farewell reception at the hotel to say goodbye to fellow travelers. (B, L, D)
Day 8 — Havana
Check out of the hotel and transfer to the airport for your return charter flight to Miami. (B)
Leaders:
Throughout your program, enjoy lectures and informal commentary with your National Trust Experts who will add depth and insight throughout your stay.
Fees:
Land arrangements: $4,890
Single supplement: $595
Deposit: $500
Round-trip charter airfare, from $500 per person, subject to change, between Miami and Havana, is additional and must be purchased with your tour.
Lodging
National Trust travelers stay at the Hotel Meliá Cohiba, a modern, comfortable hotel located in the Vedado neighborhood of Havana, overlooking the famed oceanfront walkway, the Malecón. Guest rooms are spacious and there are several restaurants, shops and music venues. In the Cienfuegos/Trinidad area, travelers stay at clean, modest hotels with more limited amenities.