Destination:
Ypres, Belgium and Arras, France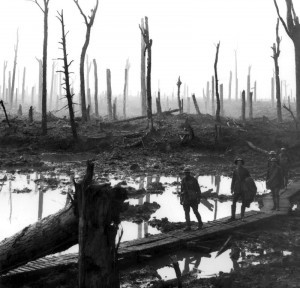 Dates:

June 19–26, 2016 (7 nights)
For more information on this trip please contact Literary Traveler.
1-855-LIT-TRVL
Readings:
Poems by Wilfred Owen, Siegfried Sassoon, Isaac Rosenberg, Vera Brittain, and others
Accommodations:
Novotel, Ypres and Hotel de l'Univers, Arras
Description/Itinerary:
As the world commemorates the 100th anniversary of WWI, journey with us to some of the most important towns and sites of the Western Front. From our bases in Ypres (Ieper) and Arras we will discover Flanders and Artois through the eyes and words of poets such as Wilfred Owen, Siegfried Sassoon, Isaac Rosenberg, and Vera Brittain.
In Ypres we will take part in the Menin Gate ceremony, which has been performed each night for nearly 90 years in honour of missing British and Commonwealth soldiers. There will also be time to enjoy the distinctive architecture of Artois and Flanders, such as the sprawling Grand' Place of Arras and Ypres' magnificent Cloth Hall.
An expert guide will also take us right into the trenches of Beaumont Hamel where so many Newfoundlanders lost their lives as they launched the Battle of the Somme. We'll stand in the dugout used by Sassoon and look through a real WWI periscope as we read Robert Graves's "Through the Periscope." In Ors, we'll visit the grave of Wilfred Owen and the forester's house where he spent his last night before being killed shortly before the war's end. Our guide will take us even deeper in, going behind the lines to the casualty clearing stations and the Talbot House, which offered food and beds to tired soldiers.
Through seminars, presentations, and extensive time in the field, this Travel Pursuit will immerse you into the everyday lived experience of soldiers, nurses, ambulance drivers, and others. It is a unique way to put the massive scope of WWI on a human scale.
See our detailed itinerary for more information.
Leader:
Melanie Blake has long been interested in 20th-century fiction and poetry about war and how they shape society's collective understanding of conflict. A confirmed Francophile and beer lover, she is also looking forward to sharing these fascinating parts of Belgium and France with you.
Fees:
US$2,995 per person based on double occupancy
US$3,795 per person based on guaranteed single accommodation
US$200 taxes and gratuities per person
Fee includes guides, readings, accommodation, two meals a day, discussions, ground transportation, walking tours, talks, excursions, and admissions.