By Jessica Monk
When I put my nose into the glass and inhaled an aroma that exactly matched what I had always hoped for but never really believed was possible to create, I burst into tears.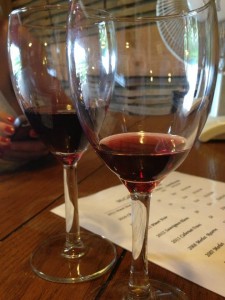 Just a half mile wide at its narrowest and only 40 miles long, Long Island's North Fork is an unexpected respite from the New York minute. If you follow the highway as far as Riverhead, you find yourself deep in agricultural countryside where the peninsula divides into its North and South Forks. The North Fork appellation stretches from the Riverhead town boundary line to Orient Point, separated from its famous neighbor the Hamptons by a narrow inlet of water. Picture the lush miniature world of an ocean tide pool, and you're halfway towards understanding how different this isolated microclimate is from the typical suburban image of Long Island. In the summertime, with its hazy afternoon glow, farm-stands and vineyards, the parts of the North Fork that don't look like rural Massachusetts could be Bordeaux in Southern France. And Merlot, the characteristic red of Bordeaux, does best in this climate. Anyone who has seen the film Sideways knows that Merlot suffers a beating from its main character, Miles. But, if you google "Merlot" and "Long Island" today, you'll find a slew of websites defending the region's sturdiest grape.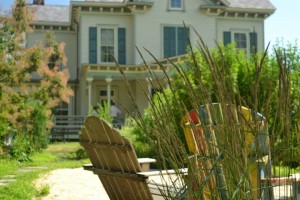 In the twenties, when F. Scott Fitzgerald's characters were escaping into the city night via the Brooklyn bridge, the sleepy agricultural regions of Long Island were still dependent on subsistence potato farming. A few years ago, locals will wryly admit, there wasn't much to do in the North Fork after dusk. But things are changing. Literary Traveler embarked on a road trip to Long Island hoping to savor a different angle on the literary fan's perspective of Gold Coast Mansion luxury. We found a quiet setting for a relaxed holiday with a growing number of pilgrimage-worthy spots where some serious wine tasting and drinking can take place. You can scoot between acclaimed restaurants like Noah's or The Riverhead Project and the various vineyards along the region's reliable (though infamous locally) Route 25.
Jedediah Hawkins Inn in Jamesport hosted our vacation in comfort and style. The Inn's restoration spoke the same language as the region's slow and dedicated approach to food, wine, and hospitality. Once a 'haunted' derelict site for children to play in and whisper about, the building was restored from a crumbling boarded up structure by local Jeff Hallock and finished by designers who had free rein to shape a distinctive ambiance for each room.
We spent our time drifting comfortably between the garden, the Speakeasy and our upstairs suite of gabled timbers, cushioned nooks and views of the crops and trees closing off the sound. Pam Hunt, great-granddaughter of the Inn's namesake, Captain Jedediah Hawkins, showed us around her ancestral home. In the 70s and 80s, she explained, no one knew about Long Island wine. She did PR leg-work for Pindar Wines in the days when they were the only big producer. Long Island wines were such a curiosity then that the PR team would pitch up at any event that needed entertainment – even insurance seminars – with clipboards and cases of wine. "I was the entertainment," Pam notes with a smile.
The more a vine struggles, the better quality the grapes are going to be.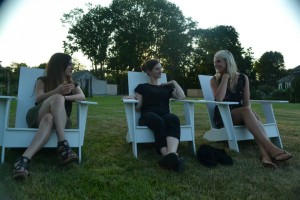 Though the North Fork is the quieter sister of the peninsula's two regions, it has the best conditions for wine-growing: more sheltered by the bay and well-drained, deeper soils than its sibling. "The ocean blowing up all the time onto the south shore causes fog in the morning, every day for a certain number of hours before it burns off, cutting the South Fork's hours of sunlight," says Pam. If the Long Island grapes can survive the hurricanes, summer rains and frost that an East Coast climate brings, they can soak up the many other advantages of this maritime climate – a long growing season for one. And the region gets points for having seasons too: "In California, the vines over-produce and they have to cut them down to nothing to keep them from producing in the winter time because the winter doesn't get cold," explains Pam. "The more a vine struggles the better quality the grapes are going to be."
Years ago, Pam tells us, two Harvard graduates, Glen Cove native Louisa Hargrave and her now ex-husband Alex, noticed Merlot and chardonnay grapes among the apples and peaches at Wickham's farmstand in Cutchogue. These were the wine-making vinifera grapes, and they were perfectly ripe. The Hargraves, the Adam & Eve of Long Island wine country, were not professionals, but they spotted the potential of the well-ripened red grapes immediately. Vines start producing top quality wines in their 30s and 40s, Pam tells us, and the couple struggled with their venture at first. They were idealistic college graduates whose knowledge of winemaking came from their studies in classics and a University of California textbook. Louisa later published a memoir about the highs and lows of winemaking.
"When I put my nose into the glass and inhaled an aroma that exactly matched what I had always hoped for but never really believed was possible to create, I burst into tears," Louisa wrote. The sweet relief she felt might have been expressed on behalf of this whole region of dreamers and grafters.
McCall Wines, owned and operated by next generation wine growers who bought the vineyard in 1997 were adamant that they wouldn't put their name on a bottle until they were happy with the vintage. In 2007, that year came and they bottled their Merlot and a blend named after their late Vineyard Manager, Ben Sisson. This gorgeous red seemed to release a basketful of autumnal scents into the summer air as we sipped in the tasting room. "It has a warm woody quality with hints of charcoal like an outdoor bonfire," my notes opined, giving my best rendering of a wine writer's poetic prose. For a more technical description, check McCall's website, but if my strong impressions are anything to go by, they spoke of a wine that was robust enough to be itself – and perhaps even invoke the spirit of a much-missed colleague.
Nicola Plimpton, longtime partner of Russell McCall, is a Francophile, so the grapes, the methodology, and even the 46 grass-fed Charolais cows at McCall's are French. McCall Wines does not mass produce, nor do they muddle along at an ambling hippie pace; instead they insist on a meticulous approach that owes a lot to the French tradition (they plant their vines close together) and they attempt to be environmentally responsible in their use of pesticides. They are the largest, most successful producer of Pinot Noir on Long Island. Pinot is notoriously hard to grow– Nicola calls it "the heartbreak grape" for its thin skin. McCall grows pinot cheek to cheek with its Sideways rival Merlot. But, in the beginning, they made a choice to do "a few things well," and it paid off. Their most acclaimed wines are their 2007 Ben's Blend (60% Merlot, 25% Cabernet Franc, 10% Petit Verdot and 5% Cabernet Savignon) and a 2010 Pinot Noir with hints of vanilla (I got that one right). When we ask Nicola what she likes most about the job, she says she enjoys meeting all the people who come through her tasting room – from celebrities to luminaries — like the LT girls on tour.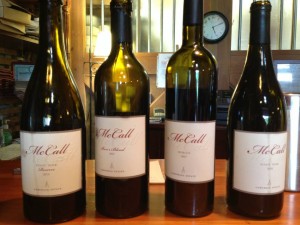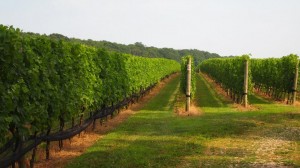 Because Long Island is still an upstart region that exports the bulk of its products locally (to New York restaurants), wine growers seem freer here to experiment with a wide range of grape varieties and techniques – from Cabernet Sauvignon, Cabernet Blanc and Cabernet Franc to Chenin Blancs and German Rieslings. Many wine growers have had success with unoaked chardonnay, and other wine growers experiment with medieval techniques, such as stamping on the red grapes, biblical style. Meanwhile, the North Fork's relaxed farm-to-table network of growers, Inns, and restaurants need only be itself to attract organic foodie tourism, rustic weddings, and bachelorette parties. The East End is a small, interconnected world, and a stay in wine country will often give tourists access to partner recommendations and tastings.
If you have to cross your own fields to go to work in the morning, settling in with a vineyard business seems to be a matter of choosing how to live as much as how to produce successfully. Every vineyard seems to be guided by a different ethos. From chatting to locals and reading up on the growing reputation of these wines, we got the impression that now is the time to visit — when the stories of struggle and success are fresh in the memories of growers who staked out their territory in this pioneer region just decades ago.
By coincidence, we discovered after returning from our trip that 2013 was also the year Long Island Wine Country turned 40, dated from when Hargrave's first modern Vineyard (now Castello di Borghese) was established in Cutchogue. The annual East End Harvest Festival was held in the North Fork for the first time this year, where McCall Wineries scooped the New York Wine and Grape Foundation Winery of the year 2013. The event was held by Wine Enthusiast Magazine, who voted Long Island Wine Country one of its top destinations for 2013.
If timing is everything in wine growing, Literary Traveler managed to stumble into the wilds of the North Fork at precisely the right time. Of course, it wouldn't be a road movie without the kind of random accidents that lead to unexpected glory. This road movie, however, we decided to go easy on the Merlot. Good things take time, and unlike the glittering but doomed good times of Gatsby, Long Island Wine proves that life begins at forty.
For more info on things to do on Long Island, check out Long Island.com, for news updates, travel tips and a full listing of events.

Originally published in 2013