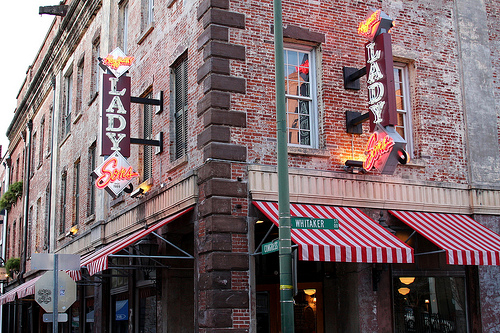 By Antoinette Weil
Literary Travelers have been flocking to Savannah, Georgia to take in its rich history and literary scene for decades. The river city's popularity absolutely ballooned after the best-selling novel (and subsequent film), Midnight in the Garden of Good and Evil. Now, Civil War buffs, literary aficionados, and good-time seekers alike make up Savannah's robust tourism industry.
Admittedly, and please don't hold it against me, one of my favorite parts of travel is eating. Trying new foods in new places, experiencing different cultures through the mouth and stomach, and the vacation mentality that calories out of zip code do not count, bring me great delight in whichever destination I find myself.
So then, where is a weary wanderer to go to rest her bones and fill her belly? Well, if you're asking my opinion, I'd say you must check out the local-landmark-turned-tourist-hotspot, The Lady and Sons.  This West Congress Street location has fame and acclaim due to in part to its well-known owners, TV personality Paula Deen and her two sons Jamie and Bobby, and in part to the delectable guilty pleasures that comprise its menu.
Manager Rance Jackson, who has been with the restaurant and Deen family for 17 years, says that while tourism provides a great deal of business for the bustling eatery, it is the locals who are to thank for the great success of The Lady and Sons.
"We wouldn't be where we are without the locals," Jackson said. "When we started they're the ones who kept us going. Someone had to refer Pamela Cannon (The Random House publisher who "discovered," vouched for, and subsequently published Deen's cookbook). The locals really set us up for success."
Walking through the doors of The Lady and Sons, you feel almost like you're being welcomed into someone's home. The care and attention that each guest is given, the charming southern accents, the tasty tidbits at the start of each meal all add up, point by point, to an impeccable dining experience that feels both extravagant and completely comfortable. People line up for the famous feasting and make reservations weeks in advance to get a piece of the home-cooking of Paula Deen, the finger-licking, butter-drinking, gray-haired epitomal figure of southern charm and hospitality.
Paula Deen may be outside the realm of what is often considered "literary," but looking at the best-selling author, with 14 published cookbooks and a memoir that reads like literary fiction – a tale full of struggle, angst, heartache, and eventual triumph — the kitchen magician deserves some credit in the world of words.
The story of Paula Deen is an American Dream story that would impress the likes of Fitzgerald and Bronte.
Deen married her first husband at age 18, a union that turned out to be rocky and ended with a divorce in 1989, and she was pregnant with her first son at age 19, the same year she lost her father to a blood clot. Four years later she lost her mother to bone cancer and was charged with taking care of her younger siblings, as well as her own two sons. The pain and the pressure proved too much for the young mother and pushed her into a twenty-year slump of Agoraphobia and severe anxiety and panic.
Deen, unable to face the crippling fear of being in public, of even leaving the house, turned to something that she could do. She learned and mastered recipe after recipe, one southern staple after another, turning her kitchen into a sanctuary, sheltering her from the pressures and perils of the outside world.
"I could concentrate on what was in my pots and block out what was in my head," Deen shared with The New York Times. Fearful to venture out, even as far as the supermarket, Deen made do with the items kept at the front of the store, and did it very well.
She shares these feelings of fear, doubt, and unease that absorbed her every waking moment in her 2007 Memoir, Paula Deen: It Ain't All About the Cookin'. In the tome, she writes:
I just knew I was gonna die, knew my heart couldn't stand this kind of pressure, and it had happened too many times before. Almost every last time I had to go outside by myself, that panic would start in and drop me to my knees. Couldn't breathe, couldn't stop trembling. I felt weak and nauseated and dizzy, and I just knew I was gonna die in front of other people. If I dropped over in public, think how horribly humiliatin' it would be.
As Deen's cooking skills developed, along with her desire for more than what could be found in her own kitchen, she decided to put her talents to good use. Enlisting the help of her two faithful sons, Deen bagged up lunches of ham, chicken salad, and BBQ pork and sent the boys off to sell them to local workers. There must have been something to those simple sandwiches, for they sold, and eventually the family made enough money to open a small restaurant.
"She opened Best Western on Eisenhower," said Jackson, "where she, the boys, and one other person cooking served lunch, dinner, and breakfast 7 days a week, twenty-four hours a day. For seven years. I don't know how they did that."
Eventually, the story goes, she moved on to create a bigger, better restaurant, got her cookbook published by one of the top publishers in the country, and made it onto The Oprah Winfrey Show, sparking the popularity that she leveraged into a television career. Now, with several hit TV shows on the Food Network, seven restaurants and counting, and a personality bigger, bubblier, and more well-known than perhaps any of her cooking counterparts, Deen certainly seems to be cured of her past struggles with Agoraphobia.
And her personal life has matched her professional victories. Deen got another chance at love and embraced it, marrying Michael Groover in 2004. Her sons, so instrumental in getting the family business off the ground, have continued to stick by their mother through thick and thin. While Jamie and Bobby are each hard at work nurturing their individual careers, they remain key figures in the Deen franchise, making frequent appearances at The Lady and Sons and exhibiting a hands-on commitment to the brand's success.
"The three of them can liven up any room," said Jackson. "We work very hard, but it's always fun."
When asked to ruminate on the reason for Paula's popularity with viewers and readers, Jackson gave this explanation: "She's everybody's sister, mother, and now grandmother."
This kind of relatability is what made Deen's memoir a bestseller, what keeps her at the top of the Food (Network) chain, and what keeps the surge of customers coming back to The Lady and Sons.
"I'm livin' proof," relates Ms. Deen, "that the American dream is alive and well, that you can be an imperfect person and still end up with so much fun in your life you can hardly stand it."
A simple and honest message from Paula Deen, best washed down with a deep-fried Southern dish and a glass of sweet tea. Rance recommends the pot roast or chicken pot pie, but if you can't make up your mind there's a buffet of traditional southern grub with something for everyone.
Take your pick at The Lady and Sons, 102 West Congress, Savannah