By Rosie Carbo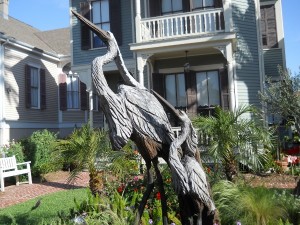 When I was a university student in Houston,  Galveston Island was a magnet during holidays and after finals. Like many tourists, I was drawn to its beaches, flip-flop-friendly venues and overall Margaritaville culture.
But this spring, I discovered that beneath Galveston's fun-filled veneer, there's a population of some 50,000 civic-minded residents.
On a more recent trip with a group of other travel writers, I realized that Galveston is not just Houston's laid-back neighbor 50 miles south. The residents of this town are as resilient as the 100-year-old oak trees, some of which date to the 1800s, that once shielded homes from the sizzling Texas sun.
The East End Historic neighborhood, with gardens and yards dotted with whimsical tree sculptures, illustrates the indomitable spirit of Galveston Island. This residential district boasts what could be one of the largest outdoor collections of oak tree-sculptures in the nation.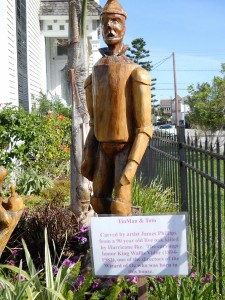 Take a walking tour or go by bike, car or solar-powered shuttle bus and you'll see the "Tin Man and Toto" created by chainsaw artist Jim Phillips, "The Lion King" by fellow artist Earl Jones, and a "Great Dane" by artist Dale Lewis.
These artists are not famous. They are no Picasso, Van Gogh or Matisse. But their work is every bit as inspiring as works by those artists. In fact, with 1.5 million visitors each year, Galveston's tree-sculptures are a must-see outdoor attraction for many a tourist.
"There's something about the wood. It doesn't matter what shape you put it in, they love it, especially the kids and the elderly," said Jim Philips, one of the first artists commissioned to create works of art from salt-choked oak trees.
Philips, who has turned his hobby into a full-time career, said most of the artworks represent what the homeowner envisioned the dead oak tree to be. For example, one of the directors of the Wizard of Oz film was born in the house where "Tin Man and Toto" now stands.
The tree sculptures also represent a family pet, an elusive dream, or a special memory for many of the homeowners. Take the Geisha sculpture on one front yard. It was commissioned by a homeowner who has traveled to Japan several times due to a special interest in the Far East.
As we zipped up and down the East End neighborhood, I found that the unique sculptures resonated with me, rekindling memories of the disaster that led to the tree-sculpture saga five years ago.
On September 13, 2008, Galveston was devastated by Hurricane Ike. Some residents headed to the Houston mainland on Interstate 45 north. Others hunkered down in beach houses, landmark hotels, and Victorian-era homes amid winds clocked beyond 110 mph.
When it was over, much of Galveston Island and nearby Bolivar Peninsula lay in ruins. The Strand, a historic downtown business district, was inundated with more than 15 feet of saltwater. Quaint boutiques, restaurants and the Grand 1894 Opera House suffered water and wind damage.
After Ike destroyed much of the town, including hundreds of oak trees, Donna Leibbert, a member of the Galveston Island Tree Committee and Galveston Island Tree Conservancy, began brainstorming. She told city officials dead oak trees could be re-purposed into art. When the city gave the go-ahead, she recruited Phillips, Jones, and Lewis.
Galveston lost nearly 40,000 trees to Ike, but both organizations are devoted to ensuring the island is replanted. Since Ike, the conservancy has planted 11,000 new trees with the help of myriad volunteers. These two groups prevented dead oak from ending up in landfills.
Ironically, 200 tons of the oak tree remnants went to Malaga, Spain to be used in completion of "Galveztown," a full-scale 1779 replica of a historic brig. Bernardo de Galvez, Spanish Governor of Louisiana, is Galveston's namesake. The brig is named in his honor and will one day sail to Galveston.
Residents, whose homes and businesses were destroyed, found hope when their beloved oak trees became owls, dolphins, dogs, cats, birds and angels. A bit of Americana here and a touch of popular culture there popped up first in the East End.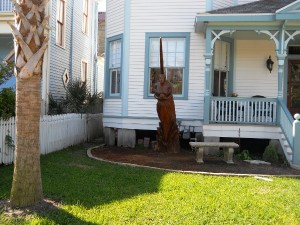 Soon, the entire beach town was captivated by the tree-sculptures. A larger-than-life "Railroad Engineer" by Phillips towers near the Railroad Museum and Schreiber Park has a "Wildlife Tree" by Lewis. At Adoue Park, Jones sculpted a "Grandmother Reading to Her Grandchildren" through a donation from the Adoue family.
While there are chainsaw artists scattered across the United States, the three artists who surfaced after Hurricane Ike stand out like superheroes. Armed with their shiny, powerful chainsaws, these men have left a tree-sculpture legacy that inspires Galveston residents and visitors alike.
In my tour group, a New York-based writer was so amazed with the outdoor sculptures that she wrote: "This not only told me a story of survival but of making something beautiful from remnants of a devastating natural disaster as well." New York's Hurricane Sandy survivors, who also dealt with felled trees, could learn from Galvestonians, she said.
Resuscitating thriving businesses was more challenging. Ike dumped millions of gallons of water and left so much mud in its wake that some businesses along The Strand were forced to close. For a few, closing temporarily after the storm surge meant financial challenges that spelled the beginning of the end.
Still, there were die-hard businesses that refused to succumb to the deluge of Hurricane Ike. LaKing's Confectionery, Couteux Couture, the Grand 1894 Opera House, Tremont House Wyndham Grand Hotel and many others stood their ground, shook a collective fist at Ike, and reopened after the storm.
"This place was like a river, and when the water receded there was mud everywhere," said Diane Olson, owner of Olson Historic Properties and the chic lady's boutique Couteux Couture. "I was born and raised here, so where was I gonna go?" She didn't go far, reopening down the street on The Strand.
Olson articulated what most Galveston residents felt after Hurricane Ike, the most devastating hurricane since the storm of 1900, which took more than 6,000 lives. Still residents remained, prompting officials to build a giant seawall. The 17-foot high wall had withstood other storms, until Ike came ashore.
Nevertheless, a full year after Ike devastated the island, and outsiders reported Galveston's demise, news spread of its miraculous resurrection. A local business mogul, who owns a chain of restaurants and built the Pleasure Pier, said that despite hurricanes people always return to the Gulf of Mexico waters.
He may have a point. In the late 1880s Galveston was christened the "Playground of the South" due to its 32 miles of beaches, the vibrant Strand, several cultural venues, and family-friendly activities. Coincidentally, post-Ike rebuilding efforts have spurred the town's Golden Age revival.
Today, the island has reclaimed its playground title with new and restored entertainment venues. Some of the most popular include Moody Gardens with its remodeled Rainforest Pyramid, the Pleasure Pier, Lone Star Flight Museum and the Galveston Railroad Museum.
Since 2010, Galveston has attracted five new cruise ships, including Disney Magic, Crown Princess, Carnival Magic, Carnival Triumph, and Royal Caribbean's Mariners of the Seas. In May 2011, the Historic Pleasure Pier replaced the 1960s-era Flagship Hotel damaged beyond repair by Ike.
Seawall Boulevard also stands as a testament to the resilient nature of this barrier island and it residents. Cruise along the Seawall and you'll see hotels and restaurants dating back decades. The iconic Hotel Galvez & Spa and San Luis Resort & Spa have weathered several hurricanes and offer views of the Gulf of Mexico.
Gaido's Seafood restaurant resisted Ike's fury and continues to thrive more than 102 years after its founding. The landmark is one of many businesses along Seawall Boulevard, across from the pedestrian-friendly beachfront promenade.
Founded in 1837, Galveston was also known as the "Ellis Island of the South," according to our tour guide.  It was the gateway for European immigration in the South. That's why Galveston has the largest and well-preserved concentration of Victorian architecture in the country. Also, European values inspired the building of The Grand 1894 Opera House.
Since I'm an opera fan, I broke away from my group while strolling around bustling Pier 21. It was an easy, walking distance escape to the Opera House. Inside, I saw a waterline marker denoting the 9 feet of saltwater that had inundated the opulent lobby.  I could see from the main theatre's interior why so many opera legends had once performed here.
Serendipitously, while our group dined one night at Rudy & Paco's (named one of America's best restaurants by Open Table) we caught a glimpse of Hal Holbrook. The famous actor, known for his role as Mark Twain, was dining at R&P's prior to his performance next door-at the opera house.
As I looked back on my forays to Galveston as a Houston university student, I felt guilty. I had missed this hallowed island's soul in my quest to swim and sunbathe. Had I not taken this journey, I may never have seen the sculptures or known about Mother Nature's dual role in spurring artistic endeavors and bringing closure for some survivors.
Realizing Galveston is more than Texas' number one vacation destination was my epiphany. This island is a living, breathing, ever-evolving oasis, reinventing and reshaping itself through its residents and the artists it inspires. Now, as I recall the Tin Man, the Great Dane, the Geisha and so many other symbols of man's triumph over nature, I too smile broadly.