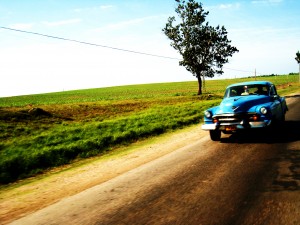 Destination:
Cuba
Dates:
April 13-24, 2016
For more information on this trip please contact Literary Traveler.
1-855-LIT-TRVL
Readings:
Secret Inventory of Havana by Abilio Estévez, 2012
Cuban Revelations by Marc Frank, 2013
Accommodations:
Ambos Mundo, Havana
Description/Itinerary:
Whether you are a Canadian who has enjoyed a Cuban beach holiday or an American who has looked with longing at that alluring but off-limits island only 90 miles off the coast of Florida, we promise you a behind-the-scenes immersion into a neighbouring culture that both confounds and intrigues us.
Cuba's culture is a mixture of often contradicting influences. The island is a meeting point of Spanish, African, French, and Asian cultures. Since 1959, the Cuban Revolution has greatly affected even some of the most basic aspects of daily life. How does the irrepressible Afro-European vibrancy and spontaneity of a tropical and Catholic island square with conformist, and atheist Soviet-style communism?
We will explore what it was like to grow up in Cuba as the last generation of citizens raised with Fidel Castro in charge of their country and how ordinary Cubans perceive themselves and their future. On a positive note, violent crime is low, literacy high, and healthcare universal. However, the one-party state has imposed limitations on many freedoms, including expression and travel. And the fall of the Soviet Union brought an end to the subsidies that kept the Cuban economy afloat up to the nineties, which has caused the country severe economic hardships it is still grappling with.
Predictions that the island would undergo a rapid transformation in the manner of China or Vietnam, let alone the former Soviet bloc, have proved false. But Cuba does look much different today than it did 20 years ago, or even as recently as 2006, when illness compelled Fidel Castro to step aside. Far from treading water, Cuba has entered a new era, the features of which defy easy classification or comparison to transitions elsewhere.
We will break down barriers that have kept us apart as we build relationships with Cubans from all walks of life in the places they live, work, worship, and play. We will soak up the environment of colonial, art deco, and contemporary architecture. We will savour the country's hugely popular and influential music. We will meet local artists. We will discuss Cuban poetry and literature with some of the island's most articulate writers.
We will experience Cuba in three distinct locations. Havana, of course, the big and beautiful capital. Trinidad is a perfectly preserved Spanish colonial town located on the Caribbean coast near the Escambray Mountains. The small city of Cienfuegos has been declared by UNESCO to be the best extant example of the 19th-century early Spanish Enlightenment implementation in urban planning.
We will renew a relationship that has been too long broken.