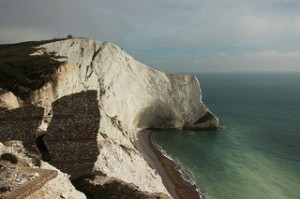 By Ann-Maureen Owens
The western tip of England's Isle of Wight was a setting beloved of the Victorian poet laureate, Alfred Lord Tennyson, for the last half of his life. Still beautiful, less populated than the rest of the island and soothingly calm, it is easy to understand his attachment. The poet's presence lingers at ivy-clad Farringford House, his home near Freshwater Bay for over 40 years, where he entertained artists, intellectuals and royalty. It was operating as a hotel, in a faded grandeur sort of way, when I stumbled upon it a few years ago, a charming place where one is happy just sitting in the garden, admiring the views and soaking in the literary atmosphere.
Tennyson's origins are found much farther north in the Lincolnshire village of Somersby, but the Isle of Wight captured his heart when he rowed around The Needles, the sharp-edged pillars of chalk that extend out to sea, on a visit there as a bachelor in 1846. By then he was a well-known poet and had been engaged to Emily Sellwood for ten years, but bad financial investments prevented him from marrying until he was named poet laureate after William Wordsworth died in 1850. He returned to West Wight a few years later when he was looking for a suitable family home.
Poets were the rock stars of the nineteenth century and their work was the stuff of popular culture, so Tennyson found himself hounded by fans in London. He needed a more serene place to work and bring up a family with Emily. They fell in love with Farringford, a secluded Georgian house with gothic windows and beautiful grounds close to a shingled beach, wooded paths and undulating hills. "I must have that view!" Emily reported herself as saying in her diary, and her husband agreed, "We will go no farther, this must be our home." Such was the power of poetry in those days that the profits generated by one of Tennyson's long poems, "Maud," written soon after moving in, enabled them to purchase the estate after renting it for three years.
Queen Victoria and Prince Albert had also found the Isle of Wight a favourite family retreat and while the Tennyson family was in the midst of moving in and unpacking their furniture, the prince consort dropped by unannounced, chatted pleasantly and left with a bouquet of cowslips from the garden for the queen. It was seven years later that Tennyson was invited to Osborne House to meet Queen Victoria, a moving event in his opinion, though his ten year old son, Hallam, was less impressed, writing in his diary, "You must always say 'mam' when in her majesty's presence. You must stand until the Queen asks you to sit down. Her Majesty does not often tell you to sit down."
On my own journey to West Wight, a contemplative mood began to envelop me as the train left London's suburbs behind.  A change at Brockenhurst and a bit of a wait to be shuttled back in time on the kind of train that that needs to be opened by reaching through the window to the outside door handle when disembarking, brought me to Lymington Pier. On the ferry across the Solent, I settled in to accept Tennyson's invitation,
…Take it and come to the Isle of Wight:
Where, far from the noise and smoke of town
I watch the twilight falling brown
All round a careless-order'd garden
Close to the ridge of a noble down…
The "noble down" is now called Tennyson Down, and my first long breezy walk was to the soaring Tennyson monument overlooking an aquamarine sea, white chalk cliffs and sheep-dotted meadows. Tennyson walked this route daily with his dogs and found inspiration for the poems he laboured over in his study or the summerhouse he designed for the garden.
As Tennyson's guests would have done, I relaxed with friends over drinks on the terrace and coffee in the drawing room. We played a round of golf on the small estate course where croquet or bowls would have been on offer in the poet's time. Garibaldi planted a Wellingtonia tree there in 1864 and Tennyson fashioned an outdoor throne for the Queen of Hawaii's visit in 1865. The view from the drawing room that so captivated Emily Tennyson draws one out through the garden gate to explore the island on foot.
A gate at the back of the grounds opens onto a network of paths through woods and fields of National Trust managed land. I followed the poet's footsteps, noting a footbridge he had built to escape the autograph seekers that eventually found their way to his garden gate, and continued for three miles to The Needles. My return walk brought me past the coloured sand cliffs of Alum Bay and over fields to Warren Farm that serves traditional cream teas of such quality, that this quiet, hidden-away farmhouse kitchen has made the Guardian newspaper's list of top ten cream tea spots in England. Simple yet luxurious fare in a timeless cottage garden. "Come into the garden, Maud…"
Another footpath leads to Dimbola Lodge where Tennyson's near neighbour, Julia Margaret Cameron, the celebrated Victorian photographer lived. She moved here after visiting her friends, the Tennysons, at Farringdon while her husband and son were away inspecting their coffee plantations. Cameron named it after the family estate in Ceylon and settled into her new hobby, an unusual one for women at the time. She turned a tumble-down greenhouse that had been the chicken coop into her photographic studio and a root cellar into a darkroom. Cameron would often persuade Tennyson's famous guests to pose for hours, sometimes with costume changes and dramatic settings. Her "magnum opus" was an edition of Tennyson's "Idylls of the King" with 24 original photographic images. When Tennyson escorted American poet Henry Wadsworth Longfellow to her door to have a portrait done, he reputedly said, "You will have to do whatever she tells you. I will come back soon and see what is left of you."
Cameron's home, situated between Farringford and the bay, was originally two cottages when she bought it in 1860 and ten years later expanded by linking them with a central tower in the fashionable Gothic style. Here, she established a literary and artistic salon, hosting Tennyson, the artist G.F. Watts and his actress bride, Ellen Terry, Charles Darwin, and writers William Makepeace Thackeray, Lewis Carroll and Edward Lear, among others. Many years later, her great-niece, Virginia Woolf, affectionately satirized this Victorian circle in her play, "Freshwater," for their concern with the holiness of Art and their sense of sublimated passion.
Dimbola Lodge is now a photographic museum and gallery featuring Julia Margaret Cameron's work, including some of her more famous portraits, along with temporary exhibitions by current photographic artists. With a nod to contemporary popular culture, there is a room devoted to the history of the Isle of Wight Pop Festival and a Jimi Hendrix Memorial Garden where his fans can pose with his life-sized statue amid the lavender and roses and then enjoy lunch or afternoon tea in the Cameron Tearoom. Still in evidence is a special gate at the back of Dimbola Lodge that Cameron built for Tennyson, so he could walk through the fields from Farringford to visit, undisturbed by the growing number of day trippers who sought out a glimpse of the poet laureate, as fans do in any era.
A twenty minute evening stroll inland brought me to the village of Freshwater and through the lych-gate of seventh century All Saints Church. Emily Tennyson is buried in the churchyard, along with sons, Hallam, who eventually became Governor-General of Australia and Lionel, who predeceased his parents after contracting malaria on his way back from India. The poet, who belonged to the nation, rests in London's Westminster Abbey. Next to the church, The Red Lion, a pub with 11th century origins, keeps pace with the past, brooking no quarter with modern distractions. The establishment prides itself on being so traditional that it discourages cell phone use to the point of insisting the offending customer make a donation to the Lifeboat Charity box. The focus is on real ale and delicious traditional fare such as steak and ale pie or scallops on bubble and squeak, prepared in gourmet fashion. The pub makes no claims to a connection with Tennyson but surely some of his many famous guests must have found it a pleasant diversion.
Tennyson's home is now being extensively and sensitively restored by its new owners, so it no longer operating as a hotel. I was lucky enough to stay there the summer before it closed in what was once Tennyson's large and comfortable bedroom with high ceilings, an elaborate fireplace and a view through tall, mullioned windows of the park-like setting and sweeping rose-lined drive. When the restoration is complete, the house will be open to the public for concerts, poetry readings, exhibitions and regular tours. Though no longer a hotel in the strict sense, it will host private functions such as weddings and conferences. Patrons of the restaurant and the self catering cottages tucked out of the way on the 33 acre estate continue to have access to the grounds. The showcase of restored Farringford House is Tennyson's library where his books, paintings and photographs are displayed.
The Isle of Wight has many other attractions such as Queen Victoria's favourite residence, Osborne House, just outside the famous yachting town of Cowes, and Carisbrooke Castle, where King Charles I was imprisoned, his attempted escape foiled when he got stuck between the window bars. However, as in Tennyson's day, the chance to escape crowds and enjoy the scenery is its most irresistible charm. Tennyson wrote some of his most famous works here, including "The Charge of the Light Brigade," while "Crossing the Bar" was written on the ferry between the mainland and his island home. Some believe he and Emily still haunt their beloved Farringford and report apparitions of them in their favourite rooms and walking on Tennyson down. I understand. I also want to go back there.