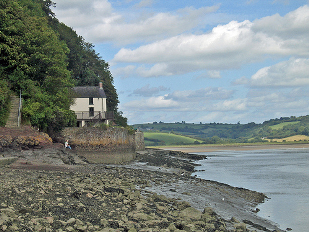 Literary Traveler is honored to publish the following interview with Jill Paris, author of Life is Like a Walking Safari, and Hannah Florence Ellis, granddaughter of Dylan Thomas, Welsh poet and legend. – Carly Cassano, Editorial Director
By Jill Paris
"Do not go gentle into that good night"
By Dylan Thomas  (1914-1953)

Though wise men at their end know dark is right,
Do not go gentle into that good night,

Old age should burn and rave at close of day;
Rage, rage against the dying of the light.

Because their words had forked no lightning they
Do not go gentle into that good night.

Good men, the last wave by, crying how bright
Their frail deeds might have danced in a green bay,
Rage, rage against the dying of the light.

Wild men who caught and sang the sun in flight,
And learn, too late, they grieved it on its way,
Do not go gentle into that good night.

Grave men, near death, who see with blinding sight
Blind eyes could blaze like meteors and be gay,
Rage, rage against the dying of the light.

And you, my father, there on that sad height,
Curse, bless, me now with your fierce tears, I pray.
Do not go gentle into that good night.
Rage, rage against the dying of the light.
The aforementioned poem is still considered to be one of Dylan Thomas' greatest creative achievements, yet for the past few years his granddaughter has been drafting her own masterpiece as patron of Dylan Thomas 100.  Hannah Florence Ellis is working together with coordinators from the Welsh government steering efforts to produce a series of celebratory events to be set around Wales, London, and America.  These actions would expectantly take place before, during, and beyond 2014, coinciding with the centenary year of her beloved grandfather's birth.  Hannah's wish for the literary and cultural revelation would allow the world to salute and rediscover Dylan Thomas' acclaimed poetry, short stories and plays indefinitely.
Daughter of writer and poet Aeronwy Brynhart Thomas (1943-2009), Hannah was born and raised in London on July 19, 1978, and attended Oxford Brookes University where she studied to become a primary school teacher.  Her love and pride for her family's legacy combined with a passion for education complements this illustration poetically, one might say.
Currently residing in Oxford, England with her husband, Paul and young son, we recently spoke about her grand vision for Dylan Thomas 100 and what it was like growing up connected to the inscrutable artist.
Jill Paris: Were you ever treated differently or teased about your relation to Dylan Thomas?
Hannah Florence Ellis: No.  My peers were not familiar with my grandfather or his work, which is one reason I feel we should introduce his poetry and short stories to younger audiences.  It could then lead them to study his collection further when they get older.
JP: What is the first memory you can recall of your grandfather's work?
HFE: I was taken to see many, many productions of Under Milk Wood, my grandfather's famous play for voices.  I often saw my mum recite her father's poetry and both my parents performed and sung extracts from Under Milk Wood.  This helped bring the writing alive for me, but it was not until now in my thirties, that I have chosen to sit down and read the entire collection.  Why didn't I earlier?  I love it!  I suspect losing Mum made me realize the importance of knowing about your family and past.
JP: Can you think of an incident where you had to defend the family name?
HFE: Never at school, but once a friend struggled to understand why I'd gotten upset after watching a portrayal of a play about my grandparents where it showed my grandmother, Caitlin, being put in restraints, when my grandfather was ill, and taken to a mental hospital.  From reading certain biographies, I'm lead to believe this is true, though still disturbing to see, especially imagining the impact this surely had on my mum.  The same friend also openly refers to my grandfather as being fat and ugly.  This is difficult as people say I look like him!
JP: Did you grow up with photos of your grandfather smattered around your house?
HFE: Oh yes.  My parents' living room is filled with photos and paintings and their bookshelves are full of books.  There are Dylan Thomas plays, stories, poems, film scripts, and biographies to name a few.  Some are translated into different languages, too.  Mum spent her life promoting her father, despite her illness.
JP: Did your mother, Aeron, ever tell you secrets about him?
HFE: Mum always said that she felt very close to her father and was very comfortable with him.  She remembers being in his company and feeling so relaxed that they did not have to utter a word to each other.
JP: Dylan Thomas is such an enigmatic figure in the literary world with many contradictory accounts having been reported.  What do you think are the greatest misconceptions about him?
HFE: That he did not understand Welsh and rejected the language.  And that he did not like Wales.  Whatever my grandfather said about Wales he must have loved it.  He wrote most of his work while living in Wales and struggled to write when he was living elsewhere.  The characters found in his writing were influenced by Welsh towns, villages and the image of Welsh culture in such stories as "A Child's Christmas in Wales", "The Outing" and "Holiday Memories."  I think it's time to celebrate my grandfather's work, embrace his Welshness, and introduce Wales to the world.  I hope the centenary will be an opportunity to translate his complete work into Welsh.
JP: Can you illustrate your grandfather's childhood and early influences which helped shape his artistic abilities?
HFE: My grandfather was born at home at 5 Cwmdonkin Drive in Swansea, Wales, on the 27th of October 1914, in a house his parents had recently bought and owned together, a fact I like very much.  They ensured that Dylan was born in the guest room, or the "best" room, and not their unfinished bedroom.  I am told that just one side of the front door was painted, the one facing the road.  Today, the house has been restored into an Edwardian home and is now open as a museum and a place to stay.  Annie Haden and her husband Geoff have refurbished it beautifully.  Just recently I had the chance to sleep in the room where my grandfather was born.
The Thomas family lived in a middle-class part of Swansea and close to the grammar school where Dylan's father, my great-grandfather, D.J., was an English teacher.  As my grandfather grew up he was taught in English, despite both his parents being fluent in Welsh.  However, there is much evidence that my grandfather understood and used the Welsh language in his writing.  A book has been commissioned for 2014 with interpretations of his poetry and will examine these findings more closely.
One of his earliest memories was hearing about "The Front" which many of his neighbours never came back from alive.  World War I would have had a big impact on his life and work.  Common themes in his literature are: life, death, creativity and destruction.  He believed he would die young, often telling people that he would not live to be forty!  Sadly, his prediction came true as he died just thirteen days after his thirty-ninth birthday.
Dylan was always trying to please his father.  After looking at books in D.J's "den" and being read Shakespeare at a very young age, it inspired him to experiment with the techniques of other poets.  As a teenager, Dylan once plagiarized a poem about the war, which he sent to a magazine as his own.
JP: This mischievous trait was apparent in his delightful tale "A Child's Christmas in Wales."  Have you ever "snow-balled cats?"
HFE: Never!  I love cats.  I think they are incredibly clever. They outwitted those naughty boys in the story.  We had a wonderful cat called Poppet as I was growing up.  She was a Scottish wild cat and had an extra toe on each paw.  Once, she got into a fight with a fox, and won.
JP: Are you named after the "Auntie Hannah, who got on to the parsnip wine" from the story?
HFE: I was named after my great-grandmother Florence Hannah, Dylan's mother.  My mum, Aeronwy (pronounced eyeRONwee), or Aeron as she was nicknamed, was very close to her grandmother and would often escape the turmoil of the Boat House (the family home by the sea) in Laugharne and go over to her grandmother's house known as The Pelican.
Dylan's stories, such as "A Child's Christmas in Wales", are based on the family gatherings of Florence's brothers and sisters.  Florence died in 1958 but must have had a tough last few years because her husband D.J. died in 1952 and then her daughter Nancy and son Dylan died in 1953.  Then, my mother, her beloved granddaughter, Aeron, moved away.
JP: Laugharne.  What an unusual name.  How is it pronounced?
HFE: If I were to spell it as it sounds: LARN, like the word yarn.
JP: Your mother's extraordinary memoir My Father's Places, recalls the chaos and joy of living at the Boat House in Laugharne with her father while he was at the height of his creative powers up until his death.  Describe your childhood.
HFE: I had a very stable, secure and loving upbringing.  My mum was determined to provide my brother Huw and me with a settled home after her disjointed childhood.  After her father's death when she was ten, they were back on the move again.  It was very different for me as we lived in the same house in London throughout my whole childhood.  In fact, my dad is still living there.  I always remember her being there, collecting me from school and being available to help on school trips.  I have strong memories of church and my mum's faith and spirituality playing a key role in how she lived.
My dad Trefor's 'Welshness' is something I remember very vividly.  He is a stereotypical Welshman – sings in a Welsh choir and loves rugby.
I was born two months early, weighing just one pound 11 ounces.  Dad says I was smaller than his hand and the old ladies had to knit doll's clothes to fit me.  I was in an incubator in the special care unit for some time and the nurses would tap the incubator to remind me to breathe.  Mum discovered she had a rare blood disorder when she was pregnant with me.  I'm amazed how normal my childhood was considering her illness.
JP: Enlighten us with a description of your mother's life as a writer whilst living in the shadow of Dylan Thomas.
HFE: Every morning over her two cups of tea and porridge she would write, and then continue to work on the train during her trips to Wales and in hospital waiting rooms.  She really was a wonderful writer, poet, performer and teacher.  I think her talents were often over shadowed by being the daughter of Dylan Thomas.  Mum spent years writing her memoir.  I think during the creation of her book, it helped her learn more about her parents and understand why they behaved the way they did.  She was still editing the final draft while undergoing chemotherapy for acute Leukemia.
JP: Please describe the recent visit to the Boat House on the three-year anniversary of your mother's passing.
HFE: I did go to Laugharne the week after and saw the flowers I had sent sitting on the table in the parlour, a selection of summer blooms.  She especially loved yellow roses, bluebells, snowdrops and daffodils.
I visit the Boat House often and sit on the bench we placed there in her memory.  We selected a quote from her book that's inscribed on it which reads, "The funny thing is I find myself going back again and again."  Her parents kept returning to Laugharne and are now both buried in the town's cemetery.  Mum did the same.  She went back again and again, and now my son and I keep going back.
JP: You've said your favorite Dylan Thomas poem is "The Force that through the Green Fuse Drives the Flower" because it vividly paints images about the closeness between life and death.  Please share its significance.
HFE: I was drawn to the poem because Mum selected one of its lines to be emblazoned on a plaque at the Boat House after she died.  "How time has ticked a heaven 'round the star."  I had just recently experienced life and death so close together with the birth of my son and her passing.  I also have learnt about my grandfather's relationship with death.  Understanding the poet's reasons for writing helps me to understand it better.  I'm also amazed that he wrote the first draft of this poem as a teenager.
JP: Your mother's first memory of the Boat House at the age of six states, "It looked heavenly: a place to explore, to run around, where we would be living forever.  It had verandas and balconies, water-butts, stepped gardens, a large boat shed in the back yard, the harbor and the wall protecting us from the wilds of the friendly estuary beyond.  We had fallen upon paradise."  Recount some of your first memories there.
HFE: I loved arriving and being allowed to enter without paying.  It made me feel special.  I remember running around the outside, exploring and playing hide and seek with my brother, looking over the estuary and hearing and seeing the birds and fish.  I really enjoyed running up and down the steps in the garden, and eating Welsh cakes as a treat.  They would often have a resident stray cat around and about.  It's lovely watching my son and nephew doing the same thing.
JP: The sea played a significant part in your grandfather's work.  Do you have a soft spot for the Welsh coastline?
HFE: Yes, I love the Gower in Swansea.  I have very fond memories of family holidays there.  As typical for Wales, the weather was mixed, but it didn't seem to stop us from spending hours on the beach, jumping the waves with Mum, swimming, building sandcastles, and exploring the rocks for exotic sea creatures.  One freak year, the sea was full of jellyfish, but they didn't stop us from going in!
JP: You've referred to Brown's Hotel as the heart of the village of Laugharne.  Explain.
HFE: During my grandfather's final broadcast for the Welsh Home Service he talked about why people live in Laugharne.  He jokingly said, "…some are born in Laugharne and others migrate there for a number of curious reasons, from places as distant as Tonypandy or even England."  The Brown's quickly became his favorite Laugharne pub.  He often sat in the window seat bent over a crossword puzzle with his father D.J, or playing cards with the two generous proprietors Ebie and Ivy William.  My grandfather could often be found sitting in Ivy's kitchen sharing gossip.  It is quite evident that Under Milk Wood was inspired during those discussions or as he sat observing the locals.
My mum continued the family tradition of returning to Laugharne and popping in for a drink while in town.  She'd tell of the many people who would claim to have known her family while they lived there in the '40s and '50s.  She remembers one man's feeble account:  "I can't say I knew your father, though I did share an elevator with him once."
The Brown's has been a significant place for my family for over 70 years.  Both my grandfather and grandmother's wakes were held in the bar after their respective burials.  Then in 2009, after we had scattered my mum's ashes at the Boat House, we came here to raise a glass to her, though the pub was in quite a state at the time.  I'm so pleased it's been restored and the Brown's can reclaim its former place as the heart of the wonderful village of Laugharne.
JP: If you could design a One Day Visitor's Guide to Laugharne, what would it entail?
HFE: There's a lot to do!  As you enter Laugharne you see St Martin's Church where my grandparents are buried – have a look 'round and try to find their graves.  Then pop into the Tin Shed just up the road.  It's a World War II museum with its own air raid shelter.  The guides are most passionate and make it an incredibly personal experience.  Continue up the road to Brown's Hotel where you can sip a coffee or pint and watch the locals pass by as my grandfather had done.  You can see The Pelican from here, too.  Meander down the road to the castle and look around.  Walk up to the top and you'll get a stunning view of the estuary.
Pop into one of the cafes and have lunch and then complete the Birthday Walk.  Check out Eros on Gosport Street, Seaview which is now a hotel, and Castle house, places my grandparents either lived or stayed, and then stroll down Dylan's walk towards the Boat House past the writing shed.  Finish up with a pot of tea and Welsh cakes in Caitlin's kitchen.  Someday, I hope to create a family-friendly tour called "A Day in the Life of Mably" the Thomas family dog!
JP: Your son might be the impetus of that tour!  Talk about being a mother to 3-year old Charlie.
HFE: I love being a mum to Charlie.  He's bright as a button.  We'd chosen the name Oliver for a boy, but when he was born, it didn't suit him as the first thing he did was to wee all over the pediatrician!  We decided "Cheeky Charlie" was far more appropriate.
It's been tough at times, as Mum died just three weeks before Charlie's birth.  I also had a very, very, very traumatic labour.  Dad was desperate to scatter Mum's ashes, but I didn't feel fully ready, though I respected his need to do it.  We went to Laugharne when Charlie was just three weeks old.  I also wanted to promote Mum's book and travelled about when he was six weeks old.  Not easy.  The car was packed to the ceiling.  I regret not being able to publicize Mum's book more.  In the last year, I've been working very hard being both a full-time mum and promoting the upcoming centenary of my grandfather's birth.
JP: Have you read Charlie any Dylan Thomas stories yet?
HFE: Not yet, but fully intend to.  Our flat is full of books because I love reading and my husband is a history lecturer and researcher.  The "story before bedtime" is our favourite time of the day.
JP: You remarked that teachers are "quite scared" to teach the poetry of Dylan Thomas.  Why do you suppose that is and what do you think would help the problem?
I think teachers are fearful because they think he is difficult to understand, but I envision his work being used very effectively in schools.  His characters and the places he describes could be brought to life through drama, art and music.  I feel the way forward is to show teachers ways to introduce his work.  For example, look at "The Hunchback in the Park" and try and find out who that character was and why he was in that locale, or perhaps use one of the his surreal stories, such as "The Vest" and use it as an opener to inspire children to create their own ideas.
JP: For those interested to learn more about Dylan Thomas prior to the centenary, which book do you recommend?
HFE: Andrew Lycett's A New Life is the most recent biography and will hopefully be turned into an e-book.  (I'm working on it!)
JP: If you could ask your grandfather one question, what would it be?
HFE: "Who was the real Dylan Thomas?"
The End
Hannah's dream for continued exploration of her grandfather's work could very well answer her own question.  In addition to honoring his memory, she hopes the Dylan Thomas 100 programs would help raise the author's profile throughout schools, help support literary efforts, and establish creative reading, writing and literacy projects.  Some of her ideas involve designing a range of published Dylan Thomas teacher resources to include "child friendly" texts of her grandfather's short stories.  Other thoughts would feature performances at Dylan Thomas' significant places such as 5 Cwmdonkin Drive, The Boat House and the New Quay trail.
*
About the Author: Jill Paris is the author of the ebook, Life is Like a Walking Safari.
Additional Reading/Information: Hannah's vision would surely present her grandfather's achievements in new and fun ways, but until festivities commence, you can peruse the accessible website for timeline updates on all things Dylan Thomas.
Related Literary Traveler Pieces: Champagne & Sheep: A Poetic Tour of Wales; The Legacy of Dylan Thomas in Wales; Hemingway's Happy Cats.