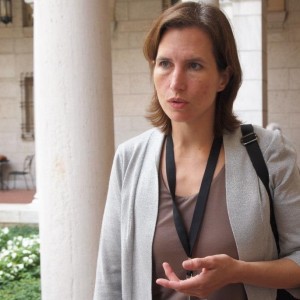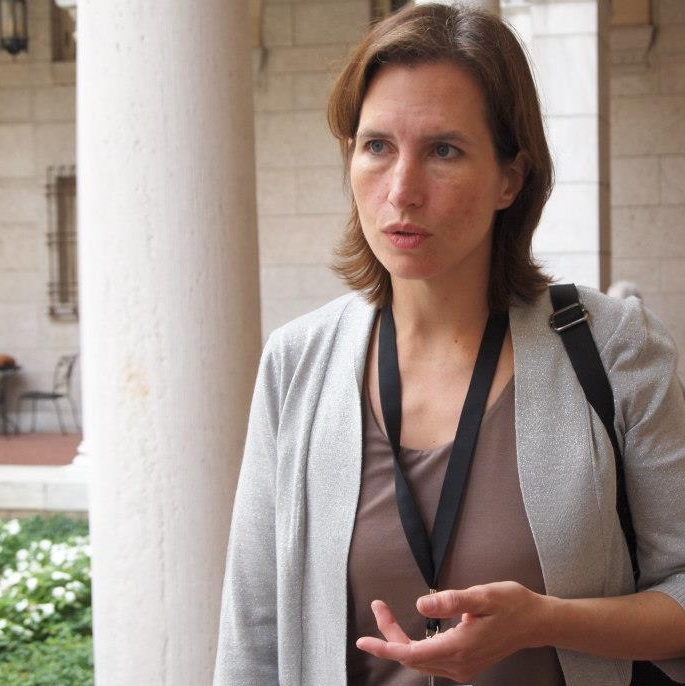 Introduction and questions written by Amanda Festa; interview conducted by Francis McGovern
Author, mother, and hiking enthusiast, Patricia Ellis Herr's first book, Up: A Mother and Daughter's Peakbagging Adventure, came from her experience hiking all 48 of New Hampshire's highest mountains with her daughter, Alex — who at six years old became one of the youngest members of the "4,000 Footer Club."  Since then, Herr has continued her mother/daughter hiking adventures, now including her youngest daughter, Sage.  The three keep a record of their familial excursions on their blog, and this spring the NH residents will go international as they embark on a 500 mile hike along El Camino de Santiago to raise money for Global Fund for Women and GirlVentures, two non-profits that encompass their personal mantra of female empowerment.  Literary Traveler's Francis McGovern had the opportunity to sit down with Herr and she opened up about her inspiring experiences, her impressive daughters, how she responds to naysayers, and why she will continue to record her family's adventures for the supporters who make it all worthwhile.
Francis McGovern:  At Literary Traveler we are all about writers and the places they travel to and find inspiration in – the connection between those things. Your book initially appealed to us because of its great sense of place. Why don't you tell us a little about the book from your own perspective?
Patricia Ellis Herr: Up is a book about my daughter, Alex, who was then five, and her quest to hike all 48 of New Hampshire's highest mountains.  We didn't start out with this thought that we were going to do this grand thing.  It all happened gradually. She is a very energetic kid and we started hiking the mountains on a whim.  I thought we'd do a couple a year, finishing when she was a teenager, but she became very enthusiastic about getting out there.  And so we started going every week or every other week and we just hiked right through the winter.  We learned what to do when you were out there in all kinds of situations and seasons and atmospheric conditions and what not.
Even though all this started on a whim, what it quickly became was, for her, a sense of empowerment once she figured out she could do one peak and then 2 and 3 and 4. Every time she got out there and did another one. Whatever the trail brought that day in terms of adventure, it instilled a sense of confidence in her.  And she genuinely loves the views, and the mountains, and being out there .We still hike every week. Now her younger sister Sage comes and the three of us hike together.  Sage became just as much of a hiker as her sister. We get out there on a weekly basis and I don't see it stopping anytime soon.
FM:  Where did the idea come from? Was hiking something you did as a family, or was it something you had a background in, or was it simply a love of being out in nature?
PEH:  I felt it important for my kids to spend a lot of time in nature, no matter what they were doing.  That was always important to me.  We spent a lot of their early years at Drumlin Farm or Walden Pond, just hanging out. At Drumlin Farm there is the animal section, but there are a few trails that go out to the hill, and we would go hang out in the meadows. Hiking was something I never had the opportunity to do when I was younger, and I always thought I would.  So once we had our home in New Hampshire and we have all these hiking trails there…
Starting hiking the 4,000 footers was a whim. We were at this roadside view area on the Kancamagus Highway.  The kids were kind of running around. I had stopped the car to look and I was leaning on an information kiosk and there was this thing about the 4,000 Footer Club and I was like "okay, let's try that."  In the beginning it was very much casual, and then as we continued to hike and go through this list it just became something that Alex looked forward to doing. She was getting a lot out of it – all these challenges on the trail that we were learning from. It was very enjoyable. Their love of hiking continues to this day.
FM:  How long do you and your daughters typically hike for?
PEH:  We did Owl's Head in a day last year. It's an 18 mile round trip hike and I packed the tent and the sleeping bags and intended to spend the night out, and then the girls just wanted to keep going.  They were eating Halloween candy and Goldfish crackers all day long and that got to them and they wanted to keep going, so we did it all in one day.  That took us 12 hours. We've done multi-day hikes, our longest was 27 miles in the winter.  The Bonds in winter took 2 days.  I'd rather not push to do it in one day. I didn't want to do Owl's Head in one, but they wanted to keep going. I carried all that weight for nothing, but it was a good time.
FM:  You title each chapter of Up after life lessons.  What is the most important lesson that you would like your daughters to take away from this experience?
PEH:  Well there is a practical lesson and a deep rooted emotional lesson – two different ones.  Practically speaking, I want them to know from a physical aspect that when they are out there climbing a mountain you need to always be prepared to turn back – kind of a mountaineer's lesson – the summit is not important.  Then there is a much deeper lesson as girls.  This country has come a long way but we are still not quite there in terms of equality, and they hear things from other kids – casual talk.  You throw like a girl, you cry like a girl – denigrating remarks that are casually thrown around without thinking about it.
They had a boy – he was only 7 – but he had declared that boys are strong and girls are weak.  You hear that as a kid – I heard it growing up – but I do believe it does something to your spirit when you hear it even casually thrown around.  And they know that the boy had made that comment two days after Alex and I had done a 14 mile mountain.  Sage was hiking then too, and they know when they hear that stuff that it's just not correct. They don't internalize it.  They know it's not true.  So whatever they do in their life, whatever they choose to do, they know if they work hard at something, and they want to get there, and they are willing to handle obstacles responsibly, that no matter what anyone else tells them, they can do it.  They have the strength, they have the endurance – they want to do it, they can.
FM:  How has this experience affected your relationship with your daughters?
PEH: Well, I always respect my kids, but all of our adventures — we've been hiking nonstop — every time we go out there… I have a deeper respect for them as individuals, as people.  In the way they help each other up something, and the conversations that come up, in how they treat nature, how they examine the things they see.  It shows me more of who they are as people, as opposed to just my children. When you're a parent you get in the mind set, they're my kids… but [when hiking] I see them as this individual, Alex, and this individual, Sage, and there is a deeper respect.  We all respect our children, but I see them less as my kids on these outings and more as individuals – who I have to take care of, but they're individuals.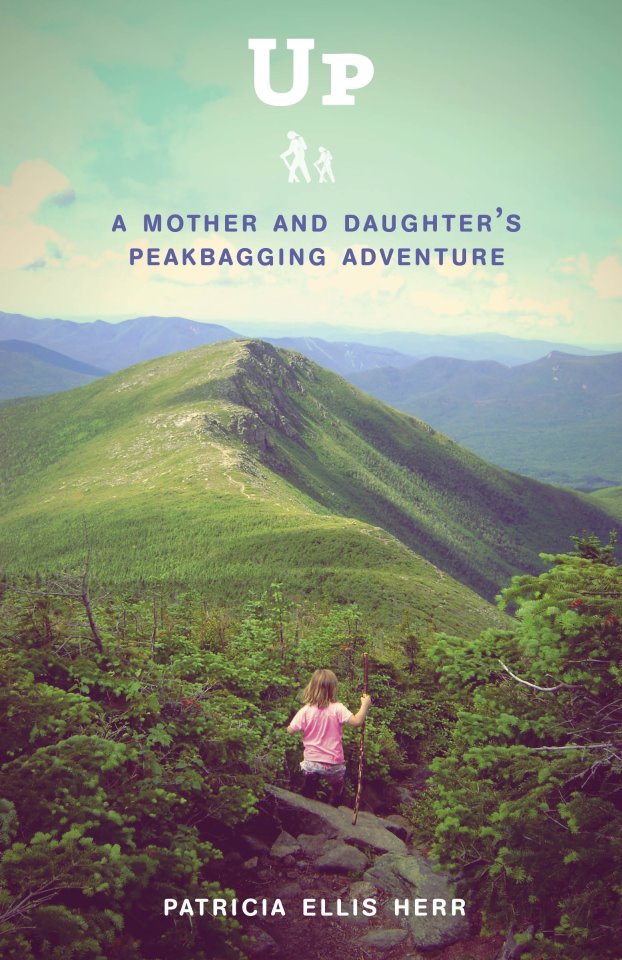 FM:  How did you first conceive of the book, Up?
PEH:  The book came from my journals.  I've always written for fun, but I spent years chasing an acting career in my twenties and I don't like rejection, and I know that's part of the game if you want to publish, and I felt like I was getting too old for that game.  But I write for fun.  I have all kinds of unfinished material at home.  I still write for fun – to release some energy.  But Alex said, "Hey, maybe we could make an account of this, a book to have on the table."  They like to read a lot.   Ok, so my first thought was, I have my journal; I'll edit it so other people might like to read it besides me.  And make the notes make sense to other people besides me, and shape it into a manuscript, and publish it locally.  And that's what I did.
It was accepted by an independent publisher immediately.  And then [my husband] Hugh said I should send it to an agent.  And again at the time – I respect writers.  I don't want to get myself in trouble, I respect everyone who writes – but again I didn't like the whole knocking on doors, "please will you like my work" aspect of what goes into getting an agent.  But I sent it out and I got a response right away.  So I withdrew it from the independent publishers and they were totally understanding and great…So the book came from my journals and Alex's request.
And I am glad that it happened, and glad that we keep putting our adventures out there.  Not because of my own family, but because I started getting emails and messages from other girls and other women and what we were doing resonated with them.  They wanted to go hiking and there are not many, if any, examples of mother/daughter hiking out there in the public view. Void.  There are no other books out there like mine. And I am sure moms take their daughters hiking, but we are not hearing about it and I don't see a lot of it out there on the trail and this seemed to resonate with some people… That's what made me think that continuing to keep a log of what we do is worthwhile.  Not an exercise in vanity – I'm actually a pretty private person, so putting that stuff out there about my family made me think, "I'm just some bum talking about her kids."  But it does serve some sort of purpose for at least some people. So I am happy to keep doing it if people are getting something out of it. You know, besides Grandma.
FM:  We read that you are planning a trip on the El Camino de Santiago. Is that true? Can you tell us a little bit about your plans?
PEH: We are.  In March.  We are going to hike the 500 mile Camino Frances portion of the El Camino de Santiago –The Way of St. James.  We're not in a rush; I think the girls are ready for this.  We will take it one day at a time [and] take rest days whenever they feel like they want it.  We've wanted to do this ever since our friend, Mad River in the book, told us we had to see this movie called The Way, and he is such a wonderful curmudgeon that he never recommends anything so we had to see The Way after he said that. And we loved it.  By the end of the movie we were looking at each other going, "alright, how can we do this? Let's go!"
And if we are going to have these kinds of adventures I feel strongly that we should not do it just for ourselves. The girls are going to grow up with the ability to travel and do these kinds of things, and I want them to have it in their head that they should be of use somehow.  So we are planning to raise money for Global Fund for Women and GirlVentures, two organizations that are non-profits and help empower women around the world.  In terms of Global Fund for Women, they promote education, financial security, health education in parts of the world where women aren't getting that, and GirlVentures is a San Francisco based organization that takes adolescent girls from the San Francisco Bay area and takes them on all these wonderful outdoor adventures and they give a lot of scholarships to girls of all different family and socio-cultural backgrounds because they want as many different individuals, from as many different backgrounds as possible.  So it's not just a wilderness venture, it's a working together learning about each others cultures.
FM:  Do you think there is another book in your experience on El Camino de Santiago?
PEH:  Well, I'm definitely going to blog about it. We started the blog GirlsOnTheWay.com – donate buttons everywhere…to meet our very ambitious monetary goal and all the money goes to them. So I am going to blog about our preparations, the gear, talking to people – every aspect. And I will write it in a more literary fashion than my other blog.  Our trip reports right now are pictures and quick descriptions.  I'm not trying to make a story out of those.  But when it comes to the Camino, I will do my best to include pictures, but also write it so it feels more like a book.  When I am out there I don't know how often I'll be able to post, but I will do my best.
We want to use the opportunity to raise as much money as we can for the two organizations, which all three of us feel passionate about.  In fact, Sage picked Global Fund for Women.  I gave them a choice. "What kind of charity do you want to do? Animals, people, health issues?"  [They said] "Let's help women."  So we went to websites and I'd read the descriptions and Sage zeroed in on Global Fund for Women.  So they are involved at every step.
FM:  Do you have any recommendations for mothers and daughters looking to follow in your footsteps?  Do you have any advice on a place they should start – hiking or some other activity?
PEH:  Anything outdoors in a natural setting – that's important for any kid. It doesn't have to be hiking, it can be whatever that child wants to do.  It's important that the goal has to come from within the kid, not the parent.  If it comes from the parent it's not empowering to the child.  The desire has to come from within the kid.  So whether that's mountain biking, or tree climbing, or hiking on a smaller scale, or swimming in natural swimming areas in the mountains, or kayaking, or rock climbing – anything that the kid has an interest in I feel should be supported and the proper safety measures taught.  Hiking is great – that's our thing – but there are a lot of ways to enjoy the outdoors.  So to start – start by getting outside and seeing what happens. Let them get dirty, I've seen parents fuss: "Don't mess up your clothes."  Oh no, no, no, let them mess up their clothes.  Let them get dirty, let them fall down, and let them pick themselves back up.
FM:  At Literary Traveler, we are doing a series called "One True Sentence" based on Ernest Hemingway's statement that "all you have to do is write one true sentence.  Write the truest sentence that you know."  Is there a sentence like that for you?  One that you carry with you and that you find inspiration in?
PEH:  Yes, there is.  It's actually on our website right now.  I heard it a long time ago and I've carried it ever since: "Be bold and mighty forces will come to your aid." [Basil King]
*
For more information on the Herrs' upcoming El Camino de Santiago adventure, or to make a donation to Global Fund for Women and GirlVentures, check out their blog, Girls on the Way.