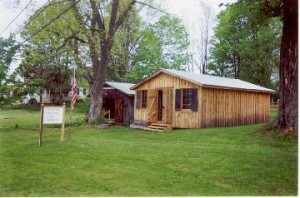 By Janice Horton
On a back road in an out of the way township in northeast Pennsylvania, a seasonal museum celebrates the crafts of spinning and weaving. A cluster of buildings new and old house a dozen bulky looms and twice as many spinning wheels. A corps of aficionados determined not to let the handcrafts die out are willing to spend all day talking about them. But the collection isn't just to look at.
At the Home Textile Tool Museum, processes that were part of our great great great grandparents daily work are recreated. Some artisans take it from start to finish – shearing the wool, washing and dying and carding and spinning. If for some visitors, it's "hey I saw how they made bedspreads back in the day, that's cool" and on to the next X on the tourist map, it doesn't dampen the passion of volunteers who demonstrate the work. They could no more leave off spinning and weaving than Emily Dickinson could stop writing poems. Some say it's the same thing.
You can't read many book reviews before someone describes the author's clever seamless tapestry or a life that was threatening to unravel. The crossover between weaving and writing has tempted more than one author to use it as a way to explain life's mysteries. Paula Chaffee Scardamalia in Weaving a Woman's Life interprets warp and weft as the past threaded over with the choices of today, the design that makes up the fabric of life. Analysis of text, texture, textile (rooted from the same word) is the stuff of doctoral theses such as Kathleen Sullivan Kruger's Weaving the Word: The Metaphorics of Weaving and Female Textual Production. Linda Collier Ligon's essays in This is How I go When I go Like This: Weaving and Spinning as Metaphor are less corny clichés. For her, the fiber arts result in actual material goods. Physically producing them scratches an itch.
I recognize the rash. The need to create patterns and design is part of it. When one of my grade school teachers did housekeeping on the last day of school, I inherited a batch of down-to-the-nub colored pencils and some notebook pages marked with grids. I used the pencils to create patchwork designs on paper blocks, practicing the symmetry that a college art teacher would tell me is a bad thing. Maybe so, but there's something satisfying about working out the number of spaces to leave between each rose-colored one so that a blue space, a double green space and every other fourth square is yellow. A variation of the Sudoku puzzles I'm compelled to do now.
Pattern is one thing; transforming fuzzy yarn and cotton string inch by inch into stuff to wear or walk on is practically supernatural. I longed to perform such alchemy. My third-grade classmate received a pint-sized knitting machine for Christmas. I watched her wind yarn around a row of plastic teeth, then pick the lower thread over the upper, creating, eventually, a curled and knobby strip of goods. I begged for a turn at making a row of Barbie's scarf and tried to build my own machine with a row of brads pressed in the bottom of an upside down cardboard box. My mother unraveled an old sweater to provide my thread. If you have the need to weave, rushes and grass, long pine needles will do.
In tenth grade I begged my mother to buy me real yarn and a crochet hook. There were long scarves that year, webs of loopy stitches, knotted with fringe, draped over the winter coat of every cheerleader. Mom parted with a couple of dollars that she couldn't spare to buy an H-size aluminum hook and a skein of yarn in Dark Goldenrod. I holed up in my room for days, making a thousand single stitches, back and forth in rows that never stayed the same width. I'd rip it apart and start fresh with the ball of now kinky yarn. The fabric I produced was opaque, not lacy, dense as a potholder. A few years later I taught myself how to make shells and granny squares from directions in a leaflet, mentally reversing the illustrations to suit my left-handedness. New babies got sweet pastel blankies, cranked out one stitch at a time.
On the board walls of the museum hang more mature coverlets, bold red and blue even far into their second century. Their texture and design can only be reproduced in one way: by stringing up a loom—not with acrylic— but with fibers taken from the field or the back of a sheep. While I study their designs, my husband is on the floor reverse-engineering the loom. As he chats with the docent, I discover that weavers have a vocabulary all their own – raddles and heddles, sley hooks and warping sticks, choke ties and apron rods.
Well if you've seen one barn frame loom, haven't you seen them all? The looms, big as microcars have been painstakingly restored to working condition. Some bear the names of their makers and dates carved into the uprights. They were heirlooms. They were assets. Inventories of colonial households listed not only one or two spinning wheels, but reckoned hanks of yarn and yards of broadcloth as part of their estate.
It's right that the looms are preserved. They represent a time in history just before the sharp left turn that relegated the clunky machines to attics if not the fire: commercial looms. Now instead of weaving at home, ten-year old girls did their weaving in a factory. Even in the first decade of the twentieth century, a quarter of textile mill workers were under sixteen (those under age ten weren't included in the count). Little boys got in on the act, climbing barefoot on the machinery to change bobbins, sometimes slipping, losing fingers or a foot in the clattering gears.
Industry pressed on. Not many of us are inclined to sew our own garments, much less produce the fabric they're made from. Most of our skirts and underwear are imported. Other cultures teach weaving as a part of their heritage more often than we do. Symbols are bound up in the Navajo rug. Children learn to do the magic. At HTTM, the magic is kept alive. A plot of flax ripens. It will be a year before the stalks are dried, crushed and ripped apart by iron combs, painstakingly spun into thread on one of the wheels, in a rhythmic hum with enough energy to spare to rock the cradle.
Straw really does turn to gold, though usually with less subtlety than in Rumpelstiltskin or other darker fairy tales that have maidens pricked by spindles and meeting up with Holda, patron of spinners, in the underworld. Tennyson isn't any too cheerful:
There she weaves by night and day
A magic web with colours gay.
She has heard a whisper say,
A curse is on her if she stay
To look down to Camelot.
She knows not what the curse may be,
And so she weaveth steadily,
And little other care hath she,
The Lady of Shalott.
In The Flax – a Spinner's Tale, by Hans Christien Andersen, flax personified gets crushed and drowned, broken and combed and finally transformed into a gleaming length of fine linen. Which is nice, until the cloth is cut and stabbed with a needle. Ah, now it's a fine garment. It doesn't last forever; ragged, it's boiled into pulp and has another use – beautiful writing paper. At last the paper is destined to be burned. Ashes fly out the chimney and the children think that's the end of the story. The ashes, as they settle to earth, know better.
In a Victorian children's book, M. Branston's The Thorn Fortress, the heroine is a six year old girl captured by the invading army. Her life is spared when she agrees to spin enough thread to make a Victory Shirt for her captor. Superstition claims the shirt will protect its wearer from an enemy bullet, though it must be produced entirely by a child under seven. The child labors day and night at her spinning wheel and wants to keep her commitment even after she is rescued.
At HTTM children aren't bullied into making yarn. But those who will can try their skill with a drop spindle or get a chance to send the bobbin through the warp threads and bring down the beater bar on a rug in progress. Maybe some of them will catch it like a virus, the need to weave. They should at least come away with a yarn.