By Danielle Pearson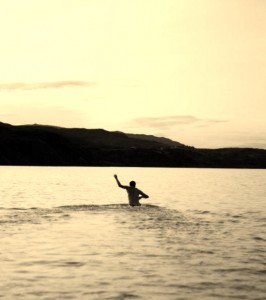 It is a truth universally acknowledged that every great friendship deserves a great road trip. I grew up in the gently rolling hills of the English South, a fact which, in Tolkienian terms, makes me something of a hobbit. Perhaps as a consequence, when it comes to road tripping, I've always yearned for the wilder corners of Britain. The rugged and moody Cornish coastline, the astonishing grandeur of the Lake District. And above all, Scotland. I first travelled there in the summer before my third year at college. We crammed into the back of an old Citroën, wedged the gaps with sleeping bags, hiking boots, and bottles of cheap whisky, and drove from London to the Highlands in two days. It was my turn to drive on the second leg, from Edinburgh to the Isle of Skye. Unfortunately, this was the day that a rare hurricane blew in from the Atlantic. I crossed the country in panic, battling heavy winds and driving rain. Yet one thing I learnt about Scotland that day—in any weather condition it can throw at you, it remains breathtakingly, darkly beautiful.
The trip, as it turned out, was a pilgrimage made in ignorance, since in crossing the stormy highlands I'd been unknowingly tracing the footsteps of giants. Huddled in a chilly Oxford library in the autumn term, I made a discovery. The relationship between the Wordsworth siblings and Samuel Taylor Coleridge might be one of the most famous in literary history, but many of us are unclear at best as to how that friendship really played out. The story is a fascinating one, and sees these early British Romantics journey far from their popular image as laureates of the Lake District. Generally, the trio are imagined "Home at Grasmere", Wordsworth reading aloud from a lengthy ode, Dorothy peeling the potatoes, and Coleridge, opium-addled, nodding by the fire. Yet by the standards of their day, the Wordsworths and Coleridge were frequent and rather eccentric travelers. William, for example, spent a year in France and fathered an illegitimate daughter in the very midst of the revolution. The group attempted to live in Germany, and got snowed in for months during the harsh winter of 1798. Then in 1803, as I was shocked to discover that day in the library, they began their most definitive excursion—an ambitious summer road trip across Scotland.
The choice of destination was obvious for the Wordsworths. William in particular had been fascinated with Scotland since childhood, seeing it—rather as I did—in heavily romanticised terms. A wilderness where folklore seemed to spring from the very landscape, where one's imagination populated the forests with pagan ghosts and mythical creatures. This kind of thinking still at work, supporting the sales of far too much Loch Ness merchandise, but I wouldn't recommend running it past your average Glaswegian. The Scotland of Wordsworth's day was far wilder though, sometimes nearly impossible to traverse. It had only been half a century since British roads became safer in general, the last of the highwaymen cleared away. Indeed, our modern notion of "tourism" is a product of the transport revolution, which made journeying for pleasure a practicable notion for the first time. And if English roads were still headache-inducing, the situation in Scotland was worse. A few intrepid literary Englishmen had gone before, writing picturesque travel guides on their return. But in 1803, the Scots of Gretna Green had rarely seen such an eccentric cabal coming up the road from England.
Firstly, because they came in a ramshackle Irish jaunting car. With an ancient nag at the end of the reins and William the designated driver, Dorothy and Coleridge sat back to back in the carriage's hanging seats, their feet dangling to the ground and bodies exposed to the elements. It couldn't have been comfortable, and early on the trio also felt a kind of bemused culture shock. On the first day across the border they reached a public house deceptively named "The Hope" which did not, in fact, sell beer. Hard liquor they did have, as Coleridge acerbically noted: "Whisky, Gin, and Rum—cries a pale squalid girl at the door, a true offspring of Whiskey-Gin-&-Rum drinking Parents." Dorothy and William quickly took to their new terrain. In her diary, Dorothy describes eating a sheep's head, relishing its sheer strangeness, much like the modern backpacker posing for pictures and munching insects in Bangkok. But while the Wordsworths began to revel in the perceived exoticism of the country, there was one member of the merry band whose heart just wasn't in it.
Coleridge wrote of the trip: "I never commenced a journey with such inauspicious heaviness of heart." There were many reasons for this melancholy statement. Unhappily in love with William's sister-in-law, doubting his poetic ability, and suffering from painful gout, Coleridge came along reluctantly, in a bad mood from the start. A fascinating picture of his straining relationship with the others emerges in the journals, which he and Dorothy kept at the time. On the 20th of August, Dorothy describes a beautiful Scottish child who acted as their tour guide. But Coleridge records the incident thusly: "The little girl sent to dog & guide us, yawning with stretched limbs, a droll dissonance with Dorothy's raptures." The trend continues, as Dorothy describes a geographical feature as "so rememberable…" yet Coleridge writes of " a distressing sense of local unrememberableness". Typically, their closeness created shared linguistic quirks, yet here it was used to express starkly different opinions. And while Coleridge might have been annoyed by Dorothy, he was becoming increasingly furious with her brother, filling his journal with oblique disparaging remarks about his friend.
Further difficulties were caused by Coleridge's gout, which the road was only exacerbating. The poor man was suffering, both from a troubled stomach and feverish nightmares. He was, however, also rather prone to over-sharing when it came to the graphic details. In his journals and letters he describes his symptoms obsessively, for example how his "bowels were seized violently, & there [were]… gallons of nasty water." If Coleridge was happy to write this in a letter to his wife, one can only imagine the details to which the Wordsworths were treated. The tension broke on August 30th, when William, much against Dorothy's wishes, suggested that Coleridge go home and recover. Coleridge bitterly jumped at the suggestion, and the group parted ways. This decision was to prove momentous, and deeply affect them all as individuals, and as writers.
Firstly, for William, though as he didn't keep a journal, his personal view of the split was never committed to paper. At the time Wordsworth was five years into the writing of The Prelude. In it, as he freely admitted, he was creating "a thing unprecedented in literary history, that a man should talk so much about himself." Yet for all that he was baring his soul elsewhere, when it came to the break with Coleridge, Wordsworth remained silent. He would not publish any writing about this tour for several years, and when he finally did, it was in a series of romantic poems. His verses seem to cling to the optimistic image of Scotland that he had set out with, full of lyrical evocations of rushing waterfalls and beautiful highland girls; whatever emotional turmoil he might have experienced on this journey is conspicuous only by its absence.
But for Dorothy's writing, the tour had dramatic consequences. She had always been at the heart of the groups' social life, and her writing had reflected this. The famous Grasmere diary had been a space to describe and foster community, with her family, with Coleridge, with nature. She would record shared conversations and ideas, creating a testament to the poetic individuals around her. Yet now the community was ruptured. In the days after the split she was clearly upset, her "thoughts full of Coleridge." But she was confused, too. Their companion, whom they expected to turn homewards, continued on alone and passed through the same inns just days before them. Dorothy's Recollections of a Tour made in Scotland, an 1822 write-up of her notes, becomes a haunted text from the split onwards. Haunted by missing family members, by the time that had elapsed between the trip itself and her written account of it. Haunted most of all by the figure of Coleridge, roaming perpetually ahead of them, but always just out of sight.
The latter, by contrast, was relieved. His health and mood improved dramatically, and while Dorothy's raptures had been provoking a sarcastic apathy, he could now enjoy the scenery fully. He began to use his notebook more and more, trying to capture the dramatic geography; "tossed about, rising, dipping, bulging and sinking." When words failed him, he would break off into rough sketches. Since Coleridge's career had always been plagued by an obsession with unity, the notebook became a wonderful source of release for him. In Scotland, he began to develop the numerous purposes to which he would put it for the rest of his life. The notebook was a space in which to explore, record, and analyse, free from literary convention and the stifling need for completion. He used it to emotionally vent, and even to make the kind of prosaic weather-related chitchat that we English so excel at; "it is a lovely morning, but will it continue?"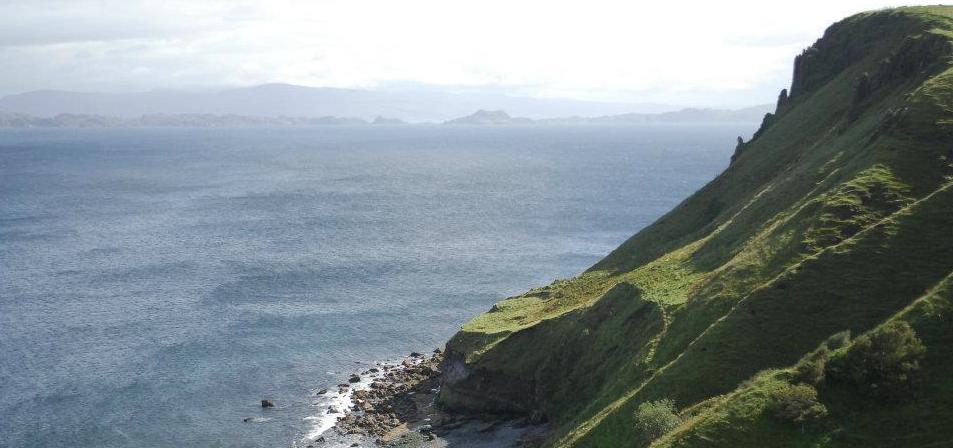 When the group returned separately at the beginning of autumn, they were in the wake of a literal parting of ways, which had created great literary divergences. In Dorothy's case, the fracturing of the group began a dissolution in her writing, and this process would be accelerated by the death of their brother John in 1805. Whereas once Dorothy would minutely describe the details of their shared lives, her Scottish Recollections become vaguer with each loss—first Coleridge, and then John. It is as if she is struggling to find the willpower to continue writing in the absence of her intended audience. Coleridge, of course, initially profited from the dramatic events of the tour. He came to feel more confident in his work, particularly in the experimental notebook form. His freedom came at a price though. He moved to Malta the following year, and without his friends' support, became more and more addicted to the opium that eventually caused his early death. The group were never close again, becoming permanently estranged in 1810. And while William may not have addressed the events in Scotland directly, he certainly felt the after-effects, as they all did. Coleridge died in 1834, and in a sonnet dated a year later, Wordsworth's agony is evident, as is the sense of amusement, frustration, and intense joy he had found and lost in his friend. "The rapt one, of the godlike forehead/ The heaven eyed creature [who] sleeps in earth," he writes.
This great Scottish tour had begun as all the best journeys do, with good friends, a sense of adventure, and the open road ahead. But as is the way with travel, many things can change upon the road. Fleeting inspirations grasped, resolutions made and broken, our affections and resentments clarified, expressed. My own Scottish road trip, hurricane aside, was without incident, and we returned to college after a week of clean air, green woodlands and whisky-fuelled dips in mountain springs. But I shall always look back at it with a kind of reverence too, a certain melancholy. For those ancient Scottish ways we so happily trod had witnessed many things, including the sad ending of the ideal Romantic community.
Danielle Pearson is a writer and editor from the UK. Since graduating from Oxford University two years ago, she has been living in Istanbul and Berlin, where she has worked on various projects including articles, short stories, ghost writing and book editing.
Main page image by Richard Lambert. Other images by Danielle Pearson.