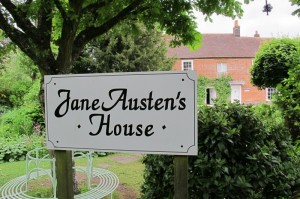 by Helen Palmer
It took a life-threatening illness and months of enforced convalescence to finally arrive at the home of a much loved friend.  I came to the red brick house on a winter day.  Even though I'd grown up less than an hour's drive away, it was the first time I'd been to Jane Austen's house in the English county of Hampshire.
That was four years ago, and I've been back many times since, but I will always remember the fall of 2006.  I had contracted dengue fever, a malaria-like illness, while working in India for the aid agency Oxfam. One minute I was travelling around the country, campaigning for better health care for India's impoverished, the next I was hospitalized, a helpless invalid.  After 10 days in the hospital, I was allowed to fly home to England and found myself confined to my childhood bedroom, a professional woman in my late 30s, dependent on the kindness of my parents.
The disease had attacked every system in my body and left in its wake a deep physical and mental fatigue.  I was unable to get through a day without sleeping in the afternoon and often had difficulty carrying a thought from one end of a sentence to the other. Worst of all, I was too tired to read; I would look at a page and the words would jumble and swim before my eyes.
Then one afternoon as I lay resting in bed, I noticed a paperback copy of Jane Austen's Persuasion in my bookcase.  I was suddenly reminded of a fragment of a movie I had tried to watch in my semi-conscious state on the long plane ride home from Delhi.  The movie was called The Lake House, and had a confusing plot involving two people, Sandra Bullock and Keanu Reeves, who lived in separate realities two years apart and were trying to communicate.  The novel Persuasion played a key role in the story, popping up at various points as a clue between the two.  I had difficulty following the movie, but I remember it prompting the realization that I had never actually read Persuasion, which was a serious oversight.
I opened the book and began to read. On the first page I made the acquaintance of Sir Walter Elliott of Kellynch Hall in Somersetshire. With a few deft strokes, Austen establishes his character as one of the vainest and most shallow men in English literature. His wife has died 13 years previously; he cares only for his daughter Elizabeth, not for her younger sister Anne, in spite of her "elegance of mind and sweetness of character"; and he has run up so many debts that the family will soon be forced to leave their home.
The story of this dysfunctional English family drew me in. As the winter twilight faded at the bedroom window I read for as long as I could, cocooned in a duvet.  By the next afternoon I was rooting for Anne Elliott, wise, patient Anne, who is persuaded to give up her one chance of happiness with the "unsuitable" Captain Wentworth, only to be confronted with her choice seven years later when he returns a wealthy and eligible man.
I followed the Elliotts to Bath and to Lyme Regis, and in my confined, convalescent world, their lives took on a reality that engulfed and distracted me from my own.  Their environment and preoccupations were about as far as it was possible to get from the teeming Indian city and unpleasant experiences there I was trying to forget.  Anne's patient suffering chimed with my own situation; but most of all it was Austen's voice that became a constant presence, her wry humour, her perfect pitching of character and circumstance.  She became my afternoon companion, like a friend who had come to read to me.
My health started to improve. In the afternoons I devoured more and more Austen, turning from Persuasion to Northanger Abbey and Mansfield Park, then re-reading the others.
Some weeks later, when I was strong enough to go out in the car, my parents offered to drive me to visit Austen's house in the village of Chawton.  I put the fact that I had never been there, despite having grown up in the same county, down to years of working overseas, while overlooking the gentler pleasures of home.
As I approached the village, through rolling hillsides, I thought of how little has changed in the landscape that Jane Austen knew and loved.  Chawton is a cluster of cottages, some of them still retaining their thatched roofs. On that first visit there was a heavy frost so that fields and trees sparkled in the sunlight. The Austens' residence is on the main street, a red brick house with elegant, tall, white windows.
It is here that Jane Austen came to live in 1809, on the estate of her brother Edward who had been adopted into the wealthy Knight family. The arrival at this rural village marked a homecoming for Jane, her mother and sister after years of upheaval and uncertainty. In 1800, Jane's father had moved the family to Bath, a city she detested. After his death in 1805, they moved several more times, before returning to Hampshire, the county in which Jane had spent much of her happy childhood. Before returning here she was unpublished and unknown. It was here, in the peaceful green hills, that her creativity flourished and all her great works were finished.
Soon after moving into the cottage, Jane wrote to her brother James: "Our Chawton home, how much we find already in it to our mind."
It was with a sense of awe that I crept over the threshold of the house and into the drawing room. Standing against one wall is an 1810 Clementi piano like the one Jane practised on each morning. Immediately, I felt a sense of the family's life here, a warm and cultured life in spite of the relatively modest surrounds.
But the sight that stopped me in my tracks, and continues to do so, is to be found two rooms on, in the dining parlour. The tiny walnut writing table balances on three feet and looks out of the window onto the street. Upon it has been placed an ink well and quill. It is at this modest table that Jane Austen revised the manuscripts for Sense and Sensibility and Pride and Prejudice, published anonymously "by a Lady" in 1811 and 1813. Encouraged by their success, she went on to write Mansfield Park, published in 1814 and Persuasion, her last completed novel.  Persuasion and Northanger Abbey were both published after her death.
The table is now surrounded by a clear screen for protection but it's possible to stand next to it and enjoy the view Austen would have seen as she wrote almost her entire body of work.  Each day she would start her writing here after a simple breakfast of tea and toast which she always prepared for her mother and sister, and their friend Martha Lloyd. The family respected the dining room as her writing space, and Jane, furiously private about her work, refused to have the creaking door mended as it gave her warning of intruders.
It's incredible to think this priceless writing table was almost lost to posterity; it was given away to a servant after Jane's death but later retrieved.
Walking around the house, the novels and their historical backdrop live and breathe. Upstairs, in the room that Jane shared with Cassandra is a replica of the bed she slept in.  In another bedroom, a bed is covered by a traditional quilt sewn by Jane, her mother and sister.
One of the most fascinating rooms is the Admirals' Room which houses naval memorabilia from Jane's two sea-faring brothers Francis and Charles. It includes a giant brass bell retrieved from a pagoda in Rangoon that was presented to Charles by his fellow officers in 1852. The room brings to life the numerous naval references in Austen's fiction, from Sir Walter Elliott's derision of an Admiral in Persuasion, "his face the colour of mahogany, rough and rugged to the last degree," to the dashing Captain Wentworth, and Fanny Price's sea-faring brother William in Mansfield Park.
The house is filled also with poignant reminders of Jane Austen's death, aged 41 in 1817. At the end of the upstairs corridor is a copy of the letter written by Cassandra to Jane's niece Fanny describing her final days.
"She was the sun of my life," Cassandra wrote, "the gilder of every pleasure, the soother of every sorrow. I had not a thought concealed from her, and it is as if I had lost a part of myself."
My first visit to Chawton marked a turning point in my recovery. I felt inspired and humbled by learning more about Jane Austenâ??s life. She had endured financial insecurity and disappointment in love, and died a painful death in her creative prime, and yet she never seemed to lose her mischievous delight in people and life. From this simple country cottage some of the world's most loved works of literature were born.
This winter I returned to Chawton to find it and its surrounding hillsides frozen deep in snow. Jane Austen's house, which has been open to the public since 1949, has recently been renovated and its facilities expanded. Its kitchen is now open to the public and a learning centre hosts talks and courses. The changes are cosmetic, designed to improve the experience for the 35,000 visitors that pass through each year, but the experience is still one of awe; the magic of this special place remains.