By Kim Adler
"Man is born to die, his works are short-lived. Buildings crumble, monuments decay, wealth vanishes. But Katahdin in all its glory, forever shall remain the mountain of the people of Maine."—Percival Baxter
We planned for months, the pinnacle hike of our summer break: Mt. Katahdin in the North Maine Woods. Countless other hikes were completed in preparation for "the big one." Numerous hours were spent physically training for a hike that few had ever completed. Endless time was spent reviewing trail maps, perusing the Baxter State Park website, studying reviews on AllTrails.com, and reading posts in Facebook hiking groups. Starbucks became a common meeting place as we hurdled our way through the race against time, and our personal and collective fear of the unknown. Though one can imagine that six education professionals could conquer Katahdin, no one could have imagined the immense struggles this group would endure throughout their 13-hour journey.
Baxter State Park is the creation and dream of Governor Percival P. Baxter who was Governor of Maine during the years 1921-1924. A child of the quintessential Maine outdoors, he desired a park for everyone to enjoy. His dreams became a reality with the first purchase of 6,000 acres including Katahdin, in 1930. Despite this purchase and sole possession by Baxter, Baxter opted to share the land, and in 1931 donated this parcel to the State of Maine with one condition, "that it be kept forever wild."
Governor Baxter continued purchasing pieces of land and formed the park we now know today as Baxter State Park. Though his final purchase was in 1962, additional purchases since that time have "increased the Park's total size to 209,644 acres. About 75% of the Park (156,874 acres) is managed as a wildlife sanctuary. In the northwest corner of the Park 29,537 acres (about 14% of the Park) was designated by Governor Baxter to be managed as the Scientific Forest Management Area. In addition, about 25% of the Park (52,628 acres) is open to hunting and trapping with the exception that Moose hunting is prohibited in the Park."
I was surprised to learn that there are over 40 peaks, eight roadside campgrounds and two backcountry campgrounds in the Park. Surprisingly, the Park only has a year round staff of 22 which grows to about 61 in the summer. For a park so large, I would have imagined a staff at least twice that size. They were a small and mighty group that managed to continue to uphold Baxter's wishes: that "[The Park]…shall forever be retained and used for state forest, public park and recreational purposes…shall forever be kept and remain in the natural wild state…shall forever be kept and remain as a sanctuary for beasts and birds."
We were excited to explore the untouched lands. We planned a two-night stay at Wilderness Edge Campground in Millinocket, Maine, just outside of Baxter State Park. We booked a rustic cabin which could sleep up to 10 people. We also purchased a parking pass for Roaring Brook Campground, our starting point, for August 22, 2021. It is important to note that all of these reservations were made four months prior to our trip, which is the earliest one can make reservations online. As with many campgrounds in northern Maine, you can book one night online, and then follow up with a phone call to book subsequent nightly reservations. Had we waited to reserve our cabin or our parking pass, we would not have been able to make this trip happen because reservations fill up almost as soon as they open online. We were committed. We couldn't back out. We had a goal and we had matching shirts made that said: "Whittier Wander Women Conquered Katahdin August 2021″ to wear when we completed our mission.
In the months and weeks leading up to the trip, preparations would be undertaken to tone and acclimate our bodies and muscles to the rigors of climbing and descending Maine's more difficult peaks. In addition, many of us spent afternoons and weekends at the gym, at the track, or on the streets running, all the while building up our strength and stamina. Diets included protein-rich, nutrient-rich, and plant-based foods with limited indulgences on sweets and treats. We hiked Tumbledown, Old Speck, Streaked Mountain, some more than once. Before we knew it, August 21, 2021 had arrived.
We convened at the Interstate 95, Exit 75 (Auburn, Maine) park and ride to consolidate our gear, bags, coolers, pillows, totes, and everything but the kitchen sink into two vehicles. I drove one vehicle with two passengers, while Heidi drove the other three wanderers in a vehicle that would fit all six of us for the one parking pass we purchased for the day of our hike. The drive north on I-95 would take 3 hours. Departing at 4:00pm put us at the campground by 7:00pm without stops. Katahdin would come the next morning.
Prior to this trip, I had only driven as far North on I-95 as Skowhegan, Maine. There is a great drive-in theater there that I used to take my children to on the weekends. As we continued to drive north, I began to notice how dense the forest alongside the highway became, the further north you traveled. We began to notice the incredible distance between exits which meant rest stops for bathroom breaks were few and far between; and, for a group of middle-aged women, this was not ideal. We talked the entire way up, shared our worries and concerns about weather, doubts about reaching the summit, thoughts about Knife Edge, and general curiosities of the cabin we were traveling to. We would text back and forth between vehicles in an attempt to communicate rest stops; honestly, a CB radio would have been more effective, as text messages were missed, and Heidi, Erica, and Jamie (the lead vehicle) were left to their own devices to decide the group's rest stop/food choices. Music helped ease our minds, but only as background and white noise to fill the awkward silence and nervous pauses. Around Exit 222, we got our one and only glimpse of the mountain – collectively, we gasped in awe, and I remember exclaiming, "we're climbing that?!" Suddenly, it seemed, I-95 took a turn to the left and our view of Katahdin was gone. I believe this was nature's way of easing our minds. Kim (yes, there was another Kim in our group) missed this view completely. Looking back, it was probably good that she did not see Katahdin at that moment as she appeared to be the most concerned member of the group. Miles later, we would stop for dinner about 45 minutes from the campground and load ourselves up on pizza, calzones, and fries. We needed the stored energy for the next day.
Wilderness Edge Campground staff greeted us with smiles and exuberance. Appalachian Trail (AT) through-hikers, hikers meeting up with AT through-hikers, Katahdin day hikers, Baxter State Park visitors, and many other canoers, fisherpersons, kayakers, ATV riders, and mountain bikers stayed at Wilderness Edge Campground. Check-in was quick and easy; up the gravel road we drove to our cabin. There was just enough room for our two vehicles in front of the cabin. To the side was a picnic table and a fire pit. Darkness had fallen upon us as it was nearly 7:45pm when we arrived.
The cabin looked like any rustic, north Maine woods cabin you might imagine: pine and cedar board siding; screened openings with homemade curtains at both the front and rear of the cabin; a squeaky screen door that smacked against the wooden frame when you let it go, and the bare essentials for accommodations. There was no insulation or wall board and the rafters were open to the pitch of the roof. Hooks for lanterns were scattered throughout as were hooks to hang clothing or towels along the framing studs that lined the walls. Sleeping accommodations included traditional camping cots with sturdy canvas material. No power; no running water; no bathroom. Restrooms and showers were a short walk from our cabin and featured running water, hot water, and multiple power outlets so we could charge our devices while showering and getting ready for bed. While the cabin surprised us, we all admitted that we should have known what we had signed up for. 
Dawn was soon upon us and 4:30 AM alarms alerted us that we were really going to hike Mt. Katahdin. Heidi was first to wake; and, at 4:45 AM, like a drill sergeant, she swiftly kicked the rest of us out of our slumber, into our gear, and then into the borrowed vehicle. We were supposed to leave at 5:00 a.m.; it was now 5:15 a.m. and the drive to Baxter State Park was a good 25 minutes from the campground. Coffees in one hand, breakfast in the other, we all managed to complain about drinking coffee and eating breakfast this early, though we all knew that we would need the energy and would not have an opportunity to sit down once we made it to the Park. Some of us worried about morning restroom stops after coffee while others worried about eating at all because of nerves. We passed the painted rock and our nerves slowly turned toward excitement.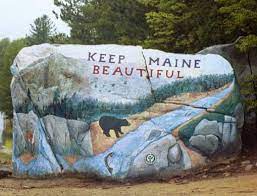 We arrived at the South gate entrance to Baxter State Park at 5:45 a.m. We were the fifth car in line at the gate, which opens at 6:00 a.m. We were well aware that we needed to start hiking as early as possible to make it to the summit and back before dusk. The gate opened and we presented our parking pass for Roaring Brook Campground to the Ranger. The Ranger was jovial and pleasant for 6:00 a.m. and directed us through the gate. We would travel another eight miles along the washboard gravel road where the speed limit was 25 mph before arriving at our destination. Roaring Brook Campground parking lot is outfitted with an outhouse which eased the worries of a few in the group, including myself. Backpacks packed, gear tightened, layers layered, we were ready. First stop, Ranger station sign-in. Heidi signed us in at 6:45 a.m. Second stop, obligatory group photo.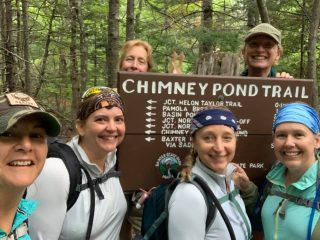 Baxter State Park weather is hard to predict. I have heard many people say that Mt. Katahdin makes "her own weather," regardless of the weather forecast. I firmly believe this to be true. Overcast skies and a light mist was predicted with temperatures in the 50s (Fahrenheit) creeping up to a high of around 75 for the day. A light mist greeted us and carried us for the next 3.2 miles to Chimney Pond at 9:45 a.m., right on time. One pivotal rule that is posted along the trails is hikers should have a turn-around time, because the goal is a safe return to your vehicle or camping site, not necessarily to summit Mt. Katahdin. We had about 30 minutes before we needed to head out on one of two trails to the summit. By this time, the light mist changed to a heavy mist and soaking rain by the time we signed in at the Chimney Pond Ranger Station. Like the Ranger at the entrance gate, this Ranger also was jovial, pleasant, and well-educated in the ways of the trails and considerations to keep in mind given the soaking conditions and our virgin experience with Katahdin. The Ranger explained that Cathedral tail was open to the elements and encompassed more bouldering over lichen-laced rock than Saddle trail; but, Saddle, though sheltered for most of the ascent, still had its challenges with switchbacks and moss-covered boulders. Four (Heidi, Erica, Kim, and Jamie) decided to take Cathedral trail; Ell and I decided to take Saddle trail. We would meet at Baxter Peak summit around 2:00 p.m.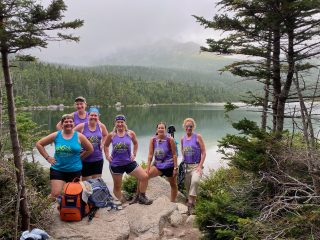 Along the way, Ell and I would meet hikers of all ages, shapes and sizes. While we had read numerous accounts of the kindness and camaraderie of hikers along the trail, we never could have imagined the extent to which these accounts were true.
Despite the difficulties of this great mountain, everyone we passed had a smile on their face. Many were curious about our shirts and we would stop to share our story of how "a group of teachers from Poland, Maine go hiking," which also gave us some much needed rest for the relentless amount of "up" we were encountering. Switchback after switchback, moss-covered boulder after moss-covered boulder, and forgiving tree branches lended a hand to my 5'2" frame. Ell, who towers over me at 5'9", traversed the trail at a much quicker pace; it was only natural that she led the way. The rain-soaked earth clung to our boots and challenged us with every step. Alas, we arrived at one section of Saddle that brought solace to our ever-weary minds, I called it the "Christmas Tree Forest."
The Christmas Tree Forest was just that, a part of the forest filled with fragrant balsam and douglas firs, sparkling with rain-soaked dew in every shade of green you can imagine. It smelled of freshly-cut Christmas trees, though all were still firmly planted in the earth. Ell and I rejoiced in this smell and the pleasant memories of family and celebrations that were invading our minds. Thinking back, it's almost as if the mountain and the forest knew that hikers would need something to take their minds off the grueling struggles they had experienced and were yet to experience. Ascending to the tree-line, or above tree-line is a huge accomplishment. The Christmas Tree Forest was the end of the tree-line for Ell and me on the Saddle trail. Next, we would ascend the open and loose rock face of the Saddle trail, also known as the Saddle Slide.
I dare say, this part of the Saddle trail, the Saddle Slide, was hell. If the devil were an object it would be epitomized as Saddle Slide. It was on this portion of the trail that the overcast skies would periodically clear and reveal to us the immense incline that we had left to traverse and the unforgiving decline should we fall or lose our footing. I recalled a friend's account of feeling dizzy when looking down from a steep climb earlier in the summer. At one point I slipped and looked back and down, dizziness came over me instantly, and gravity pulled my body backward away from the trail. I quickly recovered and let out a sigh of relief before continuing on. Loose rock, dry gravel and a lack of surface area to grip onto surely must be the work of the devil. While some turned back at Saddle Slide, Ell and I ventured on. Legend states that and "evil spirit, name Pamola" resided during the summer season at the top of Mt. Katahdin. The Penobscot Indians would offer sacrifices to him so that he would not injure them. Saddle slide must have been Pamola's way of preventing anyone from reaching the summit. Artwork reveals Pamola as a Raven; and, there is no doubt, in my mind, that the lone raven we saw at the summit while eating our lunch, was Pamola.
The one time that I would choose to lead, I would decide to take a wrong turn and lead Ell and I off Saddle trail. As luck would have it, this wrong turn caused us to meet up with the four that had ventured up Cathedral trail at Cathedral Junction. For the next half mile, the six Whittier Wanderers conquered the end of Cathedral trail and reached the summit, Baxter Peak, together as one group. It was 2:00 p.m., we had just enough time for photos, lunch, and some gear changes before we had to head back down the great mountain; we were only half-way done with our hike.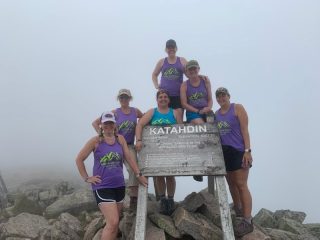 As we ate and basked in the glory of our success we noticed the Raven again, perched atop a rock about 20 feet from us. When it took flight, its wingspan was vast and it glided through the air with ease and grace in a mystical manner. I was convinced this was Pamola, first because of my Wabanaki heritage, and second because of my firm belief that signs are sent to us through nature. Pamola may have tried to curse us, but he carried us to the top and took care of us as he took care of those whom he whisked away in legend. We we were on our own to descend this great mountain and make it safely back to our vehicle.
Saddle Slide is just as dangerous descending as it is ascending. Loose rocks and arid soil created unstable footing. Hiking poles were a must at this point to stop us from sliding into each other, or straight down into the Christmas Tree Forest. As we slid and skated, the overcast skies began to clear, but the wind waged our lives in front of our eyes as gusts of 20 mph or more caused all of us to curse our life choices at that moment. The one-liners we projected out of fear, anxiety, and utter exhaustion were epic, and will remain in a vault for the appropriate time, place, and manner in which they can be disclosed. It was a wonder that none of our gear split or tore from all the sliding we did. Once at a "safe" spot, Erica, the tallest of the group, and the leader of the descent, turned around and took a celebratory photograph.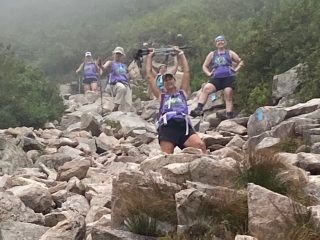 The remainder of the descent down Saddle was over the switchback boulders and wet earth with forgiving tree branches lending a helping hand where our hiking poles could not. Heidi, Jamie, Kim, and Erica admitted they thought that Ell and I had the "easier" ascent up Saddle, but they quickly realized that it was no more difficult than their ascent up Cathedral, just different. Many prospective Katahdin hikers ask, "what's the easiest trail" to the summit, to which we all can now respond, "there is no easy way, there are only different ways, and each way is equally difficult."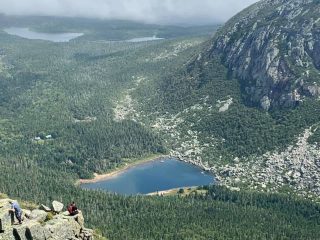 Chimney Pond Ranger Station was a welcome site. I signed Ell and I in and Heidi signed her group of four in. At least the Rangers would know that the six of us made it down from the summit and safely back to Chimney Pond. Onward to Roaring Brook Campground Ranger Station, 3.2 miles, it couldn't be that bad, we thought. We departed with naive elation. Hips began to ache, knees began to pop and slip, and blisters raged fires in our boots. 3.2 miles of aches, pains, bruises, and shaking quadricep muscles enticed Erica to tell stories, which were quickly shut down, not because we didn't want to hear them; we were not in the right frame of mind for stories. Jamie attempted to take our mind off our struggles by playing an alphabet game where the person at the front of the group started with the first letter of the alphabet and picked a theme; all subsequent persons in line would come up with a word related to that theme for the next letter in the alphabet. The theme would change once the group made it through the entire alphabet. You can imagine the themes we came up with as a group of middle-aged women who had just endured the most difficult summit adventure of their summer. It wasn't long before we lost track of the game and abruptly flipped the switch to utter silence. Dusk was setting quickly, the brook was making its presence known, and someone yelled, "I see car lights!"
False alarm. "Oops. I swear I saw car lights. My watch says we have .9 miles to go." Disappointing and nervous laughter ensued along with a few more inappropriate one-liners for this essay. Finally, we all saw the lights of the Ranger Station. Our pace picked up and our limp bodies carried us onto the porch, and Heidi signed us all in at 7:45 p.m., 13 hours after our initial start time. We had made it safely back to our starting point. It was time to eat, we were starving! We had planned to go to the Sawmill Bar and Grill, but it was closed by the time we drove by. Keep in mind, this was a Sunday in Millinocket, and it was around 8:15 p.m. when we were looking for a good burger and a cold beer, followed by a hot shower at the campground. Not much is open in Millinocket after 8:00 p.m. at night, except McDonald's. We lamented this fact, but stopped anyway; we needed to eat, and like the cure for a hangover, McDonald's turned out to be the cure for our limp and weary bodies after a 13 hour excursion. We apologized profusely for our "hikers' stench" and the staff merely smiled and congratulated us on our achievement. We returned to the campground for a well deserved hot shower and a long night's sleep in our rustic cabin, though we were not alone. A large spider decided to take comfort near Jamie's cot and kept its presence a secret until she turned on her headlight to navigate through the cabin. "AAAGH!," screamed Jamie, which startled everyone around us; we quickly shushed each other as it was after quiet hours and like the good teachers we were, we didn't want to get in trouble. Hysterical laughter ensued, the kind that emerges after sheer exhaustion. Jamie and Ell took care of the spider and we managed to compose ourselves. The need for sleep overcame us all and the cabin fell silent.
Monday morning, August 23, 2021, we departed for home. We had not thought to ask anyone at the campground about good breakfast places, but a quick search of places to eat on Google revealed a place called the Appalachian Trail Cafe on Penobscot Ave. in Millinocket. What a gem we found. The interior of the cafe is covered in photos of the great mountain, Maine wildlife, and AT thru-hikers, The ceiling tiles are covered in autographs of AT thru-hikers. The menu offered selections named after various features of Baxter State Park. Portion sizes were generous and prices were affordable. The staff asked us questions about our hike and where we were from. They were genuinely interested in hearing our story. Good thing for them we had showered the night before as it is very cozy inside the cafe. We devoured our food, savored our coffee, orange juice, and water and headed home.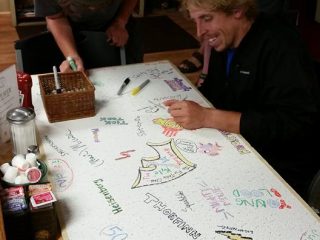 Prior to August 21, 2021, I had never been to Millinocket, Maine. I had heard of it in conversations, but had never dared to venture that far from my home base of central Maine. Additionally, I had never connected with a group of like-minded individuals as I had with this group of Whittier Wanderers. For me, this connection came after a grueling divorce which should have been anything but grueling. Hiking with this group and working alongside them every day at Whittier Middle School allowed me to find myself again. I learned who I was outside of the marriage I had recently exited.
Growing up, I had always loved the outdoors and spent much of my childhood exploring the woods of my New Auburn neighborhood and the Dougherty Road neighborhood woods in New Gloucester, Maine. I remembered that as a child my parents would take my brother and I, along with our Aunt, Uncle and Cousins to canoe the Saco River, camp in various campgrounds, or visit places like Coos Canyon and other natural water slides. I loved the woods as a kid; and, the trip to Baxter State Park reconnected me to nature, my Wabanaki heritage, and my true self. A piece of my heart will always remain with that great mountain, the Christmas Tree Forest, and the Raven of Baxter Peak. I will return to the great mountain and Baxter State Park if not for more hiking, than for reconnecting with my heritage.
Kim Adler was born and raised in Maine. She is an educator and a Masters' Degree Candidate enrolled in the University of Southern Maine's Extended Teacher Education Program. She teaches 7th and 8th grade Writing at Bruce M. Whittier Middle School in Poland, ME. Kim lives in Maine with her dog, Maisy. She has two grown children. As an empty-nester, she has ventured to the mountains of Maine to reconnect with herself, nature, and her Indigenous heritage. She enjoys writing about her excursions.