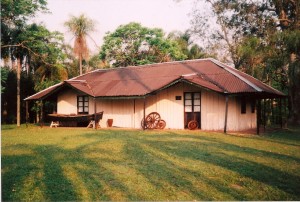 By Antony Mapes
In small town San Ignacio, the population seems to be permanently on siesta. There's one cash machine, few shops and only a handful of restaurants. In fact, the most popular restaurants for locals aren't even 'real' restaurants. They're just shops, attached to locals' houses, with a few old plastic chairs and tables outside, where they'll serve you a choice of three types of empañadas and a pizza if you're lucky.
Despite the quietness of the slow paced Argentinian town, tour buses still pull up most days. They arrive to see San Ignacio Mini, one of the best preserved ruins of the splendid seventeenth century Jesuit missions. The town has another tourist site, which isn't frequented half as much: the house of Uruguayan novelist and poet Horacio Quiroga. A macabre writer of stories, comparable to Edgar Allan Poe in their sheer darkness and suspense, but one I'd never actually heard of.
Seeing as I was spending two nights in the town and had already seen the ruins, I decided I might as well locate Quiroga's house, which is open to the public as a museum.
I followed the crudely hand painted signs and arrows that led down the dusty roads, pointing the way to his house. The signs seemed to be a joke erected by bored townsfolk. '500 metros' one would say. Eight hundred metres later, another would say '500 metros' again. After another five hundred metres I'd find a sign saying '700 metros'. I gave up relying on their information, wondering how long the walk was going to be. Finally, I arrived at a modern looking Argentinian house at the end of a path. Was that it? Was I there at last?
Some locals were lounging in the sun by the porch. "La casa de Horacio Quiroga?" I asked. No. It wasn't. But it was the right place to purchase a ticket. I did so, stood at their front door, and was pointed to a path that led to the writer's house.
The narrow trail was walled by tall, all encompassing sugarcane poles. Simply walking through the tall bamboo-like sticks that completely sheltered any view of the house was interesting enough. The walkway wound on like a labyrinth, and every few metres there would be panels detailing the life story of the writer.
And what a tragic world surrounded the life of Quiroga! With each short stroll to the next biographical display board, the reader becomes more and more depressed, and yet the tragedy that struck the novelist's life was to such an immense degree, that one can't help but find it a trifle funny, forgetting for a moment that this story is actually true and not one of Quiroga's inventions.
He was born in Salto, Uruguay, in 1878. Before he was even two and a half months old, his father had died by accidentally firing a gun he was carrying.
When Quiroga was twenty two years old, he found the body of his step father who had committed suicide. Two years after that, his two brothers died of Typhoid fever, and there was still more tragedy to come in that same year. When his friend Frederico Ferrando was challenged to a duel, Quiroga offered to clean and inspect the dueling gun, but accidentally fired it, shooting his friend in the mouth and killing him instantly. After four days in detention, he was released without charge.
In 1908, he bought the plot of land in the dense jungle region of San Ignacio, where he would build his own bungalow. By this time he had already published many short stories, including his famous horror tale The Feather Pillow, and was often compared to his greatest influence, Edgar Allen Poe.
He settled down in the wild backwoods of the Misiones area, marrying Ana Maria Cires and having two children. From a young age, his offspring were immersed in what could be called dangerous situations, supposedly so that they could overcome fears and go through life being able to overcome any obstacle. Once, he left them alone in the jungle one night to fend for themselves. Another time, he made them sit on the edge of a cliff  with their legs dangling over the sharp ledge.
During the years in San Ignacio, Quiroga farmed inhospitable land, whilst continuing to write successful stories and poems. The jungle life soon became too much for his wife though, and in 1915 she committed suicide by mercury poisoning.
After some years in Buenos Aires and establishing himself as one of Latin America's greatest writers, with collections of short stories like Tales of Love, Madness and Death, he returned to his San Ignacio home. He finally settled down there permanently to retire in 1932. He now had a new wife and daughter, but his wife, though youthful, hated living in the wilderness as well, and after a few years, left with their daughter, leaving Quiroga alone.
In 1937, Horacio Quiroga was diagnosed with prostate cancer, which was untreatable at the time. In a hospital in Buenos Aires, he decided he couldn't take the pain of the disease—and perhaps the pain he had always lived with—any longer. Quiroga committed suicide with the assistance of a friend, by drinking a glass of cyanide.
Walking through the sugarcane sticks that sheltered the house, reading the most tragic tales of his life, it was easy to forget about the popular and critically acclaimed work that he had produced. By the time I emerged from the undergrowth and saw his house for the first time, I felt like I knew the writer I hadn't heard of only days before.
I walked through the dark tunnels of sugarcane trails, the environment perfectly reflecting the mood, only to walk into an idyllic garden in the hot sunlight, where his small bungalow stood, overlooking the Paraná river.
A reconstruction of a wooden house he had lived in, whilst building the main house, stood to one side. The house, recreated for the 1996 biographical film Historias de Amor, Locura y Muerte, is surrounded by tall palm trees and floss silks with cotton wool coated avocado-type fruits. A single horse minds his own business on the well kept lawn. It's an absolutely perfect place for a writer to hide away from the world.
Later, I discovered the opening lines to Quiroga's story, "El Hijo" would reflect the moment perfectly:
"It is a powerful summer's day in Misiones, with all the sun, heat and calmness that the season can bring. Nature, fully open, feels satisfied with itself.
Like the sun, heat and calm environment, the father also opens his heart to nature." (My translation.)
The story of "El Hijo" goes on to tell the story of the death of a father's son, as he routinely walks out into the wild nature of the place carrying a shotgun, and how he's in  denial about what has happened. But I prefer to focus on the opening, which, out of context with the rest of the tale, mirrors what I felt standing there in the garden, where Quiroga may well have arrived at those very words.
The beautiful bungalow was a modest affair. Inside were some original artefacts, as well as replicas of his typewriter and gramophone. Some of his comic strips hung on the wall, showing that he was a talented artist as well. And there were various examples of zoological wonders: stuffed animals, a huge snake skin, and boxes of frames holding butterflies, insects and spiders.  Each item reminding the visitor of the incredible natural world beyond the doorstep.
There was thick vegetation all around the surrounding area, but it was still difficult to imagine just how wild the jungle wilderness must have been a century earlier. Quiroga tried to tame the natural world, a theme running through his work, along with love, tragedy, madness and horror.
Though his work is rarely translated into English, Quiroga is regarded as one of the greatest writers of Spanish-speaking world. His life story is fascinating enough, but his body of work even more so. Together they fuel the reader's interest, as it's quite apparent where many of his ideas sprung from. Perhaps I wouldn't have become as impressed by his literature without visiting his home in San Ignacio. Perhaps I'd have seen them as pale imitations of Poe's.
And while it's unusual to visit a writer's house before you read his work, standing in hot sun outside the house Quiroga built with his own hands, knowing the horrors he faced in life, I felt as though I knew it without ever having read a word.