To learn more about traveling to Colombia with Literary Traveler and Classical Pursuits, check out the upcoming tour here. 
By Jana DeBusk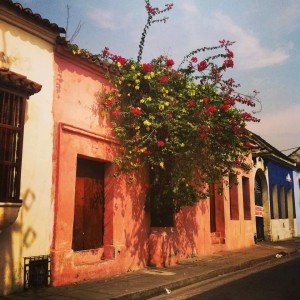 When I told my mother I was going to Colombia, she started screaming. My grandmother started crying. Every family member I had, spread out over the Indiana cornfields, was terrified. Me? I just smiled. I was about to embark on my most dangerous expedition yet. France and Italy are child's play next to this cocaine-filled, guerrilla war zone, where young American girls like me get kidnapped by gun-wielding masked men. Or, at least, this is what my family thought. Why not? The media does a fine job of covering every aspect of the Colombian drug trade (sadly cocaine is still their main export), the violence, and the political uncertainties that come with it. As with nearly all things media, however, they conveniently leave out the heart of this country—the magic, the music, and the men.
Nobel Prize Winner and Colombia native Gabriel García Márquez (or "Gabo" as the locals affectionately called him) certainly romanticized Cartagena and the Caribbean Coast in his famous novels One Hundred Years of Solitude and Love in the Time of Cholera. He was a well-known leader in the fantastical genre of literature known as "Magical Realism." Magical realism is an intricate and passionate tapestry of fact and fiction, an evocative merger—much like my experience of Colombia itself. "The truth is that there's not a single line in all my work that does not have a basis in reality," he once said in an interview with The Paris Review. "The problem is that Caribbean reality resembles the wildest imagination." From Colombia, I expected beauty. I imagined romance. I did not, however, expect to be transported completely into Gabo's magical land.
The plane touches down without incident on a small runway at Rafael Núñez International Airport. The air is a balmy mix of greenhouse smells, and Customs is—dare I say—almost charming. The young officer smiles and asks for my passport, a local address of where I am staying, if my travel is for business or pleasure, and how I got to be so pretty. "Linda. Muy linda, gringa." Now, don't get me wrong: In New York, I surely would have scoffed at this blatant misogynistic excuse for a compliment, but in Cartagena something feels different. It's as if fairydust creates a shimmery protective glow around my entire line of sight. Cupid's arrow is in my peripheral, right on the edge of a shot. Yep, I am going to like it here.
The taxi driver weaves in and out of twisting traffic for about 15 minutes before dropping me in front of my hostel in El Centro, the historic center of Cartagena. The magical dust lights up the cobblestone roads, the street vendors hauling carts of food and jewelry, and the balconies overflowing with the native plant, Bougainvillea. The bright colors become iridescent and teeter on the edge of unnatural. The smooth brown stones meet white walls covered with twisting electric green vines that erupt into fuschia flowers. A gentle ocean breeze dances with the leaves as they sparkle in the Caribbean sun. Magic.
I unload my heavy pack next to my assigned bed and transfer my credit card, passport copy, and a small amount of cash into a money clip that I secure under my bra. I leave my actual passport and phone in the hostel for I am aware that, even in a city filled with magic, pickpockets are still a common hazard. I meet Lina-from-Holland at the hostel and discover that she, too, is traveling solo. She has a sweet face, straight blond hair, and a pair of dirty rollerblades attached to her large pack. Her travel plans, she says, are open-ended. We decide to explore the city together that afternoon.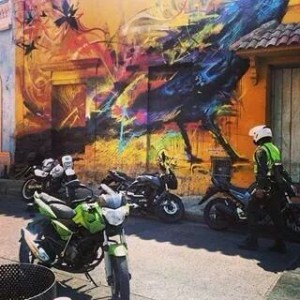 We don't bring a map, but instead decide the best way to introduce ourselves to Cartagena is to get completely lost. With the direction of the sun, we will find our way back after a couple hours. It is a relatively small city, and although Lina's Spanish is decidedly better than mine, I trust both of our navigational abilities. Off we go, blazing our first trail in this enchanting Colombian city.
Incredibly, we encounter none of the fears my family had fretted over. No one tries to kidnap us, and although there are many machetes on the street, these instruments are carried only by the vendors and farmers that need them for work. They are not used to hack off the arms of unsuspecting tourists, but to cut and quickly serve delicious fresh fruits. The machine guns are not blazing, but used as protection. They are seen only at the entrance of banks by attractive policemen that smile back when I smile at them.
We head south through the city and as my eyes adjust to the intoxicating beauty surrounding me, my ears slowly take in the cacophony of daily life. Wheels navigating food carts through the slow-moving foot traffic: "Scratch, screech, scritch". Taxis lazily honking at the impossible task of getting to their destination on time: "Be-Beep. Beep!". Vendors hawking their wares: "Arepas! Sombreros!… Jugo!". And underneath all the staccato bursts of sounds and speeches, the gravelly turning of wheels and screeches, there is a pulse. The bass drum to the beat, the timekeeper, is the rhythm of the people themselves mixed with a heavy dose of Reggaeton, Cumbia, and Vallenato. Music.
We find ourselves back at the hostel after winding through side streets and small parks like Parque Fernández de Madrid, named for Spanish conquerors and leaders scattered throughout Colombian history. I am exhausted from the strong rays of the Cartagena sun and my sleep is heavy and hot. I dream very little. Lina and I part ways in the morning and I spend the remainder of that week wandering aimlessly through small barrios like San Diego, a residential neighborhood right outside El Centro. Although the Historic Center has its charm, it also has its tourists. Hoards of visitors, mostly couples, pull out maps in the middle of crowded streets, walk slowly holding hands, and steal kisses beneath the romantic backdrop of Cartagenian architecture. Backpackers, like myself, are seen following cobblestone pathways to the nearest bodega for a cheap beer or a bite. No matter where you go, the music is pumping and the food is sizzling.
Getsemaní, the southernmost neighborhood of the walled city, holds a different charm. The architecture is still beautiful, and the Bougainvillea still explodes over second-story balconies, but there is something grittier here. Something real and tangible rustles in the salty sea breeze. Political murals loom over the trash-covered alleyways that spring outward from the famous Plaza de la Trinidad. Though not inherently dangerous, these narrow streets hold heavy overtones of the guerilla warfare and tragedy that has enveloped this country for the last 50 years. I decide to settle in for the night at a quaint hostel called Mama Waldy, nestled in the far corner of Calle de la Sierpe. The city's best nightlife is rumored to be just a short walk from where I am staying, and I am ready to dance.
I walk less than five minutes on the winding calles of Getsemaní to get to my destination. Whistles and whispers follow every turn I make through the bustling streets, as is the case for every other woman without a man on her arm. It isn't threatening, just a reminder that the men are watching. Perhaps it is a personal gut feeling that I am safe, but I don't mind. I decide on Blonde, a club advertising live music. Thankfully, this band is not playing the American Top 40. There is no Gaga, no Coldplay, no Lana or Lourde. This club caters to Colombia. Marc Anthony and Carlos Vives play with styles like Bachata, Salsa, and a little Latin Rock. The place is packed with locals and travelers alike. I get a drink from the bartender (and later get his number), and slowly soak in the scene before me.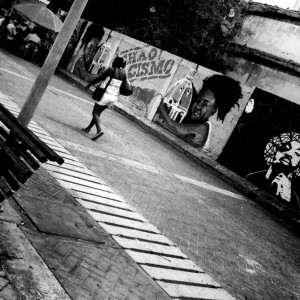 The passion of a Colombian man is seen first in his eyes. A fire lights as he watches the intricate details of a beautiful woman, her movements and motions. Then his feet start to move to the pulse of his beating heart. Quick and confident steps entice her to follow the rhythm of his body. He pulls her closer, encouraging trust with an intense and serious stare. She becomes mesmerized. By the time she breaks her gaze, her hips have picked up his swing and the Bachata music has crept into her bloodstream. They are drawn closer to each other and she feels his long, lean muscles guiding their dance. The music ends abruptly and she is pulled back into reality. That is, until the gentleman who has been quietly watching from afar asks her for the next dance. Oh, the Men.
I had many experiences in the short time I was there, but one thing is certain: Cartagena delivers. I will be forever grateful to Gabo who, with the magic of his writing, captured my adventurous and romantic imagination. Because of him, I propelled myself into a different world, seemingly undiscovered, and came out alive. More alive, in fact, than when I had started my journey. Cartagena has it all. Magic. Music. And… oh… the Men.
He was overwhelmed by the belated suspicion that it is life, more than death, that has no limits. – Love in the Time of Cholera
Jana DeBusk is a musician, educator, and world-wanderer. She enjoys strong coffee and  red wine. Her travels have inspired two albums that you can find on Spotify, Amazon, and iTunes. Check out her music and follow her travel stories at www.janadebuskmusic.com. She is a also a guest writer for Dig Travel Magazine. A native of Kendallville, Indiana, Jana currently resides in Manizales, Colombia.