By Jennifer Locke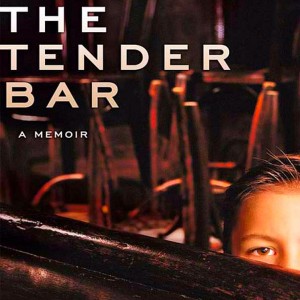 The local bar: it's a place both mythologized and longed-for, a place Americans with packed schedules and commuter lifestyles dream of in the same way that they pine for bygone eras. The place where everybody knows your name. The place where nine-to-fivers come to unwind. The place where the bartender knows your drink, where friends gather and worries melt away.
Does such a place still exist? In JR Moehringer's marvelous 2005 memoir The Tender Bar, the local bar is alive, well, and treated with the nostalgia many reserve for their childhood homes or a favorite vacation spot. The place is Manhasset, a small commuter town on the western end of Long Island, the bar, Publicans. Moehringer tells of his experiences growing up without a father in the shadow of this venerated local establishment where his wildly eccentric uncle served as bartender. Moehringer is essentially adopted by the men who work for and frequent the bar: a motley assortment of affable drunks who stand in for his missing father. They teach him how to be a man—albeit an imperfect one.
I first read The Tender Bar the summer after I graduated from college. I've read it once a year every year since. As is always the case with love, it's hard to explain my attachment. The Tender Bar is a coming of age story that is compulsively readable and relatable. There is Moehringer's feeling of otherness as a child growing up without a father, the sense of being on the outside looking in at a more fortunate world. There is the heady rush of early adulthood—going off to college, testing limits, first heartbreak. There is the struggle I was facing myself during that first post-collegiate summer—discovering how to be in the world as an adult, deciding what it is you want, finding the courage required to realize your dreams.
Then there is the bar itself. Publicans is run by the enigmatic Steve, who changes its name from "Dickens" but retains the Dickensian habit of naming all of its patrons as if they are characters in a great story. And the hilarious regulars are indeed characters. The men of Publicans, who as a unit make up Moehringer's surrogate father-figure, gather nightly at the bar to hone their skills in that manliest of arts: conversation. Their wild and profane discussions meander crazily, weaving the story together and infusing the book with a foul-mouthed hilarity. Where as at other bars men "talk to justify their drinking," at Publicans they "drink to justify their talking." For the men of Publicans, conversation can turn from bets placed on the Mets to the proper method for engaging in a bar fight to the works of poet Emily Dickinson—all in the span of one drink. When Moehringer begins writing down the regulars' endlessly amusing observations and opinions, they act as if this is just what they've been waiting for someone to do all along. I can never get enough of them—this outrageous set of imaginary literary uncles who come to the actual alcoholic and verbal playground that is the tender bar.
When my husband and I were planning our five-year anniversary vacation to New York City I knew I had to make a stop at Moehringer's famous bar. We planned to bookend our trip with two nights on Long Island. I was looking forward to spending some time outside the city, going to the beach, and enjoying our vacation at a slower pace. And for the grand finale, we would drive to Manhasset's Plandome Road and visit Publicans. I was ready to enjoy a beer with the ghosts of some of my favorite characters from literature.
Well, not Publicans exactly. The bar still stands, though it now sports new management and a new name: Edison's. But the location is the same and the staff still serves beer, so to Edison's we would go.
It wasn't exactly a traditional New York destination. "Where are you going on your trip?" friends would ask.
"We're going to the Top of the Rock, we'd like to catch a Jimmy Fallon monologue practice, maybe ride bikes in Central Park. Then we're going to this bar on Long Island from The Tender Bar. Have you read it? No? Well, it's this book, I read it every year. It's about this boy who grew up without a father… just trust me, you should read it."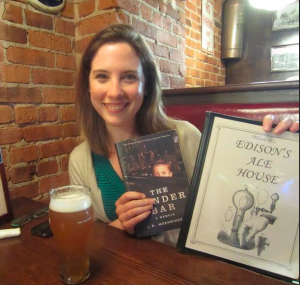 Traditional or not, a visit to the bar was an essential element of our vacation, one that I could neither justify nor explain. So when the time came—when we pulled onto Plandome Road and stopped across the street from the restaurant, when we walked through the doors of Edison's and found our spot in a booth near the bar, I felt a little like Dorothy arriving at the Emerald City. Now I was a character in this mythological place, just another drinker at the bar who'd come looking for something I couldn't quite name. I was at Edison's, formerly Publicans, formerly Dickens. I was a patron of The Tender Bar. I clutched my copy of the book and grinned for my husband, who was wielding a camera across the table.
"You've read that book?"
A forty-something man on his way to intoxication approached our table. "I went to high school with the author. That book—that's my era."
Publicans was famed for its talkers. Clearly, we'd found one.
"Yes, I've read it," I replied, breathless with excitement.
"A lot of those guys from the book still come in here," said our unnamed host—our very own, slightly tipsy Virgil. "But it's just not like it used to be."
He was all too happy to tell us how it used to be. There were the renovations that had been done to the restaurant, of which Mr. Tipsy did not approve. There was his nostalgia for Moehringer's eccentric bartending uncle Charlie, who had always been too caught up in his crossword puzzles to be bothered with serving anyone drinks. There was the enigmatic owner of Publicans, Steve, who had sent the entire town of Manhasset into mourning after a fall down the steps led to his death. I'd read about it all. Still, I drank in Mr. Tipsy's stories greedily, as if they were shots of Sambuca poured by Uncle Charlie himself.
Mr. Tipsy had broken away from a larger group of middle-aged men who stood near the restaurant's entrance clutching their drinks. I watched these men, who ignored the various televisions hung up behind the bar displaying baseball games and tennis matches. Instead, the regulars at Edison's were engaged in the sport of conversation. They jockeyed for the chance to get a word in and get a laugh like schoolgirls anxiously awaiting their chance to jump into a skipping rope. Just as Moehringer had done, I couldn't resist the urge to take notes. One particularly animated conversation revolved around dog breeds:
"A dog is man's best friend. What's woman's best friend?"
"Shoes!"
"As long as it's not a Yorkie."
"I take a Yorkie, I take a crap, I wipe my ass with it."
"A terrier's a great breed."
"What are you gonna do with a Boston Terrier? He needs Botox!"
And on and on. What did I have to drink that evening? What did I have to eat? Who cares? I was feasting on the atmosphere, drunk on the endless overheard conversation. I paid far more attention to my notebook than I did to my food. Maybe the place where I sat wasn't actually Publicans anymore. Maybe these weren't the exact men who populated Moerhinger's book. But clearly the spirit of the mythic bar lived on in them, these regulars who were starting to spread in the middle, these characters who wanted nothing more for their Friday night than to stand around and shoot the breeze. There was a sense of unreality to it all; I was inside an added chapter of the book, listening as the ragtag crew at the bar wrote the lines.
When the waitress brought around our check, Mr. Tipsy broke away from the group again.
"Was it everything you hoped it would be?"
"Oh yes," I replied with barely contained glee.
"Good," said Mr. Tipsy. But he wasn't done with his nostalgia.
"Now this place closes at 1:00 or 2:00 in the morning," he said. "But in the old days, it never closed." Mr. Tipsy looked out across the renovated building, perhaps remembering the bar at 3 a.m. in its heyday, packed to the brim with patrons and friends. "Back then, this was never the place where you started your night. But it's always where everyone ended up."
Mr. Tipsy turned and rejoined his circle. My husband and I paid for our meal. It was the height of summer and still not dark at 8:30. Our plan was to drive around Manhasset; I wanted to see other points of interest from the book and get back to our host's house at a reasonable hour.
But still, I was reluctant to leave the bar and our vacation. It had been a great one—we'd checked off all the major points of interest on our itinerary. We'd seen a Broadway show and gaped our way through Times Square. We'd been to the Top of the Rock and caught a taping of the Jimmy Fallon show. We'd ambled through the Upper West Side and Williamsburg, eating our weight in rugelach and bagels as we went. And now I had had the coveted experience of all literature lovers, the one I'd been wanting since that first summer I read The Tender Bar: I'd lived inside my favorite book for a wondrous hour or so.
We passed Mr. Tipsy and his crew and gave them a wave as we made our way out of the bar and into summer's golden hour. They had been there when we arrived. They would be there long after we were gone.
Jennifer Locke is freelance writer and editor living in Dallas, TX. A native of Georgia, she has lived in Dallas, Pittsburgh, and a few places in-between. When not reading or writing, Jennifer enjoys pie making, walking everywhere, and watching Jeopardy.