by Amanda Festa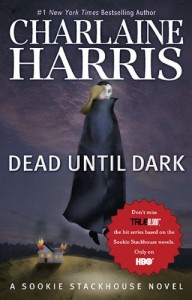 For the past five years, summer has brought many much-anticipated guilty pleasures.  Beach days, BBQs, Sam Adams' Summer Ale, sun bathing.  And, of course, a new season of True Blood, where the characters don't do much of the latter.  For half a decade I have looked forward to June and the return of HBO's blood-drenched drama as a kid looks forward to summer camp.  Vampires, Shifters and Fairies, oh my!  Hearing the first notes of Jace Everett's "Bad Things" has come to remind me as much of summer nights as fireflies and the hum of the air conditioner.
The end of summer has become synonymous with the season finale of the show, and with September comes a long string of cold, True Blood-less months. But I am here to tell you, it doesn't have to be that way.  There is a surefire way to cure your fangover. (For those readers who already know what I am talking about, the Hair of the Dog is not just a bar in Shreveport.)
While the television show has gained immense popularity, real 'Truebies' know that it is actually an adaptation of The Southern Vampire Mysteries  series written by Charlaine Harris.  Like the show, the books follows the adventures of waitress and telepath, Sookie Stackhouse, as she navigates the fictional Louisiana town of Bon Temps, finding herself entangled in the lives of many a supernatural creature. In 2001, Dead until Dark,  the first of The Southern Vampire Mysteries, or Sookie Stackhouse Novels  as they are also called, won The Anthony Award for best paperback mystery.
I recommend these books to all my nearest and dearest True Blood fanatic friends, and as they diligently start chipping away at the series, which now boasts a dozen books in print, they love to point out the redundancies between the show and the series in the first couple books.  But wait, I tell them, there is quite the fork in the road by the fourth book, Dead to the World, so stick around.  I first discovered the books between seasons two and three of the show and whipped through them so quickly I was initially disarmed when the HBO series resumed and I momentarily confused what was happening in which fictional universe.  They become very different and yet are both equally entertaining and satisfying.  A choose your own adventure that allows you to play out the various scenarios you may be hoping for, and some you probably would have never even fathomed.
The books are a genre melting pot, part southern gothic, part fantasy, part mystery, with just a sprinkling of romance.  And with the pun always intended, it becomes clear once more that the vampire in literature just won't die.  I will give the disclaimer that the books are not for everyone.  They are by no means high brow literary pursuits, but they are amicably written and suspenseful, erotic and hilarious at turns.  They are about vampires, yes, but they are not written for the young adult demographic, and they are definitely not Twilight.  Instead, they are a perfect guilty pleasure for the avid reader.  Be warned though, although close to 300 pages each, you will tear through them like they will turn to ash at sunrise.  When I first discovered the series eight books were already released and I read them en masse, one after the next to the point where they became one long glorious entity.  I was in for a rude awakening when I finished, and had a whole year to wait for the next book.
One of my favorite aspects of both the books is the locale.  Harris was born in Mississippi and lives in Arkansas, making her knowledge of Southern settings especially vivid.  I have never been to Louisiana, yet it has been on the top of my travel to-do list since I first read Anne Rice as a teenager.  The descriptions of the sites and smells and warm languid nights always stuck with me, and The Southern Vampire Mysteries give me that same sensation, a feeling of nostalgia for a place I have never been.
While Bon Temps, the town at the center of the franchise, is fictional, Shreveport, Louisiana plays a large role in the action.  Yet, don't expect to see too many of the famous façades upon visiting the city.  Shreveport's Fangtasia is actually filmed at a bar in Long Beach, CA, while the exterior of the Bon Temps bar, Merlotte's, can be viewed on a Warner Brothers Studio tour in Burbank.
As for the books, each May a new volume is released and I have looked forward to this date as I look forward to my birthday, which as it happens, is often the same week.  I don't know Ms. Harris, but I like to think of it as a birthday present of sorts. The thirteenth and final book of the series is set to be released next May.  Tentatively scheduled for the same week that I turn 30, it is in more ways than one, the end of an era for me.
So, as summer draws to a close and another season of True Blood is in the coffin, pick up a Southern Vampire Mystery or two (or twelve).  See you next year, my undead friends.