by Philip Lewis
My day started coming to life when I took a step outside that June day, walking barefoot on my concrete patio. I made sure to lightly step in shaded sections so I wouldn't burn. It was hot and one of our first over hundred-degree temperature days of the year. In Las Vegas, Nevada, right when summer kicks in, the heat punches you. The rest of the year is clear, blue skies and a bit chilly at times, but that first blast of summer heat can be stifling, even for a longtime resident like me.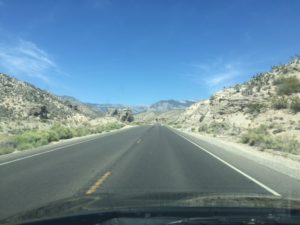 After hopping from one shaded section to another and jumping back inside my house, I decided  to drive to Mt. Charleston, a mountain range forty miles outside of Vegas. It's always at least twenty-degrees cooler there and I needed a quick escape. I picked the south-side of themountain, Kyle Canyon, just because it was closer and the south-loop hiking trail I wanted to explore started there. The drive was pleasant, beside the fact that for the first half, even with the air-conditioning on full blast, the desert heat still scorched through the car windows. I could see and feel the sun beaming through the glass, feeling a defined separation between cooled air in the car and beams of heat from outside. I didn't really get out of it until I was about half-way up the road to Mt. Charleston. But I could feel the change. It was definitely cooling down.
While steering ahead on the 157 (Kyle Canyon Road), with the mountain range coming into sight right above the horizon, I remembered something I heard some friends say on occasion, usually when I had guests in town during the summer months. I've heard it many different ways, but on this day my recollection was: "I could never live in a desert." It kept creeping in my mind while I drove. I thought my friends were right to some degree (no pun) – a desert is dry, hot and brutal at times. But where I was going on this summer day I didn't need to give it much thought, because nestled forty-five minutes outside of Vegas was a canyon inviting me to enjoy its chilly breeze.
At this point of the drive, Mt. Charleston was on full display. I could see the snowy-tops high above all else, a comingling of mountains joining together at the summit. I knew that as I drove deeper into the canyon, the tops of every mountain would disappear as I descended into its heart. I could see ahead how the road flowed like a river in between two mountains that eventually join. Nature was peeking its head.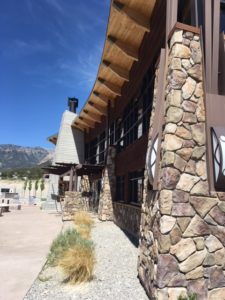 But before I continued, I stopped at the visitor center which was perfectly placed before the canyon. I saw a beautifully designed building overlooking an outdoor dream. The building curved in, narrowest in the middle, making a sort of interesting shape. The structure had multiple shades of brown, comprised of wood and stone that perfectly match its environment. Looking out, multiple trails extended up the rocky mountain with green life barely covering the massive rocks thrusting out. And as my eyes gazed up the surrounding hills, more and more trees swayed in the breeze as if waving hello. I closed my eyes and took it in for a moment. The moment was brief, I thought, an adventure in itself. I was preparing for the next leg of the journey. It was a perfect stop to acclimate to my new environment.
While the visitor center disappeared in my rearview mirror, the winding, narrow Kyle Canyon road took me through the mountain range, passing a rustic fire station and some campgrounds, eventually the road turning on itself to pass along the other side of the canyon. While along this section, I witnessed the glory of Cathedral Rock, a large, perfectly round rock bulging almost a thousand feet up from the ground. I heard it's about a mile-and-half hike to reach the top. I could only speculate for a moment how high the rock was because the road I was on curved along the side of a steep, rocky cliff, eventually straightening out and forcing me to greet the Mt. Charleston Lodge restaurant as it crept up ahead. Yummy – a great place for a beer, I thought. Almost at the same time, I realized the south-loop trail parking lot was directly to my right. I turned in. Surprisingly, the lot was hardly full.
I parked and stepped out. No dream-crushing heat here. I retrieved my camelback and began to trek up the south-loop trail. It was a rough start, I won't lie. I am nearly forty years old, and hiking  isn't what it used to be. At times, scaling that mountain felt like it would never end. But oh boy, the sights I saw! Every step forward proved more picturesque than the last. Along the way, I saw beautiful birds-eye views of the Mt. Charleston range. I could see and smell new nature. I could smell bark and sap dripping from bristlecone trees; see beautiful plants sprouting from earth, perfecting their design through natural process; and maybe even more brilliant, all of my problems seem so insignificant and miniscule around such beauty. All of this paired with the vigorousness of the hike, it was humbling.
But what proved even more humbling was that this beauty I saw – something so revealing – was a direct consequence of the 2013 Carpenter Fires. It showed me that nothing produces something. It was the destruction of land that allowed for a new generation of vegetation. It was a scene splattered with charred trees standing high like warriors on a hill, touting their existence. Colorful plants were rising from ash. It was as if mother nature brought flowers to a funeral. The fire started in July 2013 in Carpenter Canyon, just southwest of Mt. Charleston near Pahrump. It quickly reached behind Kyle Canyon and raged, damaging parts of the south-loop trail and beyond. It not only damaged parts of the trail, but it came very close to destroying the Mt. Charleston Lodge, cabins and picnic areas near the trailhead. At the time, no one was certain whether the fires would wipe out everything in that canyon. It was scary, but the panic and uncertainty of the future – this period of not knowing what will happen to the mountain – culminated into a stunning display of devastation and life working together.
This is a lot like Las Vegas, in a sense. Nothing produces something. Because deserts are, by definition, deserted and dry, even desolate. At first glance, there's not much to it. But Vegas is a place where life is out in the open. I can see everything. My views are not obstructed by huge forests or other planetary wildlife, and the city is not so compact that skyscrapers block any view I have beyond a couple hundred feet. I can see beauty elevating. At any given place in Las Vegas, anyone can see the red, iron rich mountains that surround the valley. No hindrances. In fact, the little obstructions that do exist are cellphone towers disguised as palm or pine trees to look naturally occurring. The irony being, of course, that neither palm nor pine trees are indigenous to Vegas, but that's beside the point.
In Las Vegas, everyone is awarded beauty immediately. This isn't a rainy and damp place, where trees and scrubs consume the land like thick weeds on an abandoned property. This isn't a concrete jungle, where skyscrapers blot out the sun. I don't need to pull back the curtains to see the show; it's right there. I can see new flowers performing their dance and radiating their new colors. Nothing is hiding it. I can see hot-air balloons taking off in the morning, even if they are miles away because nothing is lodging my view. It can't hide. Nearing the mountains that
surround the valley, I can see herds of wild burros galloping through the wastelands. As I climb mountains, I immediately see the fruits of my labor. Sometimes, there's no need to reach the top – I've reached as far as I want to see.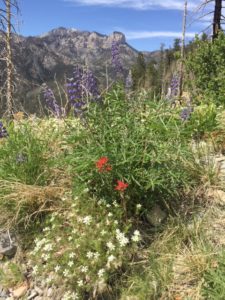 This is exactly what happened when I reached the ridge of the south-loop trail, the saddle between Griffith Peak and the Mt. Charleston summit. The middle of the ridge held a small camp, where logs and branches shaped walls to protect from the wind. It was a home built for backpackers. On one side of the ridge laid a desert that extended to Red Rock Canyon. On the other was where I came from, a steep four-mile and over thirty-five- hundred-foot decline. On both sides of the mountain, I could see blackened trees for miles, mangled from the fire, while below it new flowers and other foliage were breathing again. The mountain was coming back to life. I took it in, inhaling the scent this battered mountain permeated, silently listening to birds sway in the wind and meeting the occasional chipmunk hastily scouring the land for food. The breeze tickled my beard and gave me goosebumps, a small reward I get for escaping the heat. I made it to the ridge, a four-mile hike to the top. I reached as far as I wanted to see.
The refreshments at the Mt. Charleston Lodge were everything I hoped for. I nearly ran downhill from the ridge I summited, after remembering that the lodge has a restaurant. And of course, just like all the other architecture in this canyon, the overlook resembled something from a Bob Ross painting. A touch of trees here, a cabin there, as Bob would say. The restaurant had floor- to-ceiling windows with a door leading to a deck outside, beautifully positioned in front of Kyle Canyon. After a hearty sandwich and refreshing beer, I sat up from my chair outside and examined the land. There was a mild wind blowing and I lifted my head up to feel some more of it. And then I remembered what my friends said: "I could never live in a desert."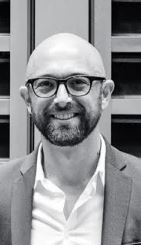 Philip Lewis is a writer out of Las Vegas, Nevada. He graduated from Nevada State College in 2013 with a degree in English and is currently a graduate student at Minnesota State University seeking a Master of Arts degree in English: Technical Communication. His main interests are music, writing and hiking, and passes most of his free time playing his acoustic guitar. Follow him @PhilLewisWriter.