Colombia is one of the most spectacular and colorful countries in South America. It is the only country on the continent with both Caribbean and Pacific coastlines, and its culture reflects a mix of indigenous, Spanish, European and African influences. Colombia features the Andes at their most dramatic as well as the impressive Amazon region in the south. The magnificence of the landscape is equaled by some of the most beautiful colonial towns in South America. And, of course, you will find some of the world's best coffee.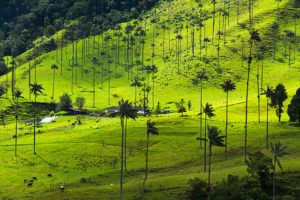 This geographical and cultural diversity has given Colombia an exceptionally rich literary heritage, from the pre-colonial legend of Yurupari to a lively contemporary fiction scene. Our focus will be magic realism, a genre born in Latin America and made famous in part by the beloved Colombian writer Gabriel García Márquez. Márquez's writing blurs the line between what we perceive as reality and what lies in the supernatural realm—what Salman Rushdie calls "magic in the service of truth."
What is the truth of the Colombia of today and yesterday? We'll first look for answers in energetic, artistic and wonderfully chaotic Bogotá. In this city of contrasts we will encounter centuries-old plazas and churches shadowed by skyscrapers and tree-lined bicycle routes cut through by avenues zipping with traffic. Bogotá has long enjoyed a great heritage of storytelling and the written word. With more than 100 bookstores and entire shopping districts dedicated to books, we, like Bogotá's literati, will have an entire world of literature to explore.
Cartagena, city of Márquez, is unexpectedly beguiling. Declared part of the UNESCO World Heritage in 1984, Cartagena encapsulates all the charm of Spanish colonial architecture, the republic period and today, the attractions of festive nightlife, cultural festivals, scenery, superb beaches and wonderful food.
After decades of civil conflict, Colombia is now safe to visit and savvy travelers are flocking here from around the world. These numbers are expected to increase rapidly as word gets out from travellers returning home, spreading the word about the reality and magic of Colombia.
Come before everyone else catches on!
For more information, please see our detailed itinerary. All Travel Pursuits operate under the umbrella of our partner, Worldwide Quest, a TICO-certified business. Worldwide Quest arranges the logistics for each trip to complement our literary theme. They handle all bookings/registration and are happy to book flights and help with pre- and post-trip arrangements. 1 844 378-2869
DESTINATION
Bogotá, Coffee Triangle and Cartagena
DATES
November 8–19, 2018
READINGS
Of Love and Other Demons by
Gabriel García Márquez and a selection
of contemporary readings
LEADER
Melanie Blake is director of Classical Pursuits and has led adult and student trips in France, Mexico, and California. She loves how fiction that bends the rules of the "real" world can give us a new and clarifying view on that world. When not on the job, she's practicing her Spanish and looking for the best cup of coffee in San Francisco.
ACCOMMODATION
Hotel Opera, Bogotá; Rancho de Salento, Quindío; Allure Chocolat Hotel, Cartagena
FEES
US$3,995 per person based on double occupancy for 14–16 participants
US$4,495 pp based on double occupancy for 10–13 participants
Single supplement: US$995
US$300 taxes and gratuities per person
Fee includes guides, readings, accommodation, two meals a day, discussions, ground transportation, walking tours, talks, excursions, and admissions.