By Jessica Monk
"Literature is a way to experiment with the world. You can have a story that is rich and detailed and that accurately depicts our life, and you can experiment within that to say: 'OK, if x happened, what would be the result?'"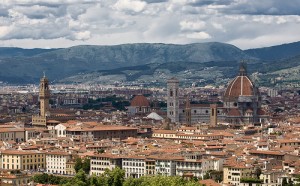 Etymology is a grand pursuit. Just a quick internet search can train a lightbulb on a seemingly unassuming word. The origin of the word 'fact' for example, is the Latin word for a completed action – done, finished, nothing more to see. Fiction, however is associated with the Latin verb 'fingere', to shape – to make something your own. But the relationship between fact and fiction doesn't have to be complicated. Fiction lets fact breathe, like a bottle of wine.
Picturesque Italy, the world's most well-beaten tourism track, is an experience that is difficult for tourists to make their own. In Pisa – and at Harvard – where Scolastica Tours founder Kyle Hall studied, he saw flocks of tourists set out on their journey in the same way each time: "the tour buses and the people walking around with umbrellas…"; "everyone gathered around the person in the straw hat."
It's a familiar story to anyone who's ever been a tourist or lived in a tourist town. It's also a journey that no adventurous tourist sets out to make deliberately – a closed book. But it is the most likely scenario when tourists turn to those outlets that process the facts as fast as a busy restaurant switches tables. To offer a deeper and more vivid introduction to Italian life, Kyle began to develop tours based around foundational Italian texts – Dante's Inferno, Boccaccio's Decameron and now Pellegrino Artusi's Science in the Kitchen and the Art of Eating Well, a cookbook of anecdotes about food from all regions of Italy compiled during unification in the 19th century.
Kyle is particularly excited to talk about the cookbook tour as it's an idea that was born spontaneously just 2 months ago out of a trip to the Romagna region to investigate extending the Dante tour there.
Food, wine and conversation all derailed the purpose of this trip, but Kyle took the opportunity to meet local producers and visit the foundation dedicated to the cookbook. Many of them were the kind of storytellers you find in every profession, and these, Kyle explains, are the ones he'd like you to meet.
"What I'm really looking for is a vineyard that shares the same sort of ideas about smaller production on a better quality scale and who is really very open and enthusiastic about what they do…people who love talking…not just about themselves but also finding out what other people do."
And this is where we get down to the nitty-gritty of Scolastica Tours. Kyle loves Italy, and when he goes back there with a group, he wants to replicate the good time he's had there on many other occasions. This isn't about trailing around after a superhuman tour guide who never seems to tire.
"I don't want to run people around all day and exhaust everybody — that seems like it would be no fun for me either" he is keen to emphasize.
"When I was in Italy this last time, we got served wine, and the guy was like: 'oh yeah, my brother in law makes it down the road and the grape is only grown here…'"
"And I asked 'can I have a bottle?' and he just said: 'yeah, take it!' So those are the things that I like about traveling."
"And then there's even some of the olive oil producers that are producing maybe 5000 liters of oil a year and it's extremely expensive but it never gets exported. It's an interesting way for people to go there and see what the difference is, because you can actually taste a 'normal' oil next to one of the ones that they produce and the differences are right there on your palette… you're in them."
So great food aside, where does the literature and the history fit in…? Well, just like Dante, Scolastica Tours pack a moral or two about a good way to spend your time on earth. Though the internet offers fast learning at our fingertips, many people miss or have never experienced the companionship and structure that university offers, a way to assimilate your reading and build your own connections with it. It's a form of intellectual digestion if you will.
"One of the most vivid things that you can see or do when you're reading Dante is to go to Florence and look up at the Baptistery ceiling – the same one that was there for Dante to see."
Kyle's own study abroad experience, which sounds like the kind of idyll that makes permanent romantic exiles out of its graduates, is the model for these tours. It's the feeling of being able to look up from a book and then walk out of the classroom and see the object of discussion right before you.
"We would have the class and then we would go see the work and then we'd talk about it more and so it feels real", Kyle reminisces of his Art History classes in Italy.
A big part of Scolastica Tours' experience will be discussion and debate.
"You can have a very in-depth discussion that takes however long…and at the end of the day you get to come back and have a great meal that is sourced locally and respects the traditions while also perhaps sometimes being a more modern take on them. Sometimes maybe it'll be more of a trattoria, sort of a homestyle meal."
The tours are based out of cities where Kyle has lived because his connections there make it easier to unlock the city for tourists. Kyle's pursuit of Italian Studies took him to Phd level, so visits to Italy were frequent.
"Most of my time I would usually spend in Rome and then I spent a year in Pisa, and I was in Florence a lot…And when I started thinking about what tours I could do I kept the Tuscany/Rome connection."
In these cities, he made the connection between place and literature by seeing with his own eyes the magnificent sources for Dante and Boccaccio's inspiration.
The Baptistery in Florence, a gorgeous Art History mecca with doors sculpted by Andrea Pisano and Lorenzo Ghiberti, was an unforgettable visual tableau of hell as Dante himself would have witnessed it.
"One of the most vivid things that you can see or do when you're reading Dante is to go to Florence and look up at the Baptistery ceiling – the same one that was there for Dante to see." Kyle explains. "And it was a large influence artistically…Giotto and some other artists would make later frescoes that were based on this vision of the afterlife… it's a terrifying little painting. Because when you think of a baptistery, it's essentially people being brought into the faith, and not only that but typically children of a very young age, and you have this vision of Lucifer devouring people and devils chasing everyone down. It's very much connected to the vision of hell that Dante would come up with."
Baptism in Dante's day was a 'mass affair' – no pun intended – and, as Kyle explains, "all the children who were born in the city inside of a certain point in time would be brought there". Like many Christians in his day, Dante would have thought of his spiritual destiny in a collective sense. The church was the mothership, in a sense, and the Baptistery was where a Florentine Christian's destiny was launched.
But if the Baptistery in Florence is the place where we can find a vision of Dante's inspiration intact and terrifying as ever, was there any place where Kyle found himself confronted with the evidence of Boccaccio's Decameron?
This is simple, Kyle tells me, as he knew immediately where the Boccaccio tour would start. But it's also less easy to pin down, because Boccaccio's book is bigger, more diverse, and follows his characters on their exile out of plague-ridden Florence.
"When Boccaccio begins his story and he goes through the background of the plague and what was going on in Florence and why he creates this frame story of these ten people going out into the countryside, you can actually still go to see the church at Santa Maria Novella where his characters meet. You can go inside, you can sit down and you can be in the exact same space where this 'Brigata' as he calls them came together to talk about what was going on in the city and what they could possibly do, how they could escape this horrific plague…I wanted to have it where the initial meeting, this coming together as a group takes place."
In the Decameron, the characters use fiction to make sense of their crumbling world. I'd always been fascinated by the idea of literature as a diversion during apocalyptic times. But Kyle offers me a slightly different perspective: literature is not a diversion in the sense of being a false world built for entertainment purposes. It's a possible world. A fictional world is one that you can make your own.
"Literature is a way to experiment with the world. You can have a story that is rich and detailed and that accurately depicts our life, and you can experiment within that to say: 'OK, if x happened, what would be the result?', without actually having to take the risk of having x happen. So yes, the plague was the immediate precursor to this book, but at the same time, and also for what came afterwards…the mid fourteenth century is a time of massive upheaval in terms of economic structure in all of Europe – and the plague was a big part of that…It was: 'things are changing, this world is being laid down to a place where we are going to have to re-think how things are organized, and there's the opportunity to do that"
Though these are questions that any college student or eternal student would be eager to debate, Kyle is keen to stress that you're not at school for the duration of your trip. It's the college experience in capsule form: instead of drowning in reading you get one carefully chosen secondary text to accompany the main primary text. And let's face it, much of college life is about hanging out. The famous long European meal is the basis for the learning experience with Scolastica Tours, and a good way to prolong a meal, as anyone knows, is to get stuck into a debate.
The secondary text for Dante's Inferno is Martha Nussbaum's Poetic Justice, a book that will induce much head-nodding agreement from those of us who agree that literature matters.
It also tackles the idea of divine justice, a well-trod topic in Dante studies, making it a reliable guide to the text.
"This idea of the poet granting himself the responsibility or the ability to judge his fellow men who he's known and who he's seen and who he's read about is an interesting topic, and I think it goes to this idea of literature as an experiment again, this sense that in literature we can actually take our world, look at it, play with it and form it", Kyle offers.
The book asks: "What role does literature play in society? What role does the author play as a judge in society?"
It's not giving away much to reveal that it argues that fiction is a way for us to understand – and even improve – our world.
And like Pellegrino's cookbook, Dante and Boccaccio are integral to the way that Italians understand their world, even today.
"Dante and Boccaccio are basically forming with Petrarch what we call the "tre corone", the three kings or the three crowns of Italian literature…", Kyle explains.
"They are the touchstones. If English has Shakespeare, then Italian has Dante, Boccaccio and Petrarch and…it's also something that's felt more deeply I think for the everyday Italian, then perhaps major works of English literature are for people in the United States."
"People have to memorize large chunks of the poem when they're at school; there's a knowledge of the small stories and the small characters: Paolo and Francesca in Canto V are known by everyone in Italy"
The connection goes even deeper than school and history. Before the Italian nation was thought of, before the cookbook unified Italian cuisine, Dante and Boccaccio helped to develop a concept of a common Italian language by elevating the Tuscan dialect to poetic heights, rejecting Latin as the language of high style.
"Italian has had a very long painful history of becoming a language. In France there's the Académie française that has an authority about what the French language is, and in Italian that isn't the case. If anything you're going to go back to your Dante or Boccaccio to figure out what the language is. And the reason why it became the quote/unquote standard is thanks to the texts."
"I think the beautiful thing too with Boccaccio…if we try to read Chaucer it's quite difficult without it being translated for us a little bit…but Boccaccio is actually very easy to read in Italian, it's straightforward…all the vocabulary is very similar, and so even when it gets translated…it still feels a lot more modern then Chaucer."
The texts don't make standard Italian more poetic, they are the standard. There's something really beautiful about that.
But Kyle's own historical experience of Italy doesn't just involve learning its culture and language, it also includes the practical experience of being an emergency tour guide on standby for daytripping university groups.
He was a firefighter for mishaps that occur on study abroad trips, doing "triage work" as he calls it: "if something happened and somebody couldn't be there I would be there."
"So you must have gone on some slightly strange jaunts then…?"
"Oh yeah… ", he laughs. "University makes those things sort of complicated too."
I visualize eccentric primadonna professors wandering off down the alleyways of Rome and Florence.
Wth Scolastica Tours however, university charms come with fine food, decent lodgings and peace of mind that your tour guide knows the territory. If you've ever been in university you'll know that this is a dream come true – the place where fact and fiction meet to debate over a bottle of wine – and become good travel companions after all.
*
For more information on trips, tour guides and timetables, visit Scolastica Tours.
To learn more about upcoming tours with Scolastica, check out two upcoming trips: Italian Exile: Dante's Inferno and Early Renaissance Justice and Idyllic Escape: Boccaccio's Decameron in the Florentine Countryside