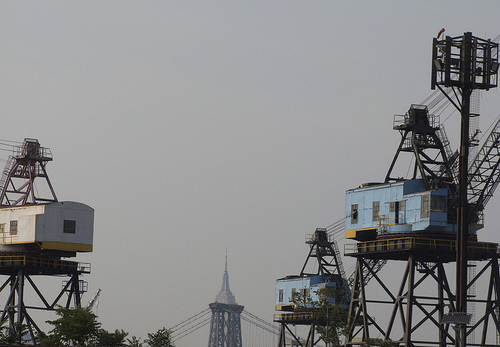 By Amy Hamblen
Growing up in the Midwest, my childhood was a whirl of swimming in strip pits, hunting for morel mushrooms in small forests, rolling down grassy hills, and pondering the open sky. Summers meant trying to catch frogs while my dad fished for bluegill or playing croquet with my mom and brother in our front yard under a hot summer sun.
There was one key person in my life, though, who always told me stories that had a wildly different setting than the out-of-doors life I knew: my grandma from New Jersey. On walks to the park she would entertain me with stories of her youth that were completely unfamiliar. Her stories had characters sitting on stoops outside apartments buildings and running home from grocery stores that were actually close enough to "run home" from. Of course the concept of space is nearly impossible to convey to a little girl, and a challenge still for some grown-ups who have never lived in a big city.
Some twenty years later, I moved to Queens, New York. It wasn't until I began exploring New York City that I actually got a sense of the compact nature of the space my grandmother described. In my second year in New York I read Betty Smith's A Tree Grows in Brooklyn, a classic work of fiction that focuses on the life Francie Nolan, a young girl growing up in Brooklyn in the early 1900s. The story is one of hardship and hope. Francie Nolan's family is poor, but we see that even though it's impoverished, it can persevere, even triumph.
The modern-day image of Williamsburg—skinny bicycles with a side of a local foods movement—is very different than the one Betty Smith wrote about. Smith was born in 1896 in Brooklyn, and grew up in Williamsburg. Whether her life was the basis for her beloved character Francie is undecided; we do know, however, that her vivid depiction of Williamsburg in the early 1900s was spot on.
I live in Brooklyn now, but south of Williamsburg, so I ventured up to see several of the streets that are mentioned in the book last winter. I took the G train to the Metropolitan Avenue stop, then walked up Metropolitan east toward Lorimer Street.
The Nolan family lived on Lorimer Street, "on the top floor instead of the ground floor. There was no stoop as a store occupied the street floor of the house. There was no bathroom and the toilet was in the hall and shared by two families." (Keep in mind, this story takes place before the New York City Housing Authority existed.)
From the intersection of Metro and Lorimer you can see the Williamsburg Bridge with its skyscraper-backup-dancers in the distance. I could easily see how Betty Smith, Francie, or any other young girl with big dreams could look to that bridge as a possible escape route, or marvel, like Francie did, that her father would cross it occasionally for work.
Like many parts of New York, Brooklyn is an interesting blend of old and new. New residents mix with old buildings, and a hard-luck history, to create a unique landscape. Unlike the Irish, German, and Jewish immigrants of Francie's time, East Williamsburg is now home to Puerto Rican, Dominican, and Mexican families. Even if the influx of artists and skateboarders are an indication of its gentrification, diversity is still alive in Brooklyn.
Metropolitan, for example, has several shops and stores, and looks inviting to tourists, but as I ventured south past Maujer, Ten Eyck, Stagg and Scholes, the streets of Brooklyn look mean to me. "Beautiful names for ugly streets," is how Francie put it. Even with the influx hipsters to Williamsburg, it is still, in some places, a harsh environment. Broken glass, overgrown lots, graffiti, closed-up shops, and barbed wire fences.
Despite these things, Francie loved Brooklyn, and the reasons are evident today. During my short visit to Williamsburg, there were people running into friends on the street, sitting on stoops, running from the market. These communities offer a sense of belonging different from those in the Midwest. The close living quarters clearly enhance the feeling of familiarity, friendship, and shared creativity.
Walking around East Williamsburg, it's easy to see how a library or a church could be a an inviting place for a little girl. Such institutions stand out as well-kept. At one point in the A Tree Grows, Francie attends a Christmas Mass in what she considers "the most beautiful church in Brooklyn. . . It was made of old gray stone and had twin spires that rose cleanly into the sky, high above the tallest tenements."
The church described in the book is believed to be the same church the author was baptized in on January 24, 1897—known then as "Holy Trinity" and now as "The Most Holy Trinity."  Located at 138 Montrose Avenue, the church is tucked tightly into neighboring buildings like a well-played Tetris block. It doesn't appear to have the room to breathe its architecture deserves. But its grand façade is eye-catching and hints at a Brooklyn of yore.
Although there are limitless differences between my childhood and Francie Nolan's, one interest we shared was frequent trips to the library. Francie borrowed books to escape, they were like a sort of sanctuary for her.  The book opens with a scene in which Francie is pretending she lives in a tree (where she reads books), while on the fire escape outside her building, reading a book.
I was fortunate that the librarian of my childhood was helpful and made visiting the library especially fun, unlike the indifferent librarian Francie interacted with on a daily basis at her Brooklyn branch. "A name on a card meant nothing to her and since she never looked up into a child's face, she never did get to know the little girl who took a book out every day and two on Saturday." Luckily the librarian never deterred Francie from visiting the library, and books weren't the only thing Francie had to look forward to in life.
Christmastime was a happy time for Francie. Even without the spoils her schoolmates must have received during the holidays, the simple change in the neighborhood was something Francie relished. "The air was cold and still, and full of the pine smell and the smell of tangerines which appeared in the stores only at Christmas time and the mean street was truly wonderful for a little while."
One of the most vivid depictions of the time and place was the "cruel tradition" of throwing Christmas trees at children. "There was a saying that if you waited until then, you wouldn't have to buy a tree; that 'they'd chuck 'em at you.' This was literally true." If a child who volunteered for the game could remain standing after a tree was thrown at him, he could take it home for free.
One Christmas Eve, when she was ten, Francie volunteered her little brother, Neeley, for the part. Francie had her eye on a ten-foot tall tree, and convinced the "tree man" to let her and her brother try for it. After a brave show of willpower from the two children, they manage to get the tree—but not without some pain and bloodshed.
I was able to find a Christmas tree lot on Metropolitan Avenue in Williamsburg. It was inside a small park, and there was a single family looking for the one they would bring home.
Francie Nolan's innocence is what initially gains our sympathy, but Francie doesn't remain a naïve little girl forever. Like any coming of age story, there's a little heartbreak in store. The Brooklyn Navy Yard plays the backdrop for Francie's ill-fated first love, and a cultural division that sometimes occurs as we grow up.
When Francie is 16 and working in Manhattan, she's set up on a date with a soldier named Lee Rhynor who wants to walk her across the Brooklyn Bridge. The two set out and stop halfway over the East River and hold hands as Lee admires the city:
"New York! I've always wanted to see it and now I've seen it. It's true what they say—it's the most wonderful city in the world."
"Brooklyn's better."
"It hasn't got the skyscrapers like New York, has it?"
"No. But there's a feeling about it—Oh, I can't explain it. You've got to live in Brooklyn to know."
I suppose that's true. On my journey, I walk to he Navy Yard to check out  Building 92, a new museum dedicated to the place's history. I learn that during WWI, when the book takes place, the number of employees at the Navy Yard tripled from 6,000 to 18,000. The artifacts within the sleek, modern building, detail the transformation of the purpose of the Navy Yard, from wartime industry to manufacturing and film-production. The museum is filled with old photos and ship models, and a long, significant timeline. I walked away with a greater understanding of how many lives the Navy Yard, and Brooklyn, has influenced.
I've lived in New York for a little while now, but I'm still astonished by the little children seated on packed subway trains or babies being pushed in strollers down city streets. Even now, Betty Smith's A Tree Grows in Brooklyn is an exemplary tale of what it's like to grow up here—of course my grandma also told a good one. The book even mentions my grandmother's hometown, Bayonne. Francie took a trip there in one scene, but "Bayonne wasn't the same as Brooklyn. Brooklyn was mysterious." Some things never change.