By Hannah Hughes
I stuck out my thumb and waited. 
After thirty-seconds, a red pickup truck flashed and then stopped further down the road. 
I approached the truck's rear, bringing my hands up to grip the straps of my backpack tighter. I repeated the number plate in my head as many times as I could before reaching the driver's window. 
The window was blacked out. For a moment I stood staring at my reflection: my face had flushed in the hot weather and with no make-up on, I looked seventeen rather than twenty-four. Most of all, the girl in the window looked alone, in a supposed dangerous country that spoke a foreign language, about to get into the back of a stranger's pickup truck and – in an ideal world – live to tell the tale.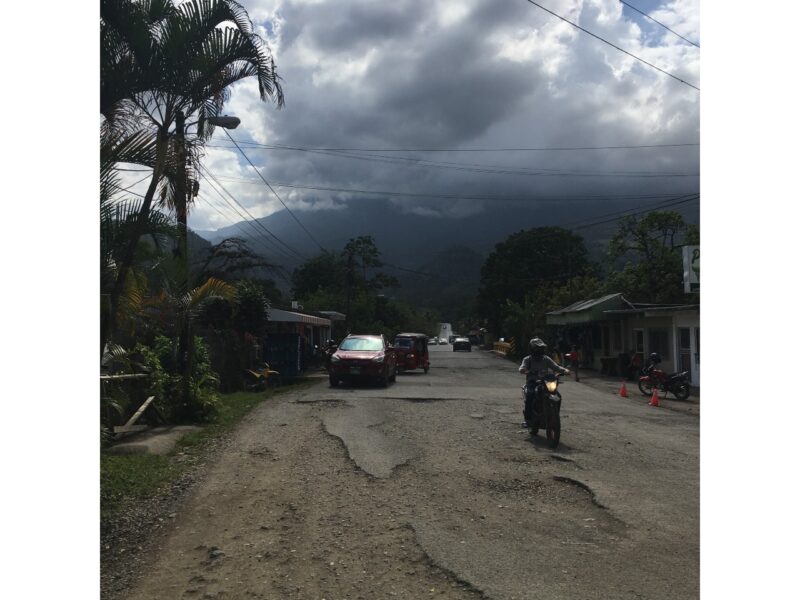 The window slid down and a man appeared. 
"La cascada?" – the waterfall? – I asked. 
The driver nodded and gestured to the seat next to him. 
"Esta bien?" I asked, pointing to the truck's back end instead. 
He looked me up and down before replying, "Si," shrugging his shoulders. 
I kept my backpack on as I perched in the truck's pickup with all its junk. The sun's heat made the black material too hot to sit, so I crouched in the corner clinging onto both sides. The engine revved and the truck pulled out in front of an oncoming car without any warning or probably second glance, and a trail of dust brewed behind like a blossoming sand tornado as I was swung around the winding roads of Lago Yojoa. 
When I had left the hostel that morning, I made Jared – the teenage receptionist – aware of my plan to hitchhike to the waterfall. Jared had placed both hands on his bony hips and told me three things: the waterfall was a fifteen-minute drive away; the drive was straight along the winding main road; and I should not be alarmed if there were "weapons" in the car, as there were a lot of farmers in the area. 
The truck swerved down a sideroad, turning away from the winding main road and the other cars and pedestrians and stalls selling fruit and coffee. It was at that moment I noticed the large machete in the truck's pickup, immediate alarm fizzing my brain. 
The road turned bumpier: wheels slammed into potholes and cracked through skinny branches. As I was driven down the unoccupied sideroad that Jared had not mentioned in his safety briefing, it dawned that nobody in the world knew where I was right now apart from a man who I'd met five minutes ago. All I knew about this man was that he owned a pickup truck, a machete, and drove like I was a stray animal he was trying to shake overboard. 
I remembered Cheryl Strayed in her book Wild, accepting the offer of a lift from a man she had just met. In the nineties, Chery backpacked alone along the Pacific Crest Trail (PCT): a hike that follows the West Coast of America from the Mexican border to the Canadian. On her eighth day of hiking and craving a hot meal, Cheryl veered from the PCT in search of civilization, but after four hours of walking off-trail, she still hadn't come across anything other than wilderness. Then, she rounded the bend and found three men in a pickup truck. 
Now I was in a different kind of movie entirely: I was the sole woman with three men of unknown intent, character and origin watching me from the shade of a yellow truck. 
One of the men offered to take Cheryl home to his wife so she could be fed, clean herself and sleep in their spare bed. Cheryl accepted, but after she found a gun in his glovebox, the man's character became unsettling.
The question, "What kind of woman are you?"  would unnerve most women, let alone a woman sitting in a stranger's truck in the middle of nowhere, the consequences of her decision sitting snug in the man's open palm. Cheryl captures the common fear women experience when in the sole company of someone with undecided intentions, especially when there is little possibility of escape. It is hard to relax and alert must be high, aware the situation could play out one of two ways. 
Back to reality in the pickup, I was rifling through my options: I could jump overboard and hide in the thick thorny hedge either side of the dirt road; or bang on the back window and demand to know to where I was being kidnapped; or perhaps I could scream for help? Threaten him with his machete? 
And it was at that moment the truck halted. 
The engine switched off. Songbirds called to each other in the treetops nearby. The clean grass meadow laying on the other side of the thorny hedge would have been ideal for a romantic picnic, with the shining sun and absence of humans; the perfect movie setting for a young couple to cozy up and feed each other chocolate strawberries and – I don't know – recite grand love poems among the wildflowers. 
Except I wasn't in a movie; I was alone, stranded in an isolated area, crouching in the back of Machete Man's pickup truck with a heart hammering like it was Irish tap dancing. 
When the driver's door opened, I calculated the distance between myself and the machete. I could lunge for it, but it was underneath a heavy spare tire and my body was shaky after holding a crouching stress position while bouncing over bumps and planting potholes like a drunk woman in high heels. At least the tire meant he couldn't lunge for it either, I thought, as he appeared on the other side of the pickup, his chin barely higher than the top of it. 
A few moments passed while we stared at each other in muted horror. Then Spanish words began to tumble from his mouth as he pointed this way and that, his voice loud like the conversation was occurring in a rock concert and not an empty dirt road, and a few times he clawed at his head like it was an egg he was trying to peel. His speech may as well have been parseltongue because I didn't understand any of it.
"Mi amigo, no hablo Español," I interrupted, fearing my Spanglish was going to be the last thing I ever spoke. 
I thought back to my father's parting words as I hugged him goodbye in the airport: "And Hannah, try not to do anything stupid." Alas, it was true I was the family member known for always "doing something stupid", but did this really class as stupid? Was getting in the back of a stranger's pickup that reckless? Wasn't it just a rite of passage in the world of a backpacker? Do I not get some credit for choosing the boot rather than the front? How was I to know the madman retained a machete? 
If I had dared to move, I would have placed my hand on my chest to check my heart was still functioning. Machete Madman and I drilled into each other's eyeballs, contemplating our next moves like we were finalists in a cash-prize chess tournament.
He began to laugh.
"Perdon! Perdon!" he said, chuckling and shaking his head like he couldn't believe how we ended up here and it wasn't down to him driving us against my will.  
Then he jogged back over to his front seat, slammed the door behind him, and reversed the whole way out of the empty dirt road I thought my bloodied body was going to be lashed into and left, forever lost in the backend of Honduran nowhere. 
Just like Cheryl, I had survived, but not without the fluttering panic at what could have been. It was an unfriendly reminder of my vulnerability as a solo female traveler. Traveling alone can be scary, and most women travelers are undergoing their trip despite the fear. Cheryl came across a few scenarios with sketchy men during her hike – with nobody around to intervene – but with caution, sensibilities and her gut feeling, she managed to maintain control. A lot of time it is clear when a situation is harmless or threatening, and female travelers rely on their intuitions to keep safe. However, after my close shave down the dirt road, I realized I should probably try to limit the number of potential life-threatening situations I voluntarily strode into. 
Fifteen minutes later, I was dropped off at a path that forked from the main road.
"La cascada," he said, pointing down the path. 
"Gracias," I said, and I was – thankful for the lift, the direction, my young life full of prosper. I hopped out of the pickup and waved a cheery farewell to my could-have-been-murderer, choking on the trail of dust as he sped off like he was fleeing a hit and run.
Later when I returned to the hostel, I told Jared the unexplained event during my hitchhiking episode. I couldn't remember any of the Spanish words the man had thrown at me during his speech, so Jared also had no explanation as to why the truck had deviated from the main road. He suggested that maybe the driver had forgotten about me. 
As I brushed my teeth that night before bed, I looked in the mirror – froth dribbling from lips – and pointed a stern finger at my reflection. It was not the first time I had given myself a serious talking to after surviving something at the hands of my over-worked guardian angel, and I was sorry to realize that the poor woman probably needed a pay rise. 
"Hannah," I said to my reflection, mumbling so my dorm mates couldn't hear. "Please, try not to do anything stupid."
Then I gave myself a soft slap across the face, forgetting I had a mouth full of toothpaste.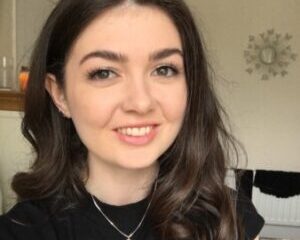 Hannah Hughes graduated from University of Leeds with a BA in English Language & Linguistics (International). During her time at university, she spent one year studying in The Australian National University, Canberra. She has backpacked alone through South-East Asia, Australasia and Central America, taking sporadic jobs here and there to fund her trips. She has had several travel memoirs published, as well as a few articles about the fight against climate change. You can find more examples of her work at https://intrepidtimes.com/author/hannahhughes/