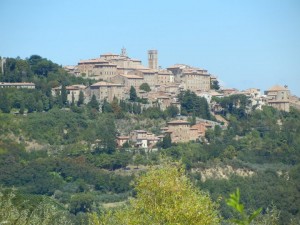 By Meg Schadl
When Alice invited me on a road trip to the small Tuscan town of Montepulciano, I jumped at the opportunity to spend a day away from the mobs of ship passengers clogging bus after bus headed to Rome.
Then, she reluctantly admitted the reason she was determined to see Montepulciano: the Volterra scenes in the second Twilight Saga movie, New Moon, were shot there.
I know what you're thinking: Twilight hardly qualifies as literature, right? But I was swept up in the vampire craze, and read the each of the four books (Twilight, New Moon, Breaking Dawn, Eclipse) in Stephanie Meyer's series; unfortunately, it was with growing sense of feminist rage. I got angrier and angrier that the heroine, Bella, had so little personality, talent, or drive. Her sole ambition was to spend eternity in her vampire-boyfriend Edward's sparkly presence. What kind of message does that send young readers, especially girls?
***
I first met Alice while we were working on a cruise ship sailing around the Mediterranean Sea. Though this employment experience is a once in a lifetime opportunity, ship life comes with a price. Communicating with your family and friends is difficult and expensive, and I while met many wonderful people working on the ship, most of my co-workers spent time-off sleeping or venturing only as far as bland port towns boasting wi-fi and non-ship snacks. I was often lonely.
I wanted to explore the great sights of Italy, but getting to Florence or Rome was stressful. With hour-plus train rides from port, I had to memorize public transit schedules to ensure I made it back to the ship before it sailed away. Given the need for such detailed planning, it seemed like too much work to attempt traveling beyond the well-worn train tracks between port and Italy's most famous cities. I didn't think it was a good idea to tempt fate by straying into rural Italy—public transit is not entirely reliable, and, as I didn't speak Italian, I was terrified of getting stranded.
At least that's how I felt before fate sent me Alice, someone who was willing to push far beyond the cruise-ship-crowd's beaten track.  So when Alice invited me on a road trip to the small Tuscan town of Montepulciano, I jumped at the opportunity to spend a day away from the mobs of ship passengers clogging bus after bus headed to Rome. Alice's adventurous spirit felt akin to my own, but I was wary of her addiction to young adult literature that often read like a grocery store romance novel. Still, she was offering an opportunity to see someplace entirely new. I repressed my literary snobbishness and climbed into the backseat of a tiny Fiat for our Italian road trip.
Alice had invited two other crew members, one of whom, a British friend, was comfortable driving in Europe. She organized a rental car, printed directions, got a GPS for back-up, and knew the exact minute we had to leave Montepulciano in order to make it back to the ship before it sailed.
Winding our way through the Tuscan countryside, I was blown away by views of ancient Roman aqueducts and field after field of endless sunflowers. The hills were topped like wedding cakes with fortified medieval towns. This was the heart of Italy, far more alluring than anything I had seen from the interminable train to Rome. We got lost in a town the size of a postage stamp. We traversed the narrow, one-way main road with a mixture of fear and awe. I was glad I wasn't driving.
Finally, we arrived in Montepulciano. Alice delighted in photo ops of the main square, used in the second Twilight film for a dramatic reunion between heartsick Edward and his true-but-he-thought-she-was-dead-oops!-love, Bella. As I clicked away with her camera, she smiled in front of a large stone building capped with a clock tower, from which Edward emerges to commit an act tantamount to suicide.
I didn't recognize it, even though (I know!) I'd seen the movies, too. Apparently, the film production team had erected a large stone fountain in the center of the piazza for Bella to rush through melodramatically on her way to save Edward from his fatal error. Montepulciano's square has a small well-like fountain off to the side, but no behemoth in its center.  In all it's original splendor, it still wasn't big enough for their love. Yuck.
Despite a café offering a Twilight-themed lunch special (vampires don't eat food, and there is nothing particularly dusky about Italy's staple dish, pizza) and a shop selling souvenirs quoting the book in Italian, the references to Twilight were few. I was taken with Montepulciano's medieval architecture, its cobbled streets, and its residences colored in beiges, muted yellows, and corally oranges. Built dramatically onto a hill, we wandered the lanes and were confronted with an expansive view of the rolling peaks and valleys of Tuscany, sparkling under the cloudless sapphire sky. It was breathtaking. As we meandered down a street adjacent to the main piazza, the glorious strains of a woman singing opera wafted down to us from the open window of a nondescript gray building. Italy.
Fortunately, the sunlit view was the only sparkling we encountered—there were no vampires in Montepulciano. I half-expected Edward impersonators to roam the streets offering to take photos with fans, like the ancient scraggly gladiator I'd seen outside the Coliseum, or the Spongebob Squarepants in Palma de Mallorca.
Sadly, we had very little time there, as we had an epic drive back to the ship. In total, we spent six hours in the car for two hours in Montepulciano, but it was worth it.
I admired Alice's perseverance:  she had researched all public transit options to Montepulciano, rejected them as impossible given our time restrains, and then made the trip happen anyway, through sheer force of will. And all for Twilight. Really?!
Oh yes. The next day, she invited me to go to the real Volterra! …And I did.
But everything was going badly the morning we set out—the ship docked late, the gangway was jammed, and we missed our train from Livorno to the tiny town of Pontedera, where we could catch a direct bus to Volterra. Bleary-eyed in the early morning light, I was fully prepared to return to the ship and get back into bed in my perpetually dark, windowless cabin. But something in Alice's jaw, an unyielding stubbornness and devotion, told me I was staying up. She was signing off the ship the following week and this was her last chance to see Volterra, an item on her things-to-do check-list. I knew I wasn't going to abandon her. It was like a scene from one of the books.
Alice and I waited an hour for the next train, and then an hour sitting under the humid August sun in Pontedera waiting for the bus to Volterra, which took an hour and a half. That's right, it took over four hours to get to a town that lent its name to Twilight due, I'm assuming, to its alliterative, vampirey sound: the Volturri of Volterra has a certain ring to it, I admit. The bus ride gave more opportunities to bask in the slightly bleached glow of the Tuscan countryside, stretched out below as we wound our way ever upward along hairpin curves.
Volterra is even older and stonier and quainter than Montepulciano.  Beige brick houses tumble over each other down the hillside. Narrow alleys peeking from under stone arches beckon off every piazza. The desire to ramble aimlessly and soak in the feeling of six centuries of history was enormous.
The Twilight trade is a bit more forceful in Volterra than in Montepulciano, despite its most tangential association with the book. The tourist office sells self-guided Twilight tours to the town's main "sights". Tourism based so heavily in fiction baffles me—Come see the doorway from which Edward almost emerged full-sparkle among humans! Stand beneath the arch Bella rant through so she could reach Edward in time! (Interestingly, Volterra's main piazza doesn't have a fountain either.) And like the fountain, Edward isn't an actual relic of Volterra…because he doesn't exist.  My frustration builds, I can't believe people spend money for a fake tour of a real, fascinating place.  But Volterra is beautiful, and Twilight (albeit indirectly) got me there.
Alice's obsession with Twilight and the Saga made for its fans is, however misguided, totally acceptable. I like obsessions. I like people who pursue with intention. Alice is mildly apologetic of her Twilight fixation, but her ruefulness didn't stop her from checking something off her list. And besides, the nature of a guilty pleasure—like children and small, beautiful tourist towns know—is to get what you want.