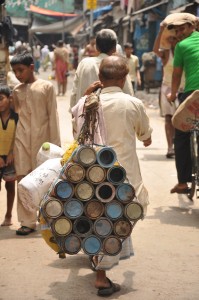 By Sam Tranum
Jhumpa Lahiri says many of her stories focus on Boston because it was the first place her parents landed in America when they arrived from Kolkata, via London.
"It's something I've never had to go through in my life. I've never had to have a brand new life in a brand new place," she said in an interview with the publisher, Knopf. "It just seems very foreign to me, to be honest, and yet such a part of my family's story so I keep writing about that."
Well, I know something about starting anew in a new place, Jhumpa Lahiri. I grew up around Boston and, more than four decades after your parents made their westward journey, my wife Lo and I traced Amar and Tapati's path in reverse.
We're both reporters. With the U.S. deep in recession in 2010 and the newspaper business on the decline, we looked east and saw India growing, its newspapers thriving. We sold our furniture through Craigslist to strangers and got on a plane. For the past year and a half, we've been living in the Lahiri's home megalopolis, in the Indian state of West Bengal.
A few days ago, I decided I should re-read Lahiri's work from my new vantage point. So I walked the half-hour from my flat to central Kolkata's premier shopping strip, Park Street, to buy a copy of her first book, "Interpreter of Maladies: Stories of Bengal, Boston and Beyond."
I strolled past the Hindu temple in my building's parking lot and the pastel green mosque up the street, through the filthy roads, past pairs and trios of mangy stray dogs. I bought a little bag of puffed rice mixed with peanuts, onions, green chilis, coconut and spices and munched it as I went. As usual, the sidewalks were so crowded I had to push my way through.
I paused to peer through the gate of the Park Street Cemetery, where everyone who was anyone — and white — in colonial Kolkata is buried. And then I walked into Park Street proper, which is nearly as decrepit as the rest of the city. The gutters are almost as filthy and the streets almost as crowded with beggars, but it has restaurants with white tablecloths and obsequious service and shops that sell ornate gold-and-diamond nose rings and flashy touch-screen phones.
I have not been able to get comfortable in this city, which seems dangerous, dirty and strange. Nearly every interaction I have is confused: even when there is no language barrier, signals are missed, meanings lost. And I stand out wherever I go, with incongruously colored skin, strange clothes, and unusual habits. As I walked along the collonaded sidewalk and ducked into the posh Oxford Bookstore, people stared.
I found "Interpreter of Maladies" in the section set aside for books by Indian writers, although Lahiri was born in London in 1967 and moved to America with her parents when she was three. Her family spent much of its first year in a rented house in Cambridge, Massachusetts, but she grew up in a town in nearby Rhode Island, where her father worked at a university library.
I paid and carried the thin volume outside, where I was accosted by a fast-talking man selling bootleg books, who offered me Lahiri's other two titles — the novel The Namesake and the short-story collection "Unaccustomed Earth" — for half price. A chronic book hoarder, I was ready to buy them but, after making a couple of calls, he admitted it'd take him an hour to deliver.
I was too impatient to wait, so I promised to return later (maybe by then he'll have an advance copy of Lahiri's forthcoming novel The Lowland). I took "Interpreter of Maladies" home. On the back, there was a blurb from writer Amy Tan: "Jhumpa Lahiri is the kind of writer who makes you want to grab the next person you see and say 'Read this!'" In a 2000 article for Esquire, Sean Flynn quipped that this is "both true and a far better use of her talent than grabbing her and yelling 'Fax this!'"
But that's the sort of assignment Flynn and his colleagues gave Lahiri when he was an editor at Boston magazine in 1997 and she was a 29-year-old intern. She'd graduated from Barnard College in New York, moved to the Boston area, and become a professional student, racking up three master of art degrees. While interning, she was finishing her doctoral thesis on representations of Italian architecture in early seventeenth century English theater, Flynn recalled.
"She was unpaid, of course, and surreptitiously ogled," he wrote. She'd already written several of the short stories that would be published in "Interpreter of Maladies," which won the Pulitzer Prize for fiction in 2000. And yet she was relegated to typing "precious blurbs about designer handbags and chromy gewgaws," Flynn wrote. "How could we editors have missed such a staggering talent?"
The book includes stories about Bengali immigrants and their children living around Boston, about Americans of Indian descent visiting India, and about life in Kolkata. They are sometimes told from the perspective of a child, offering an opportunity to explain Bengali culture and history through the child's learning process. In the story "Sexy," for the same narrative purpose, Lahiri uses a particularly stupid young woman who is having an affair with a married man. "Dev was Bengali," she narrates. "At first Miranda thought it was a religion."
These stories are written plainly, without flourishes. Bleak, melancholy and lonely, they are full of people who don't understand their surroundings, feel they don't fit in, feel the pieces of their lives come from different jigsaw puzzles and will never fit together. Rereading them, I see bits of my life in each one.
The first story, "A Temporary Matter," is about a couple in the Boston area trying to repair their relationship. The husband, Shukumar, cooks lamb rogan josh for his wife Shoba. This reminds me of an essay Lahiri published in The New Yorker in 2004, in which she recalled learning in graduate school how to cook Indian food, with the help of the book "Madhur Jaffrey's Indian Cooking."
By coincidence, my wife Lo has been using the same book for the same purpose since we arrived in Kolkata. She buys "mutton" (goat) for the recipe from the soft-spoken butcher across the street, as we don't know where to buy lamb in Kolkata. Shopping is no easy task without a supermarket, requiring visits to many different shops. It took me months of searching the city to figure out that the place to buy yogurt was in the sweet shop only a few steps from my door.
The butcher hacks a leg off of the skinned goat carcass that's inevitably hanging from a hook in front of his hole-in-the-wall shop, and hands it to an assistant who chops it into pieces and wraps it in dried leaves and then newspaper pages. Lo brings it home and simmers it in a sauce of paprika, yogurt, ginger, garlic, and spices. I imagine it is this same recipe (page 51 of Jaffrey's book) that Lahiri was thinking of when she wrote about Shukumar's rogan josh.
The second story is about a little girl whose Bengali parents have a Bengali friend who visits each night to watch the news at their house in what is apparently the Boston area. The girl, Lilia, doesn't realize at first that their guest isn't Indian like her parents. Her father explains: "Mr Pirzada is no longer considered an Indian." He's from east Bengal which, when India became independent in 1947 was partitioned off as part of mostly Muslim Pakistan.
"It made no sense to me," Lilia narrates. "Mr Pirzada and my parents spoke the same language, laughed at the same jokes, looked more or less the same. They ate pickled mangoes with their meals, ate rice every night for supper with their hands … Nevertheless, my father insisted that I understand the difference." The story is set in 1971 and the news reports the adults watch are about east Bengal's fight for independence from Pakistan; it won and became Bangladesh.
Here in Kolkata, I used to work for a venerable English-language newspaper. On the walls of the office there were photographs of old Calcutta, long before the name change, its airy streets neat and nearly deserted. I'd look out the window at the throngs of people living and fighting for space in the garbage-strewn streets. When I asked my co-workers what had caused the transformation, they said it's the influx of refugees from Bangladesh caused by the 1971 war.
Cultural, linguistic, and family connections made it easy for millions of refugees to cross the border. Today, the same factors mean it's still easy for Bangladeshis to slip across the border to work, visit relatives, or help smuggle cows into their country — often without being noticed. Bengalis from the Indian side of the border, meanwhile, are sometimes arrested while visiting other parts of India, suspected of being illegal immigrants from Bangladesh.
In the story, when Lilia's father realizes how clueless his daughter is about South Asian history, he asks what she's been learning in school in America. "Lilia has plenty to learn at school … We live here now, she was born here," her mother says. Lilia narrates: "In her estimate, I know, I was assured a safe life, an easy life, a fine education, every opportunity." Her father gripes: "But what does she learn about the world?"
Like a lucky immigrant, I have found the career opportunities I sought in Kolkata, though they have come at the cost of dislocation, disorientation, and isolation. It has not been a safe or easy life, but I have been learning things about the world. I now know, for example, what Partition was and that it's not over: I've been to the India-Bangladesh border and seen evidence of its continuing violence: puckered bullet wounds on the arms and chests of men shot by border guards charged with keeping those Bengalis there, and these Bengalis here.
In "Mrs Sen's," a young boy in New England gets a new babysitter by that name, a Bengali woman about 30 years old who is new to America. Eliot observes Mrs Sen's strange habits: taking her shoes off when entering the house, never touching her husband, applying scarlet powder to the part in her hair instead of wearing a wedding ring. Mrs Sen is trying half-heartedly to adjust, and failing.
"Eliot, if I began to scream right now at the top of my lungs, would someone come?" she asks the boy. "At home that is all you have to do … just raise your voice a bit, or express grief or joy of any kind, and one whole neighborhood and half of another has come to share the news, to help with arrangements." In her native Kolkata, I long for the quiet and privacy that's driving her mad in America.
"The Third and Final Continent" seems to be based on Lahiri's parents' story. It's about a Kolkata man who moves first to London and then to Boston, where he works at a library. His marriage is arranged, and the new wife he does not really know soon arrives in Cambridge to live with him. "Although we were not fully in love, I like to think of the months that followed as a honeymoon of sorts. Together we explored the city," he recalls.
Lo and I had been married for two years when we moved to Kolkata, and ours was what in this nearly love-less city is called — often somewhat disapprovingly — "a love marriage." But still, perhaps our experience has had something in common with Lahiri's parents'. We've explored Kolkata together, learned the city, found the yogurt, and braved the angry stares to hold hands in public. I think it has brought us closer together and I imagine it did the same for your parents, Jhumpa.
*Related*
Confounded and Bewitched: The Strange Rise of Modern India – Upcoming India Tour