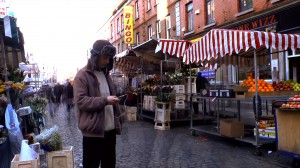 By Jessica Ellen Monk
A common frustration experienced by tourists on city-breaks is the feeling of being: "on 'the wrong side of the glass' and not being able to access the real life and culture of the city", as Tom Rowley of Storymap puts it. But Smartphone apps like Storymap increasingly offer the tourist a peek over the shoulder of locals.
Storymap's concept is deceptively simple. Like so many city-divulging smartphone apps, it uses google map technology. But it doesn't piggyback on entertainment and shopping venues where events are already happening, it weaves its own web of oral history and anecdotes by offering stories filmed on location. Initially it was a website before it became an app, so while the technology is put to use in a clever new way, the real wealth and innovation is in the collection of 80+ stories already scouted and shot by Tom Rowley and Andy Flaherty. People and places become equally important coordinates on a map, offering the kinds of tales that you might otherwise only hear by luck from a local. The app gives you access to official and unofficial Dublin, literary and historical Dublin, the city past and present, gritty and attractive. Stories are shot on location and told by the people who know them best. The custodians of the city's stories include everyone from market stall-holders, historians, students, actors and poets. It's akin to a storytelling podcast like The Moth, on location—with the twist that you get to design your own themed 'ramble.' If you want to get from A-B while listening to literary tales, Storymap will map a Literary route for you and stop at locations where there is a story. Granted, your pace will be modest, but it makes "off the beaten track" a starting point, which is the dream of most adventurous literary travelers.
Storymap may be a simple idea, but it's hard to imagine it in more capable hands. Tom Rowley and Andy Flaherty, two graduates of film studies and literature from Trinity College Dublin, returned from working abroad to a Dublin starkly lit by economic hard times. With few opportunities for employment on the horizon, they decided to embark on a project that would celebrate, in Flaherty's words, "the things that made Dublin truly special…its people, its stories, its humor and charm."
Tom Rowley had already begun collecting stories while working as a roving cameraman for a tourist website in Europe. He would often take to the stage when he got back home to Dublin at Storytelling and Comedy Open Mics with specimens he had collected of odd encounters with strangers abroad. Rowley and Flaherty had written and directed their own films before Storymap, and what they both appreciated in stories were the unique twists in human interaction. They knew that some of Dublin's best stories are tales of bizarre encounters, of skits and things that almost and didn't quite happen; like the story about Rowley and Flaherty's friend who pretended to be blind in a ploy to chat up girls (you don't need to ask how this went). Or like the official looking plaque on O'Connell bridge commemorating the tragic night in 1919 when a Father Pat Noise apparently fell over the bridge with his carriage (this was revealed after a time to have been installed by people impersonating the city council for devilment and to make a point that's revealed in the story). One of Storymap's most popular stories is a video of two brothers talking about life and love in a Dublin pub. Then there is Maureen, whose industrious life behind the bar for years in the Olympia theatre was possible only because she never told her employers she was a mother (in a time when married women were forbidden to work). She got around the problem of daycare by smuggling eight of her children into her place of employment and hiding them in various parts of the theatre.
For Literary Travelers, Storymap has literary gossip and tales aplenty, like the story of the undercover feud between the eccentric writer and columnist Flann O' Brien, who wrote under a pen-name, and the mayor of Dublin. If there was ever a year for literary tourists to visit Dublin, 2013—when Dublin holds the honor of being the fourth UNESCO City of Literature is it. This is also the year of the much publicized "Gathering"—which kicked off with a massive New Year's Eve extravaganza outside Trinity College Dublin. Rowley and Flaherty have been asked by the UNESCO City of Literature Committee to add 20 new literary stories to their bank. There are plans to expand Storymap into other Irish cities, and maybe internationally, starting with London.
The app is a steal at E 2.59, and is pretty straightforward to use, with one criticism that it takes you out of the app into Safari in order to watch the video. It is available for both iPhone and Android, though there will be improvements to Android in the new version, coming soon. One word of warning, for people with kids or of a sensitive nature—Dublin is a city of grit and humor, and the stories don't shirk this aspect, though most of the stories are suitable for the whole family. Enjoy!