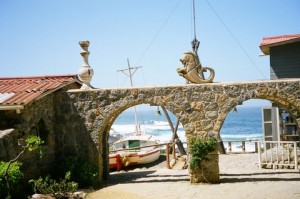 By Ruth Kozak
Excerpt from Pablo Neruda "Poet's Obligation"
So through me, freedom and the sea
will make their answer to the shuttered heart.
I learned about Pablo Neruda from a Chilean friend who gave me books of Neruda's poetry. I never dreamt that one day I would visit his houses in Chile. My friend, exiled from his homeland after the military junta, always longed to return, but passed away from cancer before he could. It was I who would go to Chile to explore the poet's familiar haunts and houses.
Born in 1904 in Parral, Chile, Neruda's real name was Neflato Ricardo Reyes Basoalto. He published his first poem at the age of thirteen, and by the time he was in his early twenties he was a regular contributor to the literary journal "Selva Astral" under the pen-name Pablo Neruda. He chose the name "Neruda," most sources agree, in tribute to Czechoslovak poet Jan Neruda.
Pablo Neruda won the Nobel Prize for literature in 1971. His poetry is considered by many to be the soul of Chile, and he played an important role in his country's recent history as a political icon and national hero. His picture appears everywhere alongside pictures of the late president, Salvadore Allende, who died in the face of military force, and the renown folk singer, Victor Jara, who was brutally murdered by the military during the 1974 junta.
When I arrived in Chile, my first stop was Santiago. It's an impressive city. The grand colonial architecture of the Plaza de Armes is a contrast to the ultra modern high-rises of Barrio Las Condes, Santiago's financial district. A sleek modern metro system makes it easy to get around. My first stop in Santiago was Barrio Bellavista, where one of Neruda's houses, La Chascona, is still located in the bohemian district.
A walk through Barrio Bellavista is pleasant. Craft shops and lively sidewalk cafes where the students from the local university congregate recall the image of Neruda as a student and bohemian intellectual. It's a community of artists, writers and craftspeople. The streets are shaded by trees and lined with interesting shops. I found an artisan's market and jewelry shops full of lapis lazuli, a semi precious gem of which Chili has major deposits.
La Chascona
It wasn't difficult to find the poet's house, La Chascona, on a little back street set on a hillside overlooking the city. "La Chascona" means "wild hair," named for Neruda's third wife, Matilde, who had a tumble of unruly tresses.
When he was young, Neruda was awarded a diplomatic post and his subsequent travels brought him international fame. Prior even to accepting his Leftist beliefs, he had a flamboyant life and was friends with artists such as Pablo Picasso and Diego Rivera whose paintings hang in his houses. As a diplomat and ambassador for Chile, Neruda travelled to many countries. He collected mementos of all his journeys and these souvenirs–everything from ash trays to primitive carved masks from the South Pacific and Africa–decorate the rooms.
Neruda was fascinated by the sea, although he didn't like to sail on it, and each of his three houses are built in a ship motif. He wrote his poetry in blue and green, sea color ink. Some of his hand written poems are on display in the house, as well as his books. My favorite collection, his first, is Twenty Love Poems and a Song of Despair, and it was a thrill to see the original publication of it in Neruda's library collection.
Until the military coup, La Chascona used to be crammed with Neruda's treasures. The military ransacked the house and partially burned it, and while restorations have been made, many of his precious collections were destroyed. What is left is an amazing assortment of curios and whimsical items. The house, maintained by the Neruda foundation, has tiny rooms so only a few people are allowed in at once. A guide explains everything in a most enjoyable and informative way, telling little anecdotes about the poet who was as fun-loving and quirky as he was a serious political and literary figure.
La Sebastiana
On the coast at Valparaiso, the second of Neruda's houses on my tour, La Sebastiana, stands high on one of Valparaiso"s many steep hills commanding a view of the harbor. I took an ascendor (single rail tram) from Espirito Santo up Cerro Bellavista where the house is located. I winded my way through the maze of narrow lanes, past a colorful hodge-podge of houses and eventually found the poet's house.
Neruda didn't spend as much time at La Sebastiana as he did at his other two houses, but he always went there for New Year's Eve to watch the annual fireworks from his lookout. The house was built by an Italian carpenter, Sebastian, for whom it was named. He was, Neruda said, "A poet with wood." Like the other houses, it follows Neruda's preferred eccentric layout and ship motif. The first floor was owned and occupied by two of Neruda's friends, one of whom was a female artist who created ceiling murals and beautiful stone mosaics for the house. In the lobby are two paintings by Neruda's second wife, Delia del Carril, who was an artist and activist twenty years his senior.
Neruda's living quarters were on the second floor. Ascended several floors up to the top room which was his study and lookout, we gain a spectacular view of Valparaiso's harbor and the ocean. Each room in the house is full of the usual trinkets and beautiful knick-knacks he loved to collect. There are outstanding stained glass windows lining the walls, and visitors are permitted to wander at will. We were given booklets to read describing the history of each room as well as the furnishing and objects. Photographs were not allowed, even from the breathtaking vistas visible from the windows.
One of my greatest thrills was standing at Neruda's desk and looking around to discover the very things he saw while writing. Along with the usual–small, collected objects, manuscripts, shelves of books, pictures of Walt Whitman (a common feature to each of Neruda's home studies), and blue and green ink pens–there is a panoramic view of the sea from the window.
Isla Negra
I took a bus down the coast to Neruda's house at Isla Negra, an hour and half trip from Valparaiso. The house, built on a rocky headland overlooking the Pacific at Isla Negra (which isn't actually an island), is close enough to the shore to make it seem like one. The original stone buildings were erected in the late 1930's and were completed in the 1950's. Neruda added to it bit by bit, including various rooms to hold all his eccentric collections.
Like the others, the house is built to resemble a ship, with low doorways and creaky floor boards. Being so near the crashing waves of the ocean makes the effect uncanny. Neruda's elaborate assortment of ship's figureheads decorate nearly every room. Additionally, masks and wooden carvings from various places in the world are displayed throughout the house, and an entire room is devoted to his massive shell collection, including the huge tusk of a narwhal which he brought from Norway. The most stunning feature of the house, however, is the master bedroom, in which the bed is angled directly toward a clear view of the ocean from the sea-facing windows.
During the junta, when Neruda was dying of cancer, the military stormed the house. It has been mostly preserved, though, and is his marvelous collections (even more fantastical than those at La Chascona) are intact. It is exactly as it was when Neruda lived there; even the place settings at the dining room table, place mats of sailing ships and one (the captain's) of nautical instruments, are set.
"I am the captain and the guests are my crew," he would say. In the middle of the table is a large crystal brandy decanter still containing brandy, because Neruda lost the key to open it. As in the other houses, there's a well-stocked bar where Neruda played the role of bar-tender and dressed up in costumes to entertain. I imagined him standing there, pouring drinks as he engaged in jolly banter with his guests. Outside the house, beached on the shore, is a small boat where he would also entertain, and which never went into the water!
Neruda returned to Chile when Salvadore Allende was elected president of Chili. Twelve days after Allende died during bombing of the Presidential Palace, Neurda succumbed to cancer. Some, poets mostly, say he died of a broken heart.
He is buried at Isla Negra, alongside his third wife, Matilda, who died years later. Their graves faces the ocean on a round stone platform surrounded by a bed of flowers.In his will, Neruda left his properties to the Chilean people through the Neruda Foundation.
As I stood by Neruda's gravesite and looked out over the blue Pacific, I thanked my Chilean friend who introduced me to the poet, and thought of Neruda's words in his poem, "A Song of Despair":
The memory of you emerges from the night around me.
The river mingles its stubborn lament with the sea
Deserted like the wharves at dawn
It is the hour of departure, oh deserted one!