By Amanda Festa
With Halloween quickly approaching, here at Literary Traveler, we have really gotten into the spirit of the season.  For many, fall breeds nostalgia and a penchant for experiencing all things creepy.  So in honor of the spookiest of holiday seasons, we decided to explore a city known worldwide for its Halloween festivities.  Last week, Literary Traveler ventured to Salem, Massachusetts to take part in the month long 'Haunted Happenings' celebration, and explore all that the city has to offer.
*
11:00 am– Derby Square:  Walking through the town's center, it is easy to see why Salem is such a mecca for Halloween tourists.  Both sides of the cobblestone streets are lined with quaint stores boasting psychic readings and new age paraphernalia alongside touristy souvenirs.  Push carts selling Salem T-Shirts compete for the attention of passersby with men in masks who are giving out brochures to various haunted tours and attractions.  I have already been handed three.  I mosey by a zombie playing the saxophone for a couple of onlookers and I am officially sold on the city of Salem.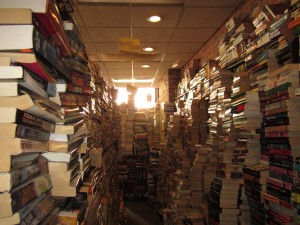 12:00 pm– Derby Square Bookstore, 215 Essex Street:  I am drawn to Derby Square Bookstore almost instinctively, a tiny hole in the wall establishment where towers of books are visible through the open door, calling  me inside, like a bat signal for bibliophiles.  There is something about a bookstore that boasts approximately 70,000 books and very few shelves. In business for 38 years, Derby Square maintains its selection by buying books from the bookstores that don't make it.
"Can I help you?" I hear. I thought I was the only one in here! But then notice a white-haired man peering out from a thin gap in two stacks of books perched on what could possibly be a counter. The good humored proprietor tells me I can take as many pictures as I want, as long as I buy a book –all of which are 50% off.  Although I am fairly certain this is a joke, I decide not to argue, and one does not have to twist my arm very far to convince me to buy a book.  My first choice was a copy of Ernest Hemingway's Farewell to Arms, but alas it was wedged mid-stack and the thought of trying to successfully dislodge it gives me horrific flashbacks to a childhood Jenga game gone awry.
1:00 pm– The Witch Museum, 19 ½ North Washington Square:  One cannot go to Salem without exploring the horrifying history of the 1692 witch trials that radiates from the city's pores.   For a refresher course on the trials we duck into a 1:00 pm presentation at The Witch Museum, where we take a jarring trip into Salem's startling past. There are many options for those looking to get a feel for this unsettling history.  From The Witch Museum, to The Witch History Museum to The Witch Dungeon Museum, it can be hard to choose just one.  Luckily, you don't have to.  Combination tickets are always available if you want to see it all.
2:00 pm– Lunch:  If you get hungry (and after hours of walking tours, you surely will), there are plenty of dining options to choose from.  Enjoy a meal at 43 Church and, as you check-in with your smart phone's Facebook app, say thank you to Alexander Graham Bell, who made the first 'long distance' phone call from this very building (formerly the Salem Lyceum) to the Globe office in Boston in 1877.  For lighter fare, try Gulu-Gulu Café, where we enjoyed crepes and laid back ambiance, both rivaled only by the draft beer selection.
3:00 pm– The House of the Seven Gables, 115 Derby Street:  After lunch we hightail it to The House of the Seven Gables, where Nathaniel Hawthorne's legacy has taken up residence, as has his home, which was picked up and moved next door to the Gables in 1958, making combination tours of the two ever more convenient.
5:00 pm– Salem Trolley, 8 Central Street:  When, like me, you start regretting your decision to wear three inch heels, or if you just desire to rest your feet after a couple hours of walking, take a seat on the Salem Trolley and do some sightseeing from a sedentary position.  The Salem Trolley offers one hour narrated tours of key Salem attractions.  If you haven't been sufficiently frightened thus far, October boasts a "Tales and Tombstones" evening tour which focuses on terrifying yarns of spirits and hauntings, which may do the trick (or treat, if you enjoy a good ghost story).


6:30 pm– Burying Point Cemetery:  There is nothing quite as eerie as an autumn evening stroll through the Burying Point Cemetery. Hear the leaves crunch beneath your feet as you walk over the centuries old graves of early Salem settlers. Established in 1637, Burying Point is the second oldest cemetery in the United States.  Here you can find the grave of witch trial judge, John Hathorne.  He is Nathaniel Hawthorne's great great grandfather, but no, his name is not misspelled.  Nathaniel added a "w" to avoid future associations. (Sorry, Mr. Hawthorne!).
7:15 pm– Cinema Salem, Museum Place Mall:  We round out our day, and you can do the same, with a viewing of a new 3D film, The Spirit of Salem.  After a long day of absorbing the haunted history, get a feel for Salem throughout the years with an evocative glimpse into the lives of a multitude of citizens who contributed to the epic history, shaping it into what it has become today – a remarkable city that has much to offer, past and present.  As we head back to Boston, I feel a part of the film myself, as if I am now one more three dimensional figure in Salem's lengthy, legendary— and ongoing– story.