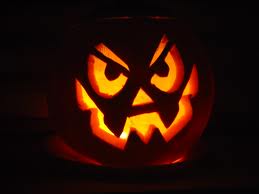 By Jessica Monk
Halloween, I confess: I've failed you. My costumes have been offbeat, inappropriate, and dangerously conceptual. Being a literature graduate, it's what's expected of me, right? Think again. If you're a humanities student you'll spend half your life gesticulating about your foggy career prospects at parties. Give yourself a break from abstraction on this one night of the year. If you're a math graduate I don't know how to help you.
As the old saying goes, if I can't be a good example, let me be a horrible warning. So here is just one example of what I have tried to achieve in past years:
It starts and ends with that one year it struck me to dress up as the 123 bus. To give me credit, the bus shipped me to college lectures and was an object of dread in my world, lumbering around the corner zombie-like as I tried to fight two lanes of traffic to avoid missing it. I wore bright blue and yellow, the color of the Dublin Bus company, and made earrings from old bus tickets. In the end, I looked like someone from Bananarama and spent the evening explaining my costume to my confused friends.
It was all rooted in a lack of planning. Halloweens past, it was my habit to settle on something "I thought would be funny" first, then figure out how it would work later by trawling second-hand shops and even resorting to  handwritten signs that provided passersby a cheat sheet for what I was supposed to be. But no more messing around with conceptual costumes this year. "Nevermore" will I be willfully misunderstood at Halloween.
Literary characters and personalities are often recognizable and have stories, so small talk is taken care of. What more could you ask for? If you are still in need of a costume, here are five literary personas to channel this Halloween.
1.       Samuel Beckett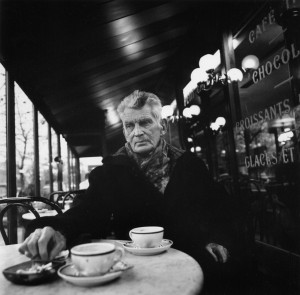 You will need: Chunky white or black roll-neck sweater, wrinkly forehead mask with shock of white hair,  serious, penetrating expression, copy of Waiting for Godot.
Perks: Looking impressive without trying too hard; for women, getting a break from the tyranny of the 'sexy' Halloween costume.
Pitfalls: Being mistaken for Jim Jarmusch — This is why the copy of Waiting for Godot is essential.
2.       Hunter S. Thompson, in the style of Johnny Depp
You will need: Hawaiian shirt, mirrored aviator shades, cream-colored hat, smoking apparatus, spooked expression.
Perks: Getting to act erratically and spout whatever comes out of your mouth, and/or weave off erratically from friends to consult with yourself in a corner.
Pitfalls: A run-in with the law over your startled, drug-addled appearance.
3.       Emily Dickinson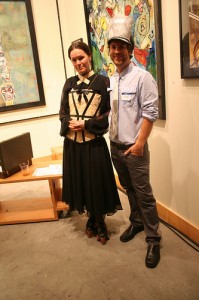 You will need: Center-parted light-colored hair or wig fashioned in a low knot at nape of neck, white dress, ribbon. A discreet signal of eccentric rebellion on your person, such as a pet snail, a doodled-on copy of the New Testament, bare feet, or odd shoes.
Perks: Not having to talk to people if you don't feel social
Pitfalls: Only the literary elect will know who you are. Everyone else will just think you have dressed in period costume. However, you just might be the kind of person who prefers to appeal to the literary elite.
4.       Pi from Life of Pi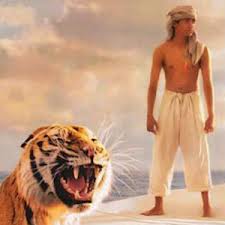 You will need: Torn white pants for the shipwrecked look, turban, fluffy toy tiger, toy boat, large paddle from a boat.
Perks: Getting to show off your summer six-pack for one last lingering evening.
Pitfalls: The hassle of carrying around all your props. People thinking that you're using Halloween as an excuse for exhibitionism (what else is it for?). To make things perfectly clear, the tiger should probably bear a name-tag saying "Richard Parker."
5.       Edgar Allan Poe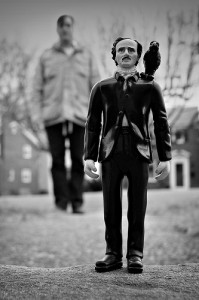 You will need: Fake sideburns, fake moustache, cravat and waistcoat, toy black bird attached to your shoulder, doleful expression.
Perks: Instantly recognizable to anyone who did English literature up to high-school level, dramatic and romantic as hell.
Pitfalls: The fourth time someone asks you to croak or say "Nevermore" it is no longer funny.
*
And, because every list must have its honorable mention, there is always this guy's clever and family-friendly take on 50 Shades of Grey.
Postscript: I'm already thinking of ways to dress up as the phrase "horrible warning" — maybe a cross between a stop sign and a zombie. I have no idea how that would work, but let's iron out the details later. In the meantime, have fun and keep the horror real, not conceptual.
Check out more literary costumes in Part II: 10 Couples Costumes for Book Lovers