By Amanda Festa
On April 11th, Literary Traveler hosted author and editor Jennifer Ciotta at the Armory in Somerville for a talk on the publishing process and her personal experience successfully self-publishing her debut novel I, Putin.  Jennifer, formerly the editorial director of Literary Traveler, is now a book manuscript editor at Pencey X Pages and an advisory editor at Author Salon, a writers' community that connects writers, agents and publishing house editors.
Using her own experiences with the process, as well as her expertise as an editor, she recently published The No Bulls**t Guide to Self-Publishing to share her knowledge with other writers.
As a self-published author, it is her job to get her book out there, and she did.  I, Putin won Honorable Mentions at the New York Book Festival and the Hollywood Book Festival in 2012.  She is especially proud of the Hollywood Book Festival because it looks at how well a book translates to all media, adding the extra element of versatility to a book's success.
Jennifer gave her engaging talk at the intimate Café at the Armory, surrounded by an eager group of aspiring writers, hoping to gain advice and inspiration from her experience.  She spoke frankly about the business, offering lessons learned, mistakes made and the harsh reality of the publishing business.  She did not sugarcoat the demanding process, but also lauded the benefits of self-publishing, sharing how it worked for her and how, if navigated correctly, it could work for others, as well.
She opened by intriguing the audience with some interesting figures.  The average self-published title usually sells between only 100-150 copies.  While that may seem discouraging, she was quick to compare it to traditionally published works. One might think the latter would sell better, but in fact 95% of traditionally published works sell less than 500 copies, profits from which are shared.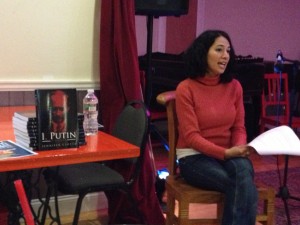 What may discourage some from going the self-publishing route is the amount of work that is required by the author.  Instead of leaving publicity and promotion in the hands of someone else, it is now up to you to get your book off the shelves.  Jennifer is passionate about her work, determined to advance its success and confident in its quality.  She believes that if you feel the same, self-publishing can offer many benefits over traditional publishing.  The deficit, that everything is left to the author, can become a benefit because you do not have to depend on others for your own success.
She highlighted some of the things that did not work for her, including radio interviews, book publicists, or a personal Facebook page (unless, of course, you have written a personal memoir).  What does work, she urged, are simple things, such as a Goodreads account.  With Goodreads.com you can connect with people who are interested in the genre of your work, engage with reviewers and offer book giveaways to further your success.
She offered many insider tips and tricks that can be used to navigate the world of self-publishing, many of which can also be found in her tome on the subject.  Yet, she ultimately emphasized, if the quality of your work is high, the concept is engaging and you promote it correctly, self-publishing can yield incredible results.
As if to illustrate this point, Jennifer ended her talk with a reading from her novel, which gives fictional life to Russian President Vladimir Putin.  The passage she read was an eloquent imagining of Putin's childhood, which found him smuggling meat to feed the rats that frequented his family's home.
We are grateful to Jennifer for speaking with us, and look forward to her future work.  For more information on Jennifer and I, Putin, please see her website or check out her Goodreads page.  For more wisdom on self-publishing, please check out her insightful eBook, The No Bulls**t Guide to Self-Publishing.