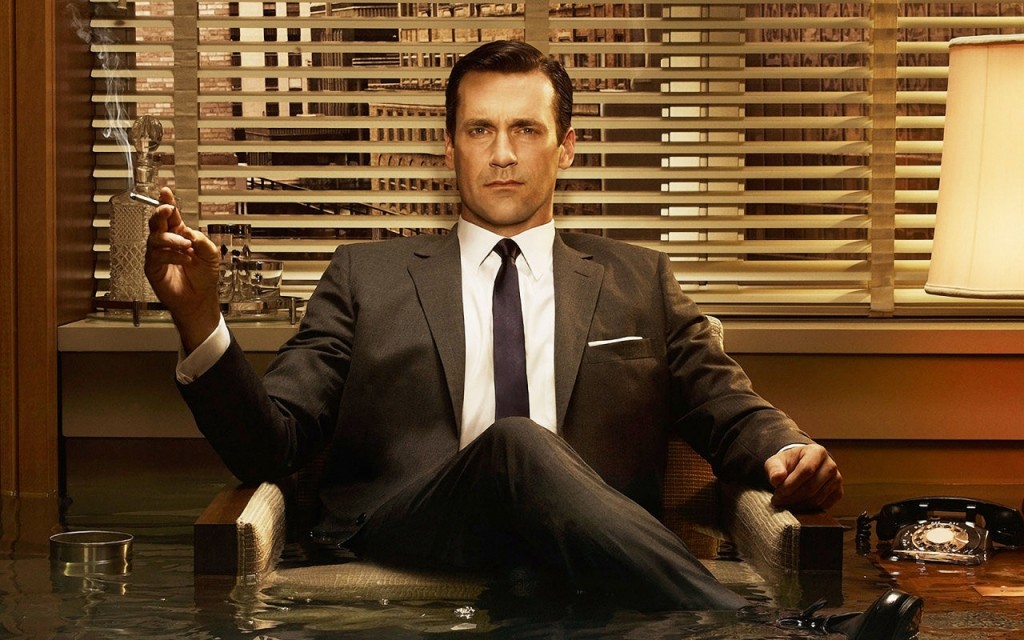 By Alex Nicoll
Don Draper is one of the most distinctive characters in the history of American television. From his slicked hair to his seemingly bottomless glass of bourbon, the star of AMC's hit series Mad Men is instantly recognizable. While Don Draper is a singular character, there's been a lot of speculation that he was based on a historical figure—one of many ad execs from the 1960's. He is so well-writen, so thoughtfully created, that we suspect he may have been based on a real person. Perhaps there was once a "real" Don Draper, and perhaps we've found him. Below, we've compiled an overview of all of the different theories, as well as our evaluation of the validity of each one. Help us unravel the mystery in the comments.
DRAPER DANIELS
The name. Right away, Draper Daniels' similarities to Don are apparent. If his first and last name were switched around, plus a vowel substitution and an erasure of -iels, they would have the exact same name. The alliterative catchiness of both names surely contributed to creator Matt Weiner's vision of the ad man.
Daniels was an advertising executive from Chicago in the 50's, who is famous for creating the Marlboro Man campaign. He married a woman from his office, just like Don. However, his wife was a business partner, and she was already engaged to another man when he proposed. It seems his charm might have been even more seductive than Don's. Unlike Don, he settled down into the monogamous lifestyle without any mistakes and quit drinking for his wife.
Daniels' success, and name, make him clearly a front-running candidate for Weiner's inspiration. When Weiner was interviewed by New York Magazine about Daniels, he responded that he "just saw the name" and used it as an inspiration. He denied that Daniels was the primary inspiration for Don. Personally, I think that Daniels' life and advertising prowess are part of the formula for Don Draper, but he's also not the only historical ad-man to influence Weiner's character.
EMERSON FOOTE
Foote is a famous New York ad-man whose similarities with Don Draper are apparent in a specific plotline in the show. He resigned from a chair position at the firm McCann-Erickson in 1964 because he felt it was morally wrong to advertise the sale of cigarettes. This is similar to Don Draper's decision to take out an advertisement in the New York Times explaining that Sterling Cooper Draper Pryce was not going to advertise tobacco products anymore. Emerson Foote eventually became the head of the American Cancer Society, and at one point in the show Emerson Foote actually calls Don about the note in the Times.
Emerson is clearly an inspiration for the specific plot-line about Tobacco, but I don't think he was a primary inspiration. I believe this partially because Foote calls Don, which means that Don can't just be a replacement for Foote in the advertising world. Either way though, he clearly helped Weiner come up with that specific plot line.
GEORGE LOIS
George Lois has gotten the most attention for being Don Draper's historical inspiration, most recently in a 13-minute documentary for Vice Media. The comparison with Lois is less plot-based than other possibilities, and more focused on their shared character. He had the same unshakeable confidence as Don, the sort that earns him both success and enemies. Lois was an art director, instead of a copywriter like Don, but was involved in his fair share of iconic campaigns. One specific story reminds me of the opening credits, with a man jumping out of a skyscraper window. A company was going to reject a campaign that Lois had spent a long time working on, so he threatened to jump out of the window if they didn't use it. They used the campaign, but the image of a man falling from a skyscraper seems to have survived.
At one point, Mad Men executives have called Lois to ask him about his time on Madison avenue. This leads me to believe that he was definitely an influence on Don Draper. This is further supported by his suave look, almost identical to Jon Hamm's portrayal of Draper. Regardless, Lois has called Don Draper a talentless bum, and said he was much better looking. In the Vice Media piece, one of his old partners said that his talent was only exceeded by his ego. This description might actually be the thing that influenced Matt Weiner the most as Draper's world slowly fall apart in the later seasons because of his own ego.
D.B. COOPER
The most unconventional nomination for Don Draper's historical counterpart is D.B. Cooper, the famous airplane hijacker. The story of D.B. Cooper's fate ends (as far as we know) with a parachute and $200,000 of ransom money, but writer Lindsey M. Green writes on Medium about how she thinks that D.B.'s beginning is the story of Don Draper. While obviously outlandish, she does have some interesting evidence. The most obvious is that Don Draper has a history of assuming a new identity and starting over. Combined with an emphasis in the show on airplanes, including the courting of airlines as clients, this seems to connect Draper and Cooper. Green also sees the first and last seasons as mirrors of each other, in details such as the name of the agency (Sterling Cooper), or in their storylines of false identities. Season Two begins with a plotline about airplanes, suggesting that this last season might end with airplanes. While this is an unlikely guess, Mad Men has always found a great way to combine its fictional Madison Avenue with the actual historical events of the 60's. Even if Don doesn't end up hijacking a plane, this is quite an unconventional and interesting guess.
All of these options are feasible (except for maybe D.B. Cooper) and may explain part of the puzzle that is Don Draper. However, none of them are clearly THE influence for the bourbon-guzzling ad-man. Just like the rest of the show, he is a mix of historical and fictional, imagination and what has already been set in stone. It's actually better that Draper is not one of any of these ad-men, as it allows him to be all of them. Don Draper is both the quintessential ad-man and a singular character. Now we just have to wait and see what fresh details the final season reveals. Happy watching!