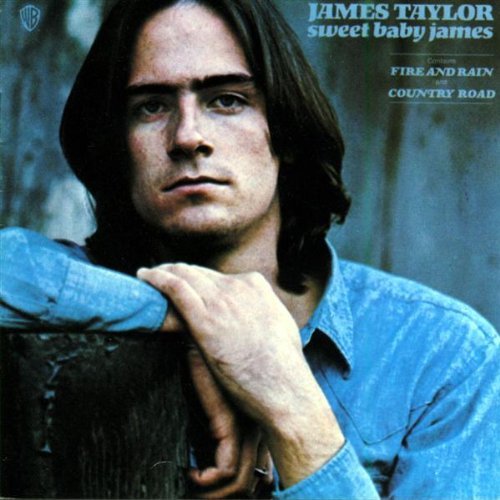 By Antoinette Weil. 
Fire and Rain is one of the most memorable and well known James Taylor songs, and is also the title of Ian Halpernin's biography about the iconic and at times troubled musician.
The wonderful thing about biographies is that every person's life is interesting in some way or another. You could read a bio of your local grocery store cashier or financial advisor and find some intriguing facts and probably an engaging story line. I love nonfiction because I love learning; I love reading about people and their passions, places and their topography, time periods and history—anything really. It was this (and a scant bookshelf) that prompted my choosing to read Halperin's portrait of James Taylor, not any preexisting fandom. Taylor's career started long before I was born and I only knew a few of his hit songs going in.
As far as the subject material goes, the book does not disappoint. There are stays in mental institutions, recurring battles with drug addiction and depression, career highs and lows, and accounts of affairs and relationships with other celebrities, including a tryst with Joni Mitchell and Taylor's rocky marriage to pop star Carly Simon. Reading Taylor's life story takes you on a roller coaster with several ups and downs per chapter, the highs ever higher and the lows very low.
I came to this book without preconceived notions or prior opinions of Taylor, having only heard the soft smooth vocals and acoustic strumming that are so quintessentially him. The juxtaposition of this easy listening folk style and soft crooner's voice against Halperin's picture of young James Taylor as a playboy and a junkie living off of Heroin is quite astounding. This is not to say that Halperin condemns Taylor in the book. He does not. He actually seems quite sympathetic, providing casual explanation for Taylor's reverting back to drugs periodically (he was lonely after a week of touring and went back to Heroin, he knew if he wanted to be an artist he had to live the life of a struggling artist, he was distraught about his career, and so on). Eventually, as we see in the book, Taylor makes peace with his inner demons and matures—both in sound and personality—becoming the activist and hall of fame artist he is known as today.
The thing about Fire and Rain is that it lacks the excitement and anticipation that should propel a reader on. It just isn't an enjoyable read. Because it's an unauthorized biography and Taylor himself wasn't a collaborator, Halperin relied on other sources: Interviews with music executives and critics, former band mates, passersby who saw Taylor on Martha's Vineyard every summer, James Taylor fans. Many of the interview quotes presented are not from the author's own interviews with subjects, but rather are taken from older books, magazine and newspaper articles, and television segments. Much of the book is essentially hearsay.
The quotes themselves are numerous, lengthy, and seem to be summarized. The same words are used over and over, the same phrasing appears from subject to subject, and each quote sounds a far cry from what an actual person would say. The book is a timeline account of James Taylor's life as told by anecdotes, some facts, and quotes. In its most basic form, this is what a biography consists of. But one does hope for a little something more: A neater writing style, perhaps, some sense of intrigue, some revelation by the artist. Unfortunately, this book feels more like points plotted on a graph.
To Halperin's credit, the book is extremely well researched, an affirmation of his background as an investigative journalist. And it must be said that writing without a subject's permission or assistance must be far more difficult. Still, the book fell a bit flat for me. Interestingly though, Halperin has written several other biographic nonfiction books that, while more controversial, also received far better reviews than Fire and Rain including Who Killed Kurt Cobain? The Mysterious Death of an Icon (co-written with Max Wallace) and Unmasked: The Final Years of Michael Jackson, which became a #1 New York Times Bestseller.
Bottom line: If you're looking for cold hard facts or prose that will move you, look elsewhere. If you've been to every concert and read every article already, don't bother. Fire and Rain is not for die-hard James Taylor fans. But, if you simply enjoy his music and want to know more about the artist, checking out this book couldn't hurt.