by Francis McGovern
one of my favorite memories from my stay was simply sitting outside and taking in views of the mountains. There was snow on the ground in the Berkshires, and everything felt pristine and peaceful.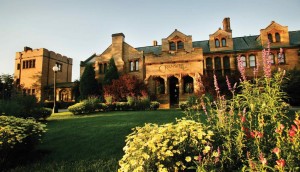 I wanted to find a new place to write in, a new place to think in. I've always found the Berkshires mystical, and so I went there hoping to dredge up some fresh ideas, find that special yeast that ferments writing projects. I've been working on a book with the help of writing coach, Jennifer Ciotta and Cranwell, a resort and spa in the Berkshires, seemed like a great place to go and rouse those latent embers of inspiration in my mind.
The mansion certainly has a rich history. The hillside where the Cranwell Mansion stands today was purchased in 1853 by Reverend Henry Ward Beecher and was later left to his sister, Harriet Beecher Stowe, author of the anti-slavery novel Uncle Tom's Cabin. Over the 19th century, the property was sold and owned by various wealthy families who contributed to the development of the property. Several cottages were built around the Wyndhurst, the main home on the hill. The Wyndhurst mansion saw reconstructions and renovations of its own over these years: it was torn down and rebuilt in the 1890s by John Sloane, a relative of the Vanderbilts. Sloane commissioned landscape architect Frederick Law Olmsted, designer of New York's Central Park and Boston's Emerald Necklace, to design the mansion grounds. In the 20th century, the property was converted into a prep school for boys, before becoming the luxurious resort that it is today. Cranwell is a member of the National Trust Historic Hotels of America (HHA), an organization of hotels that preserve and honor their historic roots. With such a rich history, I couldn't wait to walk the grounds and soak it up. Though I visited in the winter (before the crazy amounts of snow we got in Boston this year), the landscape was breathtaking, and one of my favorite memories from my stay was simply sitting outside and taking in views of the mountains. There was snow on the ground in the Berkshires, and everything felt pristine and peaceful.
I spent much of my time writing and doing research in an elegant and spacious room in the mansion. On the first day, I relaxed and had a meal at Sloane's Tavern. The burger I ordered was delicious and left me eager to try the other onsite restaurants. At the Spa Café, you can eat in the comfort of your robe after a spa treatment. At The Rose Terrace, you can dine outside and enjoy the gorgeous views of the Berkshires. There are two restaurants for elegant dining in the mansion, the Wyndhurst and the Music Room. Many visitors go to the local theater in Lenox; the resort offers pre-theater dinners every day and post-theater coffee and desserts.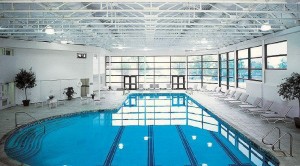 There's a lot to do at Cranwell. I was tempted to put my writing aside, and looking back, that wouldn't have been such a bad thing. Getting out and being active can be just as inspiring as rest and relaxation (though in a different way). I chose the latter, but I would return for a little more action. In the winter, you can go cross-country skiing or snowshoeing and the tennis court is converted into an ice skating rink. An indoor pool is open year-round. In the summer, there are plenty of outdoor activities including biking and hiking, golf, an outdoor pool (open in the summer), a fitness center complete with classes and personal trainers, and an amazing spa.
I wanted a stress-free writing sojourn, so I visited their spa. The experience was tremendously rejuvenating. I had the Cranwell Signature Grand Mosaik body treatment. First, my skin was exfoliated; then after showering, I got into a dry tank where I floated, seemingly weightless. I felt all my worries disappear. Lastly, I received a massage from the wonderful therapist, Alexis. I always love getting a massage because of the tightness that develops in my back and shoulders from sitting at my desk or computer. It was the best massage I think I've ever had. I was ready to write.
I had an inspiring experience at Cranwell. I generated some great ideas for my book and it was nice to focus on my own writing, to devote time to achieving my own personal goals. I was writing to create, but also to change my life, to navigate my dreams and desires. I was looking for a place where I could let my creativity flow. Cranwell, with its peace and quiet, its dedication to maintaining its own unique history, was a reminder to be faithful to myself.
To book some well-deserved R&R at Cranwell, check out the Hotel's website.