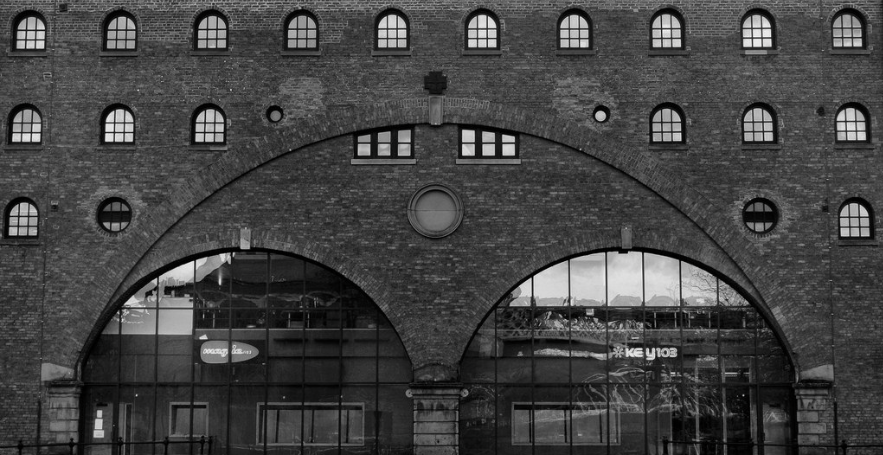 By Brian Baer
Approaching my first Christmas in Manchester, UK, I bellied up to the bar in my favorite Portland Street pub. The Fab Cafe had been my regular hangout for weeks by that point. Its walls were covered with sci-fi knickknacks and posters from old cult films like Barbarella. There was a life-sized Dalek in the corner. Even in a new city, in a strange country, I'd never felt more at home.
"I need to send something back for Christmas," I announced. "My mom is hard to shop for, but I figure I can send her something, you know, Manchester-y."
The bartender, a large man with an ironic beard of godlike proportions, nodded thoughtfully. Then he suggested, "How about we just send her Morrissey? Just wrap him up and ship him off." Everyone at the bar shared a laugh, commenting on how they'd be happy to have him gone, he was so annoying, they hated his music, and so on.
An hour later, the DJ had set up and the room was dancing and singing happily. The first song played was "Ask" by The Smiths, from the World Won't Listen collection. It wasn't the only song from Morrissey I heard played that night.
As they struggled to rebuild in the dour days after World War II's blitzes, and later through the stifling policies of the Thatcher government, the people of Manchester always turned to music. The city has birthed many musicians over the years, starting with 1960s acts Herman's Hermits, The Hollies, and Davy Jones of The Monkees. The 1970s produced diverse groups like the disco Bee Gees and the punk rock Buzzcocks.
Manchester's grip on the UK's musical taste was consolidated in the 1980s, in what was called the "Madchester" scene. This time is best known for Mancunian bands like Joy Division, The Stone Roses, and the Happy Mondays. This era in the city's history, when drug use began to escalate and night clubs turned from live acts to DJs, is chronicled in the 2002 film 24 Hour Party People.
The city has continued to produce musicians, including contemporary acts like the Gallagher brothers of Oasis, The Chemical Brothers, and the Ting Tings. But despite the competition, Manchester has always been most associated with the Moz.
By most accounts, Steven Patrick Morrissey is the most well-known Mancunian. The pop singer was the front man for The Smiths, an integral alternative rock band active in the mid-1980s, and has continued in a solo career since the group separated. As much as it's known for its football clubs, namely Manchester United, I was surprised to see how much of the city is inundated with Moz merchandise. He's practically their primary export.
In his 2013 book Autobiography, Morrissey tells of his time growing up in the city. He paints a vulgar picture of Dickensian squalor and decay. As a poor child in a large immigrant family, he saw the worst of the city at the city's worst time. Every childhood home is described a rotting slum, each teacher more interested in punishment than educating, and prison was viewed as an inevitability for all. "More brittle and less courteous than anywhere else on earth," he writes, "Manchester is the old fire breathing its last, where we all worry ourselves soulless, forbidden to be romantic." But Morrissey survives his time within the city limits and, as soon as The Smiths sign their record deal, he pays off a "lavish domestic phone bill of £80" and moves to London.
Much had changed by late 2011, when I came to the city. Some rougher elements remained, sure, but the city center had transformed. My Manchester was a much more modern, welcoming place. The streets were cleaner, the people more polite. Never once, when entering a record store on Hilton Street, did I feel as if the building would collapse in on me, despite the warnings in Moz's book.
Though many people were happy to discount his music and career, I also found quiet pride in their native son. There were no shortage of guidebooks pinpointing famous locations associated homegrown musicians, namely Morrissey. I found t-shirts reproducing the album covers of The Smiths in most stores, but seldom saw them worn around town. I resisted the urge to buy one, feeling it would make me look like a tourist.
Every day I walked past a large graffiti mural of the singer with a misappropriated quote of his lyrics: "Skateboarders of the world unite and take over." The song had called on "shoplifters" instead, but I doubted Moz would mind.
*****
Morrissey has a strange relationship with his hometown. Though they'll sell the t-shirts, Mancunians haven't always enjoyed the spotlight his controversial personality have shown on them. Since the very start of his musical career, Morrissey hasn't been shy about voicing his opinion on politics, the Queen, vegetarianism, or anything else. He's been regarded as an overdramatic blowhard, borderline unbearable, even by his biggest supporters.
He's well aware of this. In Autobiography, he writes, "Whenever I'd overhear how people found me to be 'a bit much' (which is the gentle way of saying the word 'unbearable'), I understood why. To myself I would say: Well, yes of course I'm a bit much — if I weren't, I would not be lit up by so many lights."
At his own admission, Morrissey has never expected to be liked. But maybe those outrageous things he occasionally says really are fanning the flames of his stardom. Though not necessarily in his hometown, he's never been more famous. And in Manchester, this has led to a surprising side effect: "Moz Tourism".
Morrissey fans (called Mozophiles) have been coming to the city for years now to see the places that formed his impressionable youth. Familiar backdrops are available for fans to recreate iconic images from album booklets. Also available are landmarks from lyrics, like the Holy Name Church from "Vicar in a Tutu" and the Southern Cemetery from "Cemetery Gates". HM Prison Manchester is better known as the "Strangeways" prison from the album title Strangeways, Here We Come. The city is littered with music venues, both active and retired, that once hosted shows by the Smiths or Morrissey as a solo act. These, along with former childhood homes and hangouts, have been assembled into walking excursions or bus tours for sightseers. Fans from all over the planet have come to see where it all began.
There is some horrible truthfulness to Morrissey's songs that manage to capture the zeitgeist of the young.
*****
I never came across any of these pilgrims. Despite niche markets like the Mozophiles, most visitors only come around for football. A cozy silence descends when the streets aren't full of drunken supporters flapping their colorful scarves. Things can feel sleepy, even in the city's center. Everyday is like Sunday, provided there isn't match on.
In my time in Manchester, I heard only one other American accent, and it was asking for directions to a hotel. My own accent became a point of fascination to the people I'd meet. Was I really American? Was I a student? What was I doing there? Eventually, during late nights in brick-lined basement bars, I began concocting elaborate lies. "Witness protection scheme," I'd tell them. Or, "I'm a secret agent."
The truth was notably less interesting. I'd found an online job and I could do it from anywhere, and I'd always wanted to see England. After a few long weeks in London, I was ready for something quieter (which is the gentle way of saying the word 'cheaper'). I may as well have thrown a dart at a map. I went to Manchester because it was another English city I could name off the top of my head.
What brought me to Morrissey's music is similarly devoid of drama. Unlike untold numbers of disaffected and misunderstood youth, I hadn't discovered Meat is Murder or Bona Drag in a musty record shop. I'd never been that sympathetic ear to his poetic lyrics, never felt comforted by his promises of an artful, cultured, asexual world outside of my high school. Instead, I'd begun listening just weeks before I moved to his hometown.
I was drawn to his vocal stylings that seemed to dare its listeners to turn it off. I loved his attitude, his ostentation. But more than that, I loved his lyrics.
There is some horrible truthfulness to Morrissey's songs that manage to capture the zeitgeist of the young. The world his lyrics paint is unfeeling and unfair. Every hurt he describes is jagged and heartrending. Every joy is a stomach-churning zephyr, every love is red hot and breathless until its inevitable implosion. No one writes the way young people feel like Morrissey. He will always have admirers, imitators, and inspirees because there will always be young people reaching for understanding in their pop music and somehow, impossibly, he'll be there to take their hand.
I was a Morrissey fan, I realized. I just worried I'd discovered him too late.
*****
Eventually, I too had to make the ultimate Morrissey trip. I boarded a bus and traveled along Mancunian Way to the A57, disembarking a mere block's walk from the Salford Lad's Club.
The club building has a long history. The organization was founded at the turn of the 20th century as a boy's club, a place of recreation in a troubled part of Greater Manchester, by Robert Baden-Powell, the man who would go on to form the Boy Scouts. Over the past 100-plus years, the Lad's Club has played a pivotal role in the lives of many famous Mancunians, from musicians and footballers to actors like Albert Finney.
The Salford Lad's Club is perhaps best known for its inclusion in the artwork for The Smiths' The Queen Is Dead album. In the infamous shot, Morrissey, Johnny Marr, Andy Rourke and Mike Joyce pose in front of the club's doorway, with its name in plain view. This image inspires tourists to come and cross their arms like Morrissey beneath the sign. Inside is a room dedicated to pictures and memorabilia from Morrissey and The Smiths. To this day, Salford Lad's Club is considered one of the most recognizable buildings in the United Kingdom. The picture itself was added to the collection at London's National Portrait Gallery in 2004.
Salford, like much of Manchester, has cleaned up over the years. That corner of Coronation Street is clean and quaint, though still not overly inviting. The BBC North complex has recently moved within walking distance, providing a welcome influx of money and attention. The club has gone through some rough times, though. In 2007, a campaign to restore the building was stalled due to vandalism. Morrissey surprised the club with a donation of £20,000, earning the rare bit of positive press from the Manchester Evening News.
I came to the club on a Sunday afternoon and looked up at the blunted brick corner. The building was shuttered, the lights inside extinguished. A weathered sign on the exterior showed a thermometer, only half of it red, marking the current level of donations needed to keep the club in business. The sign didn't look like it'd been touched in a while. Come to think of it, neither did the doors or windows. I smiled for my picture but I was stricken with worry that I'd missed out again.
*****
In the end, I resisted the urge to send something Morrissey-related to mother. That would've required explaining who he was, what his appeal was, which are things I'm still not confident I can properly do. I mailed her something appropriately Manchester-y: a Manchester United scarf. When I came back, though, I did burn my parents a copy of The Queen is Dead.
The Salford Lad's Club is still open, thankfully. Despite a troubling announcement about Morrissey undergoing tests for cancer, he is still touring and releasing new albums. Autobiography was a hit; Moz has even stated begun he's working on a novel to follow it up. His fame is spreading wider and wider, seemingly through word of mouth and random discovery alone.
As occasionally infuriating as he may be to his hometown, Morrissey plays an important role in the history of music and a pivotal part in the lives of his fans. He offers himself as a shining beacon, both someone who understands his listeners, and someone so cultured and sensitive they can strive to become. The world can be a sad, dark place to many out there. But if Morrissey has told us anything, it's that, "There is a light and it never goes out."
Manchester photograph by Craig Sunter