By Ann Kirkland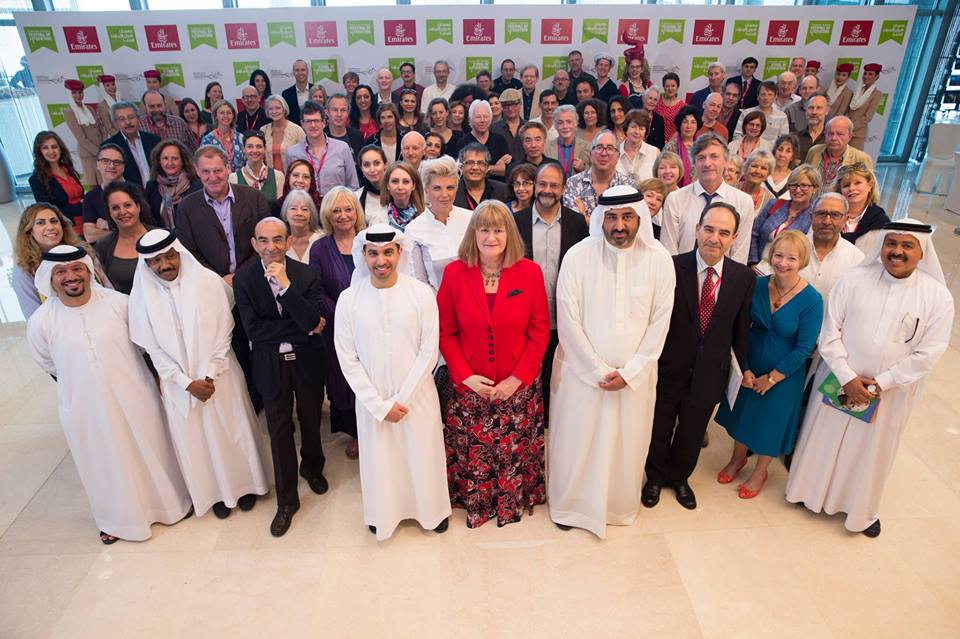 It has been a long and brutal winter in Toronto. So, when I was invited to the Emirates Airline Festival of Literature in early March, I took only a few minutes to respond with an eager yes.
It's not that I knew much about Dubai or had harbored a desire to visit. But being a curious cat, I wanted to see what this place was all about, how people felt about living there, and how books figured in their lives.
As with everywhere I have traveled, I found a place of far more complexity, texture, and nuance than I had anticipated. Wherever you find people, you find vast diversity. As expected, Dubai dazzles and confuses with its curious combination of Muslim and tribal traditions mixed with capitalism on steroids. But what surprised me most from my short stay was the cultural and cosmopolitan vibrancy that can only be found in a young and optimistic society. Apart from the glam and glitz of over-the-top malls and walls of impossibly tall and narrow skyscrapers reaching up from the desert, this city is making big business of the arts and seemingly doing so with energy, excitement, and a refreshing lack of cynicism.
Thanks to my friend Francis McGovern of Literary Traveler, I joined a small group of journalists covering the festival and Dubai at large.
The Festival
This was the 6th annual Emirates Airlines Festival of Literature. The 2014 Festival's theme was Metamorphosis, one of the great themes of storytelling from the earliest days of the written word through to the present. The Festival is now part of the Emirates Literature Foundation, which was established last year by Royal decree, but attention must be paid to Isobel Aboulhoul. The festival is her brainchild, and it is hard to imagine its continuance without her tireless, thoughtful, and gracious oversight.
Isobel Aboulhoul is a force of nature, a larger-than-life expat Brit with a lifetime passion for reading. Isobel came to Dubai in 1968 after meeting Abdulla Aboulhoul, the man she would marry, when they were both students at Cambridge. She and Abdulla co-founded Al Ittihad School (ittihad means "unity") because they wanted their five children to have an education that combined the best of British and Arabic traditions. Isobel started Magrudy's in 1975 as a shop that sold educational toys and children's books. Now there are multiple branches and books for all ages in both Arabic and English. She founded the literary festival in 2008 after a casual conversation over a ladies lunch. The festival clearly reflects her values:
"I want the festival to be as open and accessible to everyone as possible. We shouldn't be keepers of taste, and I am a great believer that any reading is good for you, so unusually for a literature festival I see as us as a festival for non-readers rather than avid readers, because I want us to encourage people pick up a book for pleasure."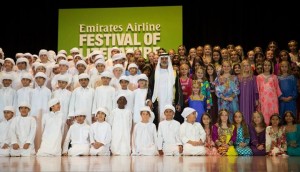 Thirty thousand people, young and old and from all different backgrounds, together with authors came to Dubai over these five days in March. There were special sessions for children, a female focus strand, literary lunches, and writing master classes. Sessions were simultaneously translated from Arabic or English or vice versa. Casual conversations across boundaries were easy and common. The atmosphere at the InterContinental Hotel  Festival City was more carnival than conference.
Here were some highlights for me:
Desert Stanzas
Some enchanted evening brought together music, poetry, and traditional Arab dining beneath the black desert sky punctuated with a bright crescent moon. We were transported in dune buggies to a desert camp where I shed my shoes and satisfied all my senses – fine sand, still warm, underfoot, the haunting music of a lone oud player, the dark sky, and convivial company over wonderful food while sitting on carpeted cushions at a low table. And there were the featured performances from some of the world's most prestigious poets, including the UAE's Khalid Al Budoor and Khulood Al Mu'alla, Germany's Frank Klötgen and the UK's Andrew Motion and Lemn Sissay. As Lemn Sissay said: "Poetry! Camels! Deserts! – at no other time will I be able to say that in a single sentence!"
Christina Lamb on Hearing Malala
The story of Malala Yousafzai may be well known, but foreign correspondent Christina Lamb gave a fascinating account of how she managed to retain the voice of the young global icon while co-authoring I Am Malala.  Lamb visited the SWAT valley and stayed with Malala's cousins in her parents' village and with the Yousafzai family in England. We were treated to a guest video appearance from Malala herself, explaining she could not come to Dubai because the festival coincided with her school exams. One fun fact we learned is that Malala's favourite subject in school is physics. She is apparently not a very good physics student, but she is drawn to the dispassionate order it embodies. I don't think there was a dry eye in the room, so moved were we by this courageous girl and so outraged that girls are still being barred from school. I bought the book for my granddaughter, who is 11, the same age Malala was when she was shot by the Taliban on her way home from school.

Children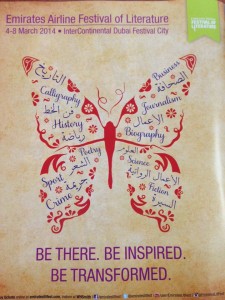 Children of all ages and cultural backgrounds were everywhere. Many sessions were oriented toward their particular interests. Others were focused on writing for children. It was especially thrilling to see kids who couldn't wait to peel off on their own with a newly acquired book.
There was also a murder mystery dinner; the annual George Orwell Lecture, given this year by the BBC's Middle East editor, Jeremy Bowen; and a magnificent lunch with celeb chef Greg Malouf, who has recently relocated to the UAE and is planning to open his first, as yet unnamed, restaurant in Dubai.
The Place
In just a few short decades, Dubai has been transformed from a sleepy trading village into a regional powerhouse for commerce and finance — and it has the skyscraper-filled skyline to show for it. It boasts the world's tallest building, the Burj Khalifa, which handily surpassed the CN Tower when it opened in 2010 (828 metres to 555 metres).
After the shock of the sheer unlikely physicality of Dubai, my second impression had to do with how the place is run. We were told a kind and benevolent king (aka sheikh) looks after all his subjects. In exchange, his subjects do not criticize the government or offend the national social and religious values.
Here, to give a bit of perspective on this fairy tale kingdom, is a bit of newly acquired history of Dubai and the six other desert kingdoms that make up the United Arab Emirates. The UAE is a very young country, a federation of seven emirates on the south shore of the Persian Gulf established in 1971. One of its founding principles is that the government provides to its citizens free education, healthcare, housing, and employment.
Dubai is the glitzy sister of neighbouring Abu Dhabi, the country's capital. Each has a population of about 2 million. The total population of the UAE is about 9 million. You've probably not heard of the other five Emirates. The country is ruled by six royal families. These ruling families were originally selected by their tribes, a practice that dates back more than 150 years.
While the Gulf states are not democracies, nor are they despotic or repressive regimes. The government is said to get its legitimacy from tribal roots.
A local may speak for most citizens when he says, "Tribal politics, where people highly respect the elders, the sheikh, is still there. Deep inside of us we still are pretty much as tribal as you would expect us to be. . . . There have been no revolts." In the United Arab Emirates, wealth and tradition are blunting any thoughts of rebellion. Why enact political reform when the old social contract is still binding and almost all of life's necessities are amply provided for?
I was surprised to learn that the Emirati citizens represent only 10 percent of the population of Dubai.
The others come from all over the world, with very large numbers from South Asia. About 240,000 British citizens and about 40,000 Americans live in Dubai. Many expats have made a permanent move, while others come for several years. About 70 percent of the population are men, the source, I would think of serious social problems.
All these foreigners do not enjoy the perks of citizens, but a combination of carrot (no income or sales tax and generally high incomes) and stick (the threat of arrest or deportation) have created a quiescence not found in most parts of the world. The business-friendly attitude that characterizes residents throughout the Emirates is reflected in their attitude toward government, where pragmatism triumphs over democratic longings.
In general, Dubai prides itself on being more open and tolerant of difference than other countries in the region, and many accommodations are made to permit divergent lifestyles as long as they are out of sight. For instance, rowdy bars can be found at the top of many skyscrapers, while the street-level restaurants and cafés remain dry and family-oriented.
The Future of Culture
When it comes to the arts in Dubai, there is a palpable and cosmopolitan buzz. It is not just literature. The Art Dubai week was just starting as I left. The week before was the Dubai Food Festival. As the royal city state aspires to be the biggest and best in every possible endeavor, my takeaway question is about the sustainability of the momentum given the limits on freedom of expression, which may be largely self-imposed.
In my short trip, I did not sense much underlying dissatisfaction. Our guide was a hip young man from Romania named Gabriel. He said that the limits on free expression under Communism were far more stringent than in Dubai. (He also said that after the fall of Communism, life worsened greatly with severe food shortages.) For Gabriel, Dubai is a paradise. He cannot wait for the opening of the new opera house. Dubai was also a haven for the vibrant and talented pair of Muslim sisters from South India who founded the highly successful (and hugely fun) Frying Pan Food and Culture Tours. Their parents chose to bring the family there for a better quality of life. They were prepared to exchange the vote (and what they described as crime, corruption, and chaos) for the safety, security, efficiency, cleanliness of the Dubai civic model.
These and other eager young people running art galleries and theatres are full of ideas and plans. An opera house to rival Sydney's is in the works. The world's first eco-friendly mosque is about to open.
Dubai clearly has the money to underwrite grandiose capital investment in its cultural aspirations. But the arts, it seems to me, are by their nature about inquiring, questioning, and rocking the status quo.
While respect for tradition and civility, and civil discourse are to be lauded, I think it is inevitable that there will be increasing pressure for a broadening of public debate in the arts from both within and without: in the press and in the public square. It's awkward to be the best when it comes to human development indexes, yet down the totem pole when it comes to freedom of expression to speak the truths that individuals perceive. I think the young creative people will not allow Dubai to become a shiny cultural assembly line.
I look forward to watching with curiosity and care to see how this vibrant society channels the bubbling energy of the arts and media in a workable compromise between old and new.
*
I would very much like to offer a Classical Pursuits trip to Dubai to explore its cultural aspirations and constraints. Please let me know of you are interested. And please share with us your own experiences in this part of the world. My trip was short, and I still have much to learn about this fascinating place.