By Irene Zabytko
I've been to Ukraine many times, mostly to visit family and friends. But like most people in the world these days, it's been devastating to witness the horrors of the war in Ukraine from a distance while worrying over the very same family and friends who are still there.
The last time I visited Ukraine was in 2016 when I had the privilege of being a U.S. Fulbright scholar there. My research project focused on visiting the haunts of the 19th century ethnic Ukrainian writer, Nikolai Gogol, for a novel about this elusive, mesmerizing, enigmatic and at times maddening writer.
Those who know Gogol from reading his great works such as Dead Souls, and the play The Inspector General, along with his many famous short stories like "The Nose," "The Overcoat" and "The Diary of a Madman" are often surprised to learn he was a Ukrainian and not a Russian writer.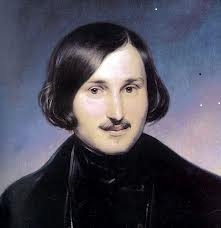 He wrote in Russian and was co-opted by the Russian literati of his time and by Russians ever since, but in truth he was an ethnic Ukrainian who was born and grew up in Ukraine, knew the Ukrainian language very well, and exhibited pride in his culture and his own people.
Nikolai Gogol—or as the Ukrainians call him, Mykola Hohol—was born in the Ukrainian village of Velyki Sorochyntsi on April 1,1809, then part of the Russian Empire and the main reason for Gogol writing in Russian.
Gogol's family lineage included Ukrainian Cossack ancestry. His parents were middle-class landed gentry who owned serfs (people who were enslaved) on their property in the Poltava region of Ukraine. Gogol's father was also a famous playwright who wrote Ukrainian comedies which were a meaningful source of inspiration for Gogol's own humorous works.
The Gogol family's ancestral home, Vasylivka, is still standing. It's a modest one–story building with pillars, a circular brick driveway, and one lingering windmill on the property.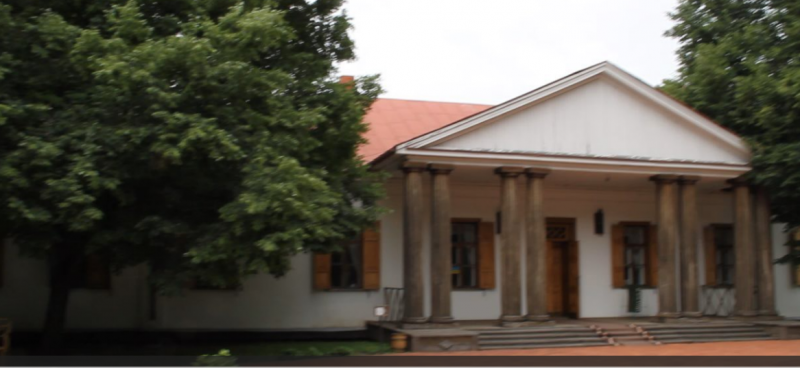 Inside are elegant period piece furniture and family portraits of his parents and sisters, and a few personal effects including a gold watch and chain which Gogol's friend and literary hero, the Russian poet Aleksander Pushkin gifted him.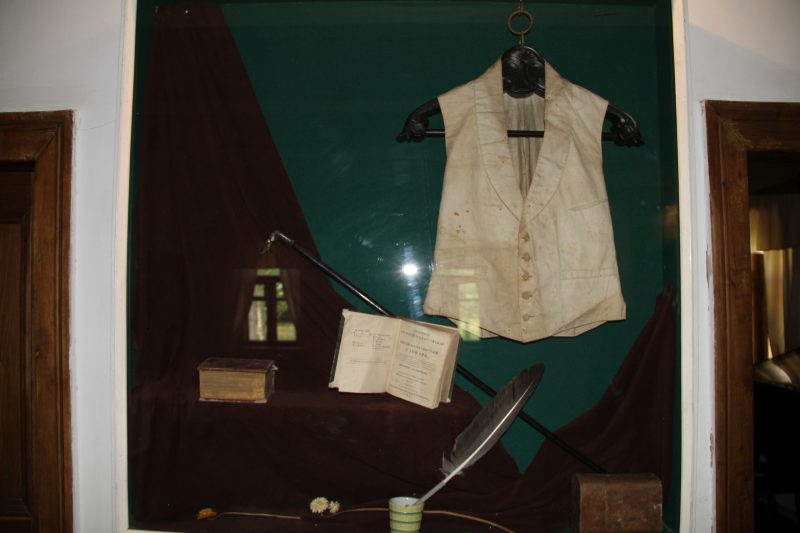 There is also a violin which he played, his eyeglass case, and one item of clothing—a beige linen vest that truly exhibits his small physique. By all accounts he was very short and skinny, so much so that as a child, he was nicknamed, "the mysterious dwarf."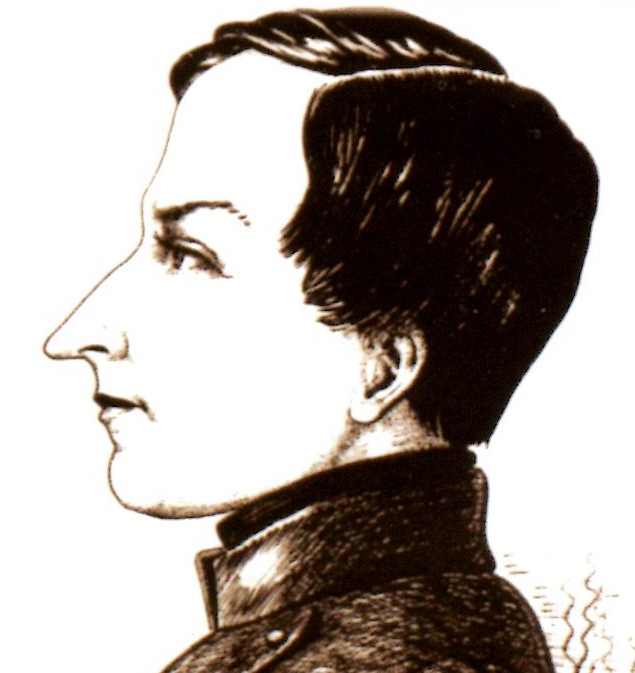 Far more interesting is the little house next door to the main one. This is where his grandmother
Tetyana
lived
and told
him stories a
bout Ukrainian legends and unholy beings like the devil and
witches
; recitations that
no doubt found their way into Gogol's first
collection of short stories set in Ukraine,
Evenings on a Farm Near
Dikanka
.
As an adult, Gogol converted the little house into a two room studio where he slept and wrote and hid from drop-in gawkers and even from his own family. The inner room is the bedroom, where his father's old pear-wood desk is situated. The adjoining room is a sitting room where he drank coffee near a beautiful tiled wood stove.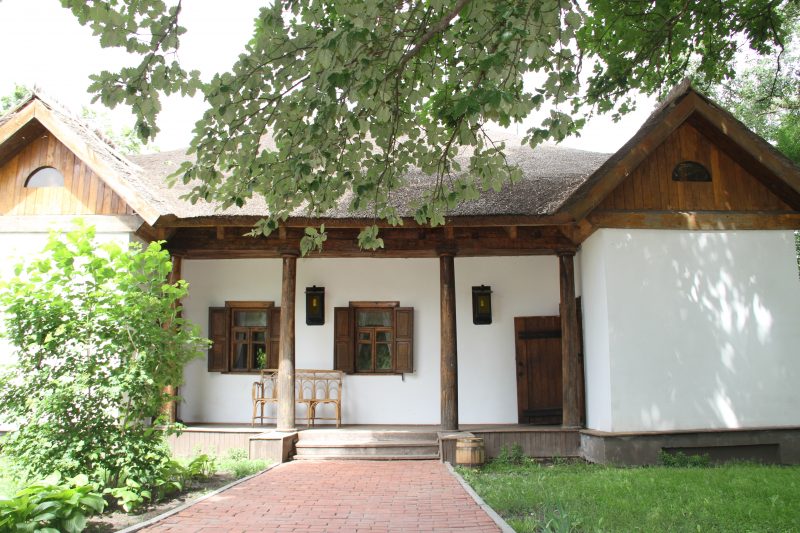 For Gogol, Vasylivka was a haven when he needed to escape Russia, in particular St. Petersburg, which he detested. When at home and not writing, Gogol enjoyed doing domestic things: painting flowers on the house's exterior, weaving rugs, knitting, and playing his violin.
It was also at Vasylivka where he heard the serfs' singing and playing banduras (Ukrainian folk instruments), and later wrote down a voluminous number of songs and sent them to a Ukrainian musicologist so they would never be lost or forgotten.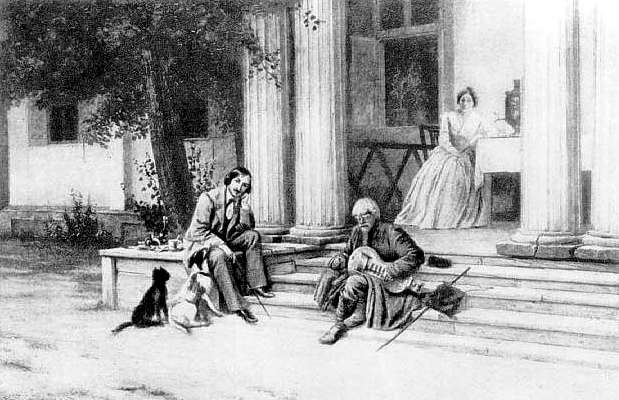 When Gogol was eleven years old, his parents sent him to a boarding school in the nearby town of Nizhyn called Prince Bezborodko's School of Higher Studies for Noble Boys. He hated it there and was a medicore student, but it was at Nizhyn where he first began to write poems and stories and acted in plays.
The original building exists and is now a university called Nizhyn Gogol State University. Classes are held there, and on the second floor, the Gogol Museum is filled with original and near-original finds ranging from original schoolbooks, floor plans and even a replica of his death mask.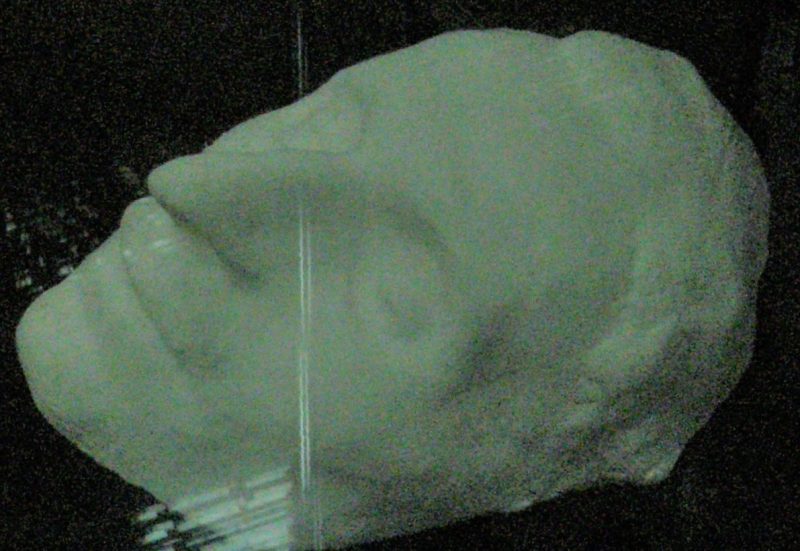 After Nizhyn, Gogol headed for St. Petersburg to forge a writing career. After many failures, he did return to Ukraine triumphantly after the publication of the Dikanka stories followed by more Ukrainian themed collections: Arabesques, TarasBulba, and Mirgorod.
But his great ambition was to land a professorship in Kyiv's most prestigious university, Prince Volodymyr University, now called Taras Shevchenko University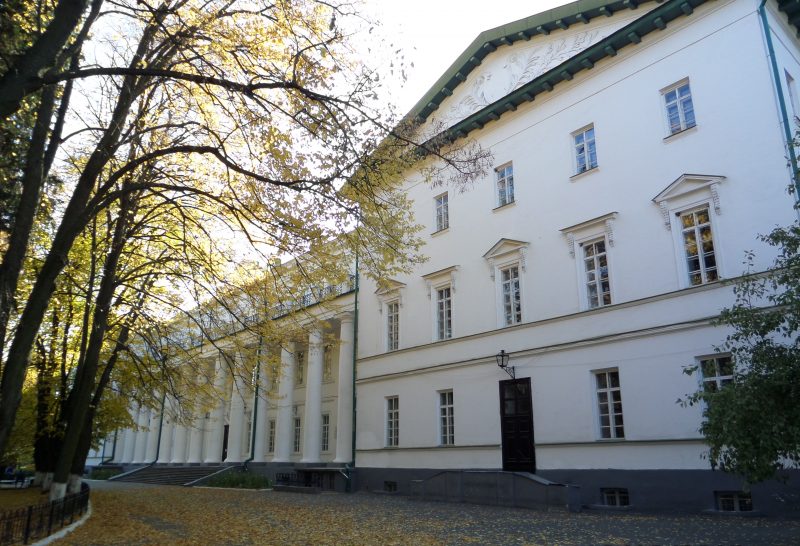 Based on his literary successes and a desire to write the first history of Ukraine, Gogol thought he could become a professor despite his lacking a college degree. He did not want to be in Russia where he was derided for being a "khokhol" (derogatory Russian word for Ukrainians).
In a letter written on December 20, 1833, Gogol wrote to a friend: "There, there! To Kyiv! In ancient, in beautiful Kyiv! It is ours, it not theirs, is it not?" In other words: Kyiv was Ukrainian in Gogol's view. What would he make of the invasion going through his country now?
Unfortunately, he never got the professorship in Kyiv, but was offered one in St. Petersburg which turned out to be a disastrous appointment. One of his young students was the Russian writer, Ivan Turgenev, who recalls in his memoirs how badly Gogol's teaching was.
Luckily for Gogol and his students, he left teaching to write his brilliantly scathing play highlighting Russian society's corruption, The Inspector General. Although a rousing success, Gogol was incensed over the criticism he received, and left Russia to live in Rome for many years.
Gogol returned often to Ukraine to visit his family and friends. Whenever the village life at Vasylivka bored him, he would escape to bigger cities like Kyiv and Odesa which he also loved.
Odesa is a writer's city. There is even a museum dedicated to writers called The Literature Museum—it's actually a palace and many famous writers from Gogol to Isaac Babel are honored there.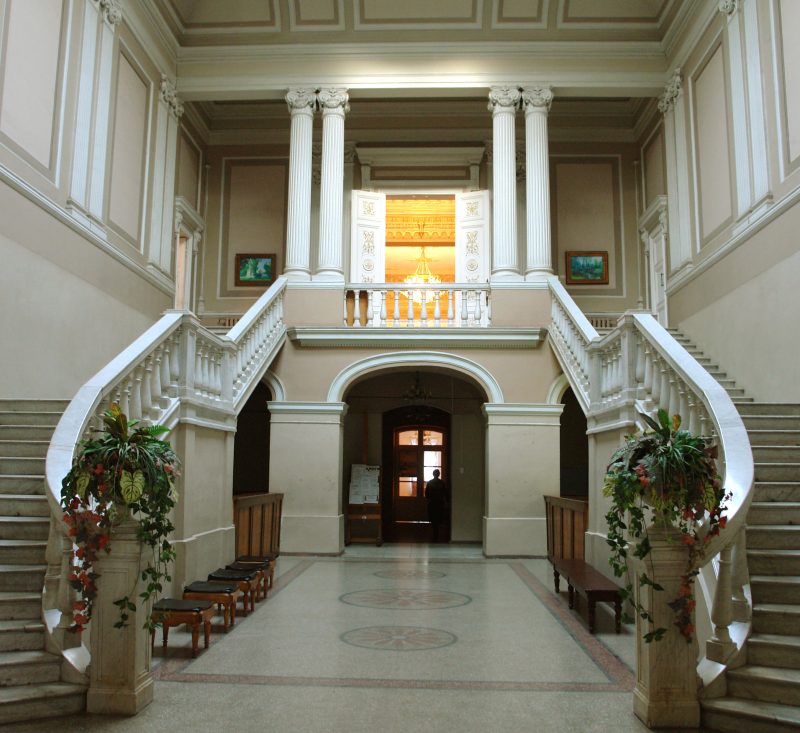 There is a small exhibit dedicated to Gogol—mostly of first editions of his books, but his legacy is more profound. It was in Odesa where he spent perhaps the happiest times of his life going to plays every night at the Horodskoy Theatre and cavorting with actors at a restaurant near it.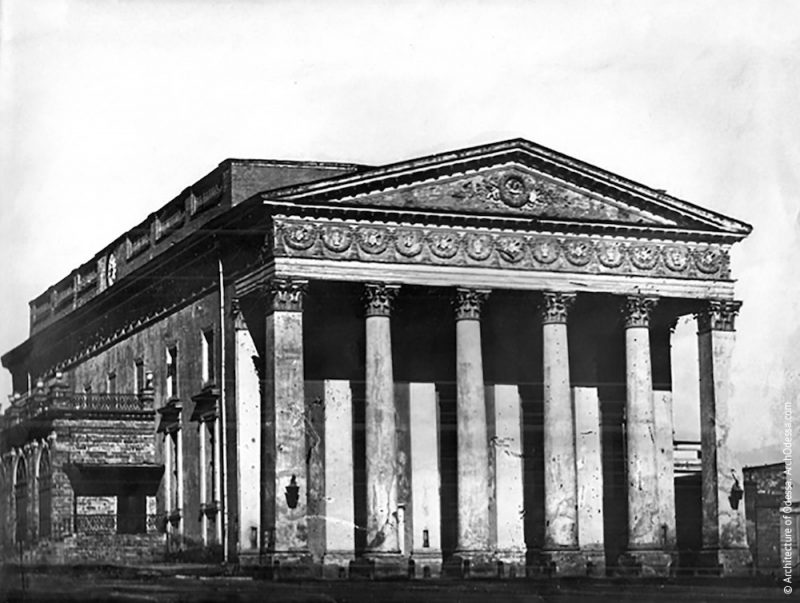 There is a story of Gogol taking over the restaurant kitchen and making a macaroni and parmesan cheese dish (infused with rum) that he invented while reciting stories to his adoring, rapt listeners.
Odesa was the last place where Gogol probably felt the most appreciated. Soon after, he left Ukraine to live the rest of his life in Moscow. He was supposed to attend his sister's wedding in 1851, but by then he was delusional, and paranoid. And although he was expected to arrive at Vasylivka, his sister only received a battered black empty carriage as a present, instead of her brother.
The following year, on March 4, 1852, Gogol died a torturous death by starvation. He's buried in Moscow, but his soul is in Ukraine.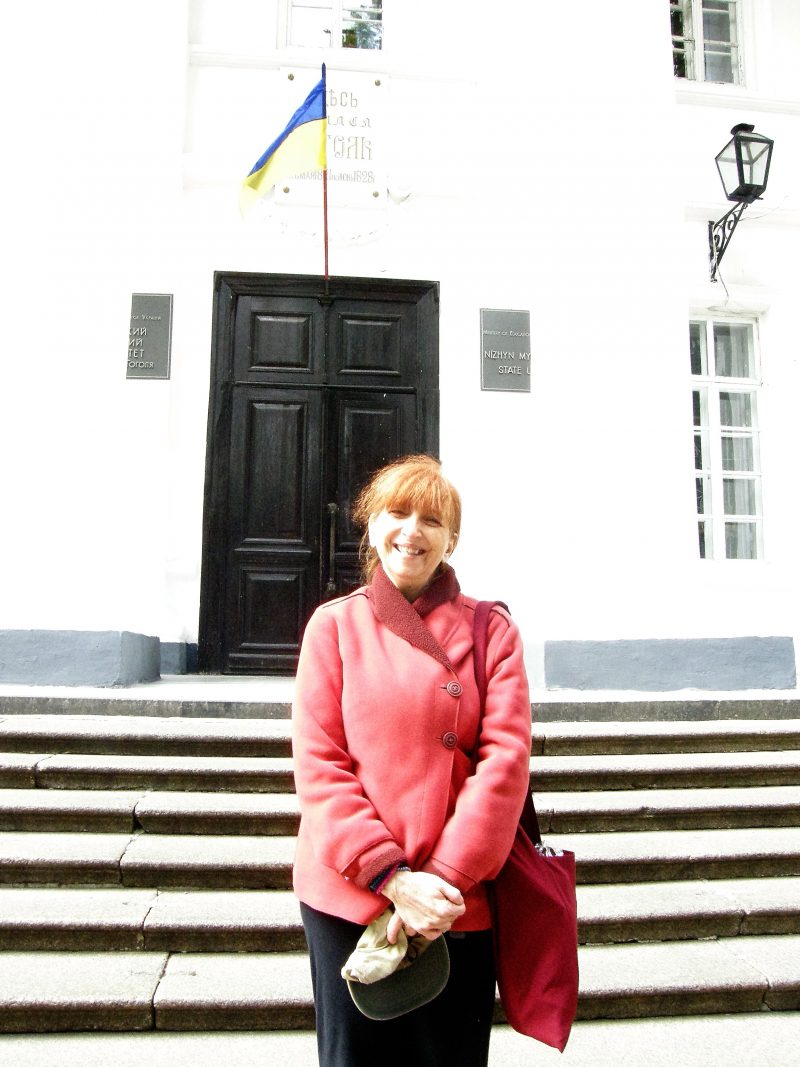 Irene Zabytko is a Ukrainian-American writer and the author of THE SKY UNWASHED, a novel about Chornobyl (Ukrainian transliteration) and the evacuees who returned to their irradiated villages. It was a Barnes & Noble Discover Great New Writers Book, A Book Sense '76 Pick Selection, and a New England Booksellers Association Discovery title. The e-book version was rated Number One on Amazon.com and appeared on "The New York Times Bestseller E-Books List."  She is also the author of the short story collection WHEN LUBA LEAVES HOME which is based on the Ukrainian community in Chicago. One of the stories, "Obligation," won the PEN Syndicated Fiction Award, and was read on National Public Radio's "The Sound of Writing." It was selected as The New York City Public Library's Best Books.  She was awarded a Fulbright U.S Scholar Award to Ukraine where she was researching the Ukrainian-based haunts of the Ukrainian 19th century writer Nikolai Gogol for an upcoming novel. Her newest book is another collection of Ukrainian-themed short stories, THE DAYS OF MIRACLE AND WONDER.