By Jeffrey Herlihy-Mera
My literary idols brought me to Mexico City last month. While D.F. (short for "Distrito Federal"
in Spanish) has always intrigued me, my time here was limited to flight connections to Havana
or Quito. But, the pandemic made me rethink this: if the novels, music, and history of México
are often on my mind, why do I look toward Cuba and Europe for experience? In the stillness
of lockdown days in Mayagüez, Puerto Rico, my visions were of sidewalk cafés around
Zócalo, Colonia Roma and La Villa. They were of the stories written here, and of the people
who wrote them. I came in search of three authors in particular — Sandra Cisneros, Roberto
Bolaño and Gabriel García Márquez — foreigners in Mexico, like me, whose experiences there
changed twentieth century writing in explosive ways.
As searing heat and soaring inflation nix many domestic destinations, 2022 is an ideal
moment to head south. At 7500 feet above sea level, Mexico City has a springlike climate,
few tourists, and incredible literary riches. After a one-way flight from JFK for just over $100, I
airbnb'd a three-bedroom apartment for my family on Calle Mesones at only $67 per night. Around
the corner, just off Calle Isabela la Católica, a stand sells 6 tacos for 30 pesos, or about
$1.50. The line stretches down the block most afternoons. The wait is worth it. The Mexico
City metro costs 5 pesos (.25 cents) and is a clean, safe and convenient way to get around town
with two young sons who are obsessed with trains.

While literary tourism in cities like Paris and London can be enlightening, many of the rounds
have been done already. But there's a charm to doing the legwork yourself in Mexico, finding the addresses for cafés, plazas, and flats that inspired authors. Mapping these out and then
experiencing them yourself can be exciting, no matter the current state of the places. But if where we are sets the terms of what we write, I'd like to think an author's words have some
distant kinship to those locations.
These hidden literary sites in DF are easy to reach on the metro.
Sandra Cisneros: Fortuna 12, Colonia Tepeyac
.
Metro: La Villa-Basílica
A few years ago, I interviewed novelist Sandra Cisneros for
LitHub
. I asked her questions
about travel, creativity, the blend of Spanish and English in her writing, and about Mexico / US
border crossings. Our conversation illuminated Mexico City in ways I didn't expect, and I
hoped the places of her memories would do the same.
Pilgrims nose-down in rosary beads may accompany you on the train. Calle Fortuna is
beside the Shrine of Guadalupe Hidalgo, the most-visited Catholic pilgrimage temple in the
world. This corner of the city is where Cisneros spent childhood summers, in exile from the
heat and humidity of her native Chicago. Cisneros always seemed to have something Puerto
Rican about her, a deep reserve of experiences untold. She recalled, "As a child firsthand I
grew up in my grandmother's garden and [just beyond her] backyard was the basilica to the
Virgen of Guadalupe, which is the spiritual center of Mexico. I would see the penitents walking
on their knees to church and pilgrims coming from far off…and that was part of my summers
as a child."
The basilica is also where the US invasion of Mexico ended in 1848. After the
Treaty of
Peace, Friendship, Limits, and Settlement between the United States of America and the
Mexican Republic
, 55% of Mexican territory had been ceded by force to the US—from the
Louisiana border to the Winchuck River in Oregon. The avenue where the Cisneros family
lived now has a Costco and a Chuck E. Cheese.
Roberto Bolaño: Morelos 62, Café La Habana. Metro: Juárez
In 2003, I lived two metro stops from the hospital in Barcelona where Roberto Bolaño died.
My football team played every few weeks in Blanes, the New Bedford-esque town where he
lived in poverty, sickness and exile on the Costa Brava. Always wanting to greet him in
Catalan, his sudden death meant I made the pilgrimage to ring the bell at his flat too late. The
Chilean's
Los detectives salvajes
(
The Savage Detectives
) monumentalized Mexico City.
Protagonist Arturo Belano (or "Arthur Pretty-butt") is an alter ego to Bolaño, and he frequents
Café Quito, a twin to Café La Habana, where everything is revolutionary:

     The bourgeois and the petit-bourgeois live from party to party. They have one every
     weekend. The proletariat doesn't have parties. Only regular funerals. That's going to
     change. The exploited are going to have a big party. Memory and guillotines.
A decade before Bolaño arrived in D.F., Fidel Castro met Ernesto "Che" Guevara at the
Habana Café, and at these tables they planned the Cuban Revolution over coffee (not red
wine, like Marx and Engels). Espresso machines exhale and little cups clink saucers on
tabletops where revolutionaries met and Colombian author Gabriel García Márquez mused
the Familia Buendía, and a century of solitude. A plaque on the wall says, "We invite you to
become part of our history."

Gabriel García Márquez (Gabo): Córdoba 48, Mansión de Drácula. Metro: Cuauhtémoc                                                                                                                                            A spring day in 2014, standing in my kitchen in Mayagüez with five-month-old son Santiago asleep in my arms, a text message from Leilani García Turull told me Gabo was dead. Two years earlier, in an upstairs bedroom on Calle Miguel de Santiago 2-67 in Cuenca, Ecuador, a newscast blaring from the next room said Carlos Fuentes had died in México City. Those two icons of twentieth century literature, architects (or detonators?) of the Latin American "Boom," met for the first time at the Mansión de Drácula in Colonia Roma in the spring of 1961.
A week ago, I walked up to this building with my wife and sons.
So much happened on this unremarkable street corner in México City. A place where journeys began and friendships that would define a century of writing commenced. Our afternoon there, Volkswagen was filming a commercial outside "Pigeon," the restaurant on Mansión de Drácula's ground floor. We sat at a sidewalk café catty-corner from the entrance and watched the action. Two lemonades, a tea and a coffee came to $6 including tip. While my sons' eyes were glued to the camera truck, shouts of "¡acción!" and "¡corte!" broke the afternoon silence.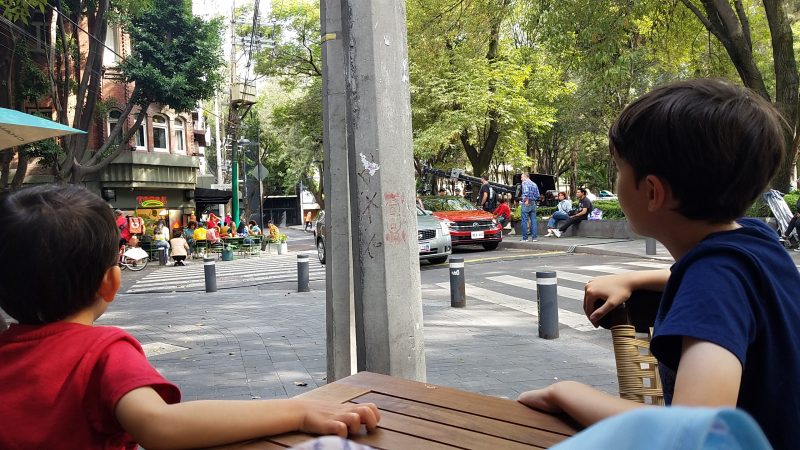 This Mexico visit is the culmination of several similar journeys. Not long after moving to Spain
in 1999, I rang the doorbell at Gabo's flat in Barcelona on Avinguda de la República Argentina
168, apt. 4-2. In 2016, my son Santiago touched the buzzer at Fuentes's apartment in
London, 9 Barkston Gardens. (I asked for Aureliano in 1999 and Artemio in 2016; neither was
in.) I would like to think sitting across the street from where these writers met has some
magical residue, that which pilgrims seek on their travels. Who knows if it does, or if my sons will remember our time here. But learning about a city through its literature provides textures to travel that we can experience later, rereading the books.
Such specific literary encounters are as much about discovering D.F. as a destination as they
are about feeling like you are part of a larger story. "This city has an important connection to
the history and literature of several Latin American diasporas," says Enrique Dávila Cobos, an
Ecuadorian author and artist. "Yet few appreciate this history," he said. "Many Latin American
travelers use tourism to discuss and contemplate their identity, looking to see how their
community lives in other regions. Mexico City has a lot to offer in this regard, for Mexican
Americans of course but also for many others."
The quiet of the afternoon in a neighborhood like Colonial Roma contrasts with the pious
footsteps around La Villa and the noise of Café La Habana. As much for me as for Cisneros,
Bolaño and Gabo, Mexico City is a great muse.

Jeffrey Herlihy-Mera is 2022 Obama Fellow at the Obama Institute for Transnational
American Studies and professor of Humanities at the University of Puerto Rico-Mayagüez.
His fourth book, Decolonizing American Spanish, will be published this fall by University of
Pittsburgh Press.