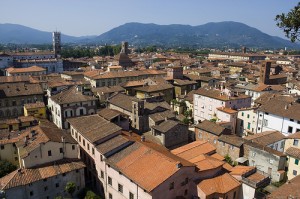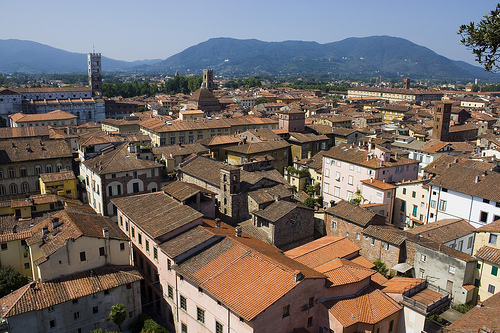 By James Clark
Lucca, Italy is a beautiful town surrounded by a 12 metre thick and 25 metre high 16th century wall, which runs around Lucca's perimeter and protects the city.  On top of the wall is a boardwalk and bike path, and there's no better way to take in the city than to walk or cycle around the giant wall, whilst viewing some of Italy's finest medieval and Renaissance architecture.  There are eight ramps in total, one of which, especially built for wheelchair access, runs alongside Porta Santa Maria.
Cars are not permitted in a large proportion of Lucca, and walkers and cyclists seem to circulate together along winding streets that more often than not cause visitors to get a little lost.  There are two bike shops in town that you can hire bicycles from for the day, the Cici Bizarri and Antonio Poli.
Lucca rivals Florence and Pisa in culture and beauty, and tends to attract somewhat more "discerning" visitors; at least because it's off the beaten path. Still, it's relatively accessible to and from other places, including the seaside towns of Viareggio and Pisain, which are only minutes away by train. Lucca doesn't move fast for anyone, its inhabitants do everything at leisure and it's impossible for visitors not to do the same—nowhere and nobody in Italy seems to do relaxation better than those born and bred in Lucca.
With the sun on your face, baking the old buildings in the historic centre, the soft sounds of Madam Butterfly playing from an open window behind shutters, it's easy to imagine what must have inspired Giacomo Puccini to become one of the most artistic composers in history.
Puccini was born in a house in Corte San Lorenzo 22nd December 1858, and it was within that house in Lucca that he spent the first 22 years of his life.  He was born into a family with five generations of music behind it.  At the age of five, Puccini's father died, and he was sent to study with his uncle Fortunato Magi, who did not recognise his nephew's musical talent but thought Puccini was undiscipline—and in need of punishment. It is thought that Magi was actually jealous of Puccini's talent, and was afraid the young man might ruin his chances at becoming the town's choir master, a position Puccini was supposed to inherit from his father. Of course Maji had nothing to be concerned about: Puccini never wanted the job anyway.
The house Puccini was born in is now a museum managed by the Giacomo Puccini Foundation, and it contains many of the composer's personal items, such as furniture, awards and letters between Puccini and his wife Elvira.
Puccini met Elvira when he was 25 on a visit back to Lucca to see family and friends, while he was living in Milan.  She was the wife of a rich merchant in Lucca, so when they met, they had to leave Lucca to be together. The couple had a son, Antonio, together, and a daughter from Elvira's first marriage. Elvira was beautiful, confident and intelligent, and she chose poverty and love over riches and status—and she never showed any sign of regret. But the relationship caused a scandal amongst the Catholic Church goers of Italy, and couldn't be legalised until 1904 when her former husband died.
Before he and Elvira met, Puccini and his brother Michele walked 30 kilometres from Lucca to Pisato see a performance of Verdi's 'Aida' and this was when his inspiration to be a composer began.
Puccini left Lucca in 1880 and enrolled in the Milan Conservatory to study composition with Stefano Ronchetti-Monteviti, Amilcare Ponchelli, and Antonio Bazzini. In order to achieve this he was awarded a grant and received financial assistance from a relative.  This was an incredible stroke of luck for the young Puccini, because, while he was over the age for admittance, he scored such a high mark in the entrance test that they decided to let him in regardless.
Puccini composed his first piece of music, Messa, in the same year, at the age of 21. The piece focuses on his family's love of Lucca church music and the Ordinary of the Catholic Mass.  Messa di Gloria, the apocryphal name by which it's now known, refers to the first two prayers of the Ordinary, the Kyrie and the Gloria, while omitting the Credo, the Sanctus and the Agnus Dei.  Messa was first heard at the church of San Paolino in Lucca on 12th July 1881—the same church where Puccini had previously worked as an organist.
One of the most striking buildings in Lucca is the Duomo San Martino. Its porch is decorated with a statue of each month of the year, from a girl giving a rose to a pig being slaughtered.  Inside the cathedral is a wooden statue of Jesus Christ known as the 'Volto Santo' (the Holy Face). The statue of Christ is on the cross, and he has a beard and is fully dressed.  It has been worshipped by the people of Lucca for centuries, and it is believed that the cross contains hairs of Christ, a phial of his blood, and his foreskin.
Deeper in the cathedral is Lucca's greatest monument, the marble tomb of Ilaria del Carretto, who at 19 with her whole life a head of her and a newly wed, married to the nobleman Paolo Guinigi, died in child birth in the 15th century.  Paolo Guinigi was so heart broken that—short of freezing her head—he had Jacopo della Quercia immortalise Ilaria del Carretto in sculpture.  She looks like she is sleeping peacefully with her head on a cushion, and at her feet sits the symbol of fidelity, a small dog.  It is such a deeply moving site, and has been held close to the hearts of the people of Lucca for hundreds of years.
You can imagine Giacomo Puccini coming here with his mother as a small boy, and returning at various points throughout his young life, to stare at the beauty of Ilaria and be captivated by the agonising sadness all around her tomb.  Perhaps this is where Puccini drew his inspiration for Madame Butterfly from. The young heroine in the world famous opera cuts her own throat when she discovers that her husband has remarried.  Many of Puccini's greatest works concentrate on boy meets girl, girl dies and boy is left devastated, similar to what happened to the distraught Paolo Guinigi at the death of Ilaria.  In Tosca, Scarpia throws herself to her death, and in La Bohème, Mimi dies, leaving Rodolfo's cries of devastation to complete the opera.  Stand by the tomb of Ilaria for a moment and you will feel the sadness I'm speaking about.
His best known opera is by far Madame Butterfly. Puccini wrote five versions of it; the original was in two acts and premiered at La Scala in Milan on 17th February 1904, but it went very badly for the composer. He withdrew it immediately, and rewrote it in three acts.  This version was performed in Brescia 28th May 1904, and it was hailed a great success.  The same version premiered in the United States of America in 1906, by Henry Savage's New English Opera Company, in English.  Later that year, Puccini wrote a third version, which was performed at the Metropolitan Opera in New York. Then, in 1907, Puccini made a few more changes, which became the forth version.  He reviewed it again in the same year, finally releasing the fifth version, known as the standard version, which you can see around the world. Puccini was a perfectionist, and this is how the outstanding Madame Butterfly that we know and love was born.
The Puccini e la sua Lucca International Festival began in Lucca 6th March 2004, and is said to be one of the world's only permanent festivals.  It was created by Andrea Colombini, whose dream it was to see Puccini's work returned to his beloved home town—a town rich in musical tradition.  Other composers have roots in Lucca, including Nicolao Dorati, Cristoforo Malvezzi, Gioseffo Guami, Giovanni Lorenzo Gregari, Francesco Geminani, Filippo Manfredi, Luigi Boccherini, and Alfredo Catalani.  An impressive list of musical genius, but Giacomo Puccini was the greatest.
Each night of the festival, special concerts are held in the beautiful and unforgettable setting of the San Giovanni church and baptistery, with a different cast, musicians and programme, to give those who want to return daily a varied depiction of Puccini's work.  It really does not disappoint—where better to hear the composer's work than in the town where it all began.
When the house Puccini was born in on Corte San Lorenzo re-opened to the public in 2011, three years of events were planned in Lucca to celebrate it.  From 15th March to 15th November, 2011 through 2013, daily concerts are scheduled at the church of San Giovanni. And without interruption, concerts take place Friday and Saturday evenings at the Oratorio of the Museo della Cattedrale, only a moments distance form the church of San Giovanni.  Over 1,000 events have been scheduled in total. All for Puccini of Lucca.
***Related Articles***
How Twilight Took Me Places I Never Thought I'd Go
Following Caravaggio Through Rome
Sun & Moon in Montepulciano, Under the Tuscan Sun & New Moon Film Locations
Sprezzatura in Cinque Terre, The 5 Villages of Effortless Beauty
Edith Wharton's Art History Lesson in San Vivaldo
Puccini's Paradise in Torre del Lago