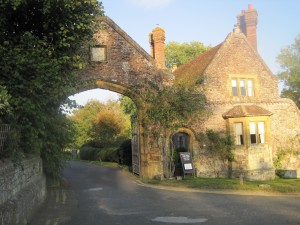 by Ann-Maureen Owens
These days it is possible to earn an undergraduate degree in English Literature without learning anything about the true Renaissance man of the Elizabethan Age and that's a shame. By all accounts Sir Philip Sidney was an impressive courtier, soldier, statesman and poet. I remember learning to appreciate the idea of courtly love by reading his sonnet sequence, Astrophel and Stella in my own undergraduate days. His well-crafted sonnets were arranged into a cycle of over 100 works that formed a long narrative based upon, but not tied to, Sidney's love for a lady at Queen Elizabeth's court. Sidney, along with Spenser and Shakespeare, revived the sonnet cycle – at the time a 250-year-old Italian style – to become the dominant poetic tradition in sixteenth century Renaissance England.
Penshurst Place, a sprawling and beautiful estate in the Kent Weald, is where Sir Philip was born and where the Sidney family still lives over 430 years later. Oxford educated and well connected, 16 year old Philip was sent by his uncle, the Earl of Leicester, on a tour to learn the languages and statecraft of Europe, to better serve Elizabeth I as an advisor in her court. At age 22 he was the Queen's emissary to Germany with overtones of a secret diplomatic mission. He is reported to have "cut a dash" at court, particularly during jousts in the tilting yard, now London's Horse Guards' parade ground. However, Sidney's attempt to advise her majesty against marriage to a French prince and his public quarrel with the Earl of Oxford earned him a rebuke that banished him from court for a few years. During this time away he wrote his three greatest works, Astrophel and Stella, An Apology for Poetry, and Arcadia.
When I decided to spend a day walking in Kent's Eden Valley, a chance to visit Penshurst Place, the Sidney ancestral home, was a prime attraction. At 2,500 acres, it is one of the largest privately owned estates in South East England, encompassing parkland, woodland and farmland. Penshurst village has a Norman church, church house and 14th century guildhall that encompass the original Leicester Square, which like the more famous one in London is named after that well connected relative of the Sidney family. The village is nestled close to the walls surrounding the manor house and gardens in the middle of the estate, so the local railway station is located a few miles away. Though still a much loved and live-in family home, the house and gardens have specified times for public visits and the extensive grounds can be enjoyed by everyone.
I chose a circular route for my walk that began and ended at Penshurst railway station, an hour from London's bustling Charring Cross. The great oaks of what was once the ancient weald (an Anglo Saxon name for forest) between the North and South Downs still dot this thoroughly cultivated landscape of orchards, country cottages, oast houses and hop gardens. My walk took me along public footpaths that skirted farm fields, crossed the River Eden on narrow footbridges, with brief stops to appreciate a few almost untouched and prototypically English villages.
The young Philip Sidney, an accomplished horseman, would have been very familiar with these bucolic surroundings and probably travelled the three miles to the lovely tutor village of Chiddingston, where the fourteenth century Church of St Mary is adorned with comically grotesque stone gargoyles who stick their tongues out at the village below. Chiddingston's name is derived from a nearby outcrop of weathered stone, and in particular, a large rounded one, which according to legend, was a seat of judgment for the Druids. Later it became the place where villagers brought grievances against each other and were "chided" for their transgressions.
Today, The National Trust preserves the village, not as a museum but as a vibrant, if quaint, place where children attend school, adults arrange flowers in the church, and shops provide for locals and tourists alike. The half-timbered inn has existed since Sidney's time and has been a pub called The Castle Inn since 1730. I stopped for a pint of the local beer in the pub's lovely outdoor setting and read about the village's heyday in the sixteenth century. Sidney would have known it as a prosperous place, due first to pig farming – the pigs grew fat on the acorns of the nearby oak forest – and then to a basic form of iron smelting. The inhabitants of villages such as Chiddingston were Sir Philip's constituents when he served as a member of parliament from 1581 to 1584. Chiddingston Castle, beside The Castle Inn, did not exist in Sidney's day. It was a Tudor-era timber frame house that was vastly expanded in the early 1800s to resemble a mediaeval castle, and it pales in comparison with the real thing at nearby Penshurst.
Sir John Pultenay, a rich wool merchant, first built Penshurst Place in 1340. He was responsible for the central Great Hall that can be visited today and, along with the vaulted-ceiling crypt beneath, is probably the finest remaining piece of fourteenth century domestic architecture in England. Poultenay was four times Lord Mayor of London in the 1330's and wanted a county estate within a day's ride of the city. The property then passed through the hands of two sons of Henry IV and the Dukes of Buckingham, until Henry VIII beheaded the third duke, and it became the property of the crown. Henry used it as a hunting lodge, and in 1552 his son, Edward VI, bestowed it upon his loyal steward and tutor, William Sidney, Sir Philip's grandfather.
Though at heart a mediaeval and Tutor building, the manor house has been modified and extended over the centuries so eight architectural styles are evident, though they all combine to give a commanding and elegant impression. Sidney praised the house's "firm stateliness" in his pastoral romance, Arcadia, and with sheep scattering before me as I walk the grounds, it is easy to imagine the influence this place had on him from his earliest years. Notably, the 11 acres of formal walled gardens have remained true to their original design, dating from 1580 when Sir Philip was alive.
The "West Solar" or state dining room contains an interesting collection of family portraits as well as a copy of the famousLa Volta painting reputed to depict Elizabeth I dancing with the Earl of Leicester. The Queen made many visits to Penshurst Place and the room where she often held audience is named after her. The Elizabethan Long Gallery, also full of royal and family portraits, features a display of replica Tutor costumes which highlights how Sidney and his contemporaries would have dressed, both at home and at court. There is also a display of arms and armor in the Nether Gallery, which brings to mind Sir Philip's tragic death, a month before his 32nd birthday.
In the early 1580s, Sidney was knighted, fell in love with Penelope Devereux (the Stella of his sonnet cycle) who was to marry Lord Rich, and then married Frances, the young daughter of Lord Walsingham to whom Sidney's family was allied at court. War with Spain was mounting and Sidney was finally given a chance to show his heroic side when he was sent to The Netherlands as her majesty's Governor of Flushing, a military as well as a political posting. He distinguished himself in the storming of one town but took a musket ball to the thigh in another battle at Zutphen after taking off part of his armor in a chivalric gesture to offer it to another knight. His wound was serious but he rode a mile back to his camp arriving weak from loss of blood. What happened next endeared him to all of England when it was reported after his death. When he was offered water he saw another wounded soldier and passed the bottle to him first with the words; "Thy necessity is yet greater than mine."
Sir Philip thought his wound would heal but it festered and 26 days later he died. He was brought back to England in a ship with black sails and was the first commoner given a state funeral (a tribute not to be repeated until the death of Nelson and then Churchill) at St Paul's Cathedral where his remains are buried. Along with his wife, Frances, and baby daughter, Elizabeth, the whole court observed mourning and the public generally felt they had lost a hero of the most romantic sort – a brave and adventurous knight, courtier, poet and thinker – what everyone believed were the virtues of a Renaissance man.
Sidney was a patron to other writers, particularly Edmund Spenser, and he supported the voyages of adventurers and explorers such as Martin Frobisher, Walter Raleigh and Richard Hakluyt, whose first book, Divers Voyages, was dedicated to Sidney. In 1577 he came very near to accompanying Sir Francis Drake on his circumnavigation of the globe. Though his aim was always to be a statesman, he shared a love of poetry and other imaginative writing with his sister Mary, Duchess of Pembroke, and it was probably she, along with his closest friends, who saw to the publication of his three major works after his untimely death. There were many posthumous literary tributes to him, the best known being Spenser's poetic elegy, "Astrophel."
Sir Philip Sidney has been credited with innovative and masterful writing that inspired others, causing C.S. Lewis to write that Astrophel and Stella "towers above everything that had been done in poetry … since Chaucer died," and that "the fourth [sonnet] alone, with its hurried and (as it were) whispered meter, its inimitable refrain, its perfect selection of images, is enough to raise Sidney above all his contemporaries."
Sidney is now the least read of major Elizabethan writers. However, a visit to Penshurst Place inspired me to pick up a copy of his Selected Poetry and Prose and let the words of a young Renaissance man speak to me again.
*
For a closer look at Ann-Maureen Owens' experience at Penshurst Place and her fascination with Sir Philip Sidney, read Literary Traveler's accompanying interview with the author and take a look "behind the article."